In genres such as rock, rap and electronic / dance, bass is one of the most important components of a song. So if you're looking to optimize your music listening experience, boost the bass of that song through the software. Audacity. You can use Audacity to increase Bass for a song easily through the article below.
Related posts
How to separate lyrics using Audacity
How to fix the Audacity error when opening the audio device
Audacity 2.2 adds MIDI playback, support for macOS Sierra
How to fix Delay on Mic on Audacity
How to download and install Audacity on a computer
Audacity is one of the most incredible free, open source audio editing software out there that works great like many premium paid programs on the market. In addition to using it to create your own recordings, remove background noise, trim and combine clips, apply special effects and get truly professional audio production, you can also increase the volume. Bass for songs with Audacity to optimize your listening experience. And in this article, ElectrodealPro will guide you on how to do it with a few simple steps.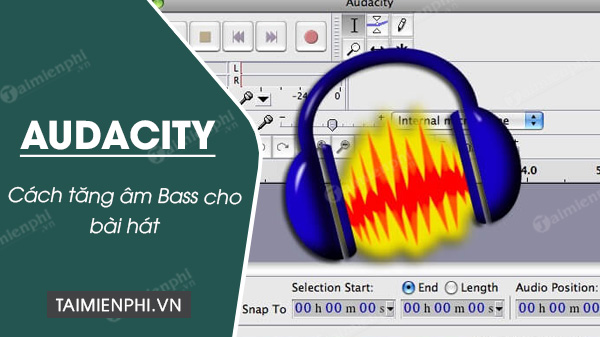 How to increase Bass with Audacity
Instructions for increasing bass for songs by Audacity
Step 1: Download Audacity and complete the program installation on your computer.
Link to download the latest Audacity:
=> Link Download Audacity for Windows

=> Link Download Audacity for Mac


=> Link Download Audacity for Linux

After downloading the software to your computer, refer to how to install Audacity here and follow the instructions to install the application.
See also: How to install Audacity on a computer
Step 2: Import the song you want to add bass to Audacity by clicking File> Open and select the desired song or audio file.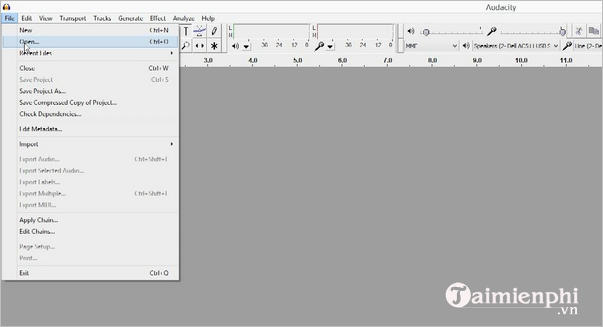 Step 3: You click on the menu Effects in Audacity and select Normalize.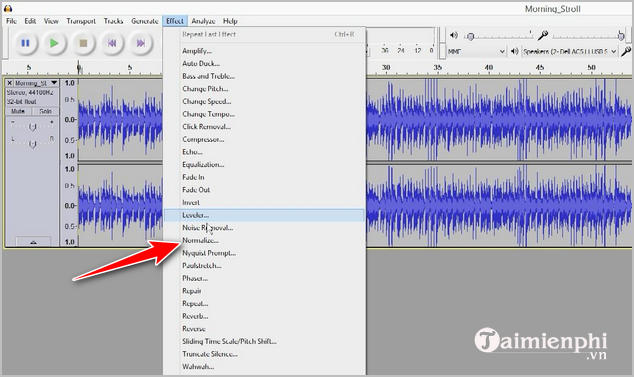 Step 4: Window Normalize appears gives you options on how much you want to normalize the sound. The most standard setting here is from -9.0 come -15.0. If these levels do not match your needs, adjust them until the desired level is reached and click OK. The sound waves will now appear smaller than they first appeared when you imported the song into Audacity.

Step 5: Next to increase the Bass for the song, you click Effects again and choose Bass and Treble.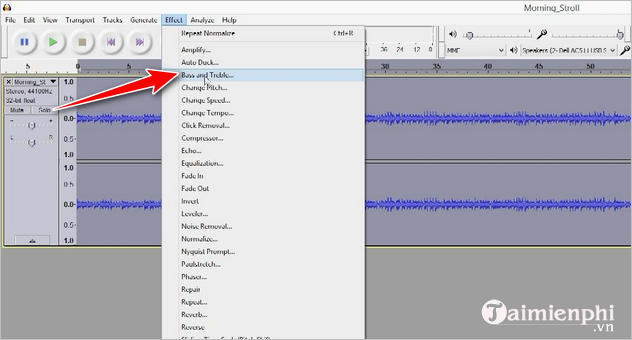 Step 6: In the window Bass and Treble Just appeared, you have several options to adjust the bass and treble of the song. You keep the treble level 0 and adjust the bass to suit your needs. You can always click on the button Preview to listen before clicking OK to save changes.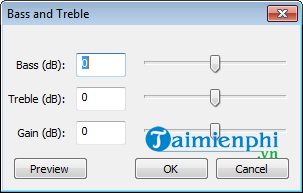 Finally, you just need to export your new audio file simply by entering File> Export. Then, choose the desired format and click Save. This will save your new bass boosted audio file. Now you can close Audacity and listen to your new song.
In addition to how to raise the Bass sound, you can also refer to how to filter noise by Audacity to filter the sound better.
See also: How to filter noise using Audacity
https://thuthuat.taimienphi.vn/cach-tang-am-bass-cho-bai-hat-bang-audacity-61370n.aspx
Above is the article on how to increase Bass for songs by Audacity. In addition, if you encounter Audacity errors or have any questions about this software, you can leave a comment below for ElectrodealPro to help you.
.