Windows 11 comes with an improved taskbar and Start menu. The new Start menu has a sleek Fluent Design look, with rounded corners and centered on the taskbar. In the Start menu in addition to showing pinned apps (Pinned) then it has a recommended section called Recommended shows recently opened files and can be annoying for many people.
If you don't like it, you can remove/hide suggested files from the Start menu on Windows 11.
Step 1: Open the Start menu and select Settings. You can also open Settings directly by pressing the shortcut Win + I on the keyboard.
Step 2: You choose Personalization from the sidebar on the left.
Step 3: In the settings Personalization, scroll down and click Start.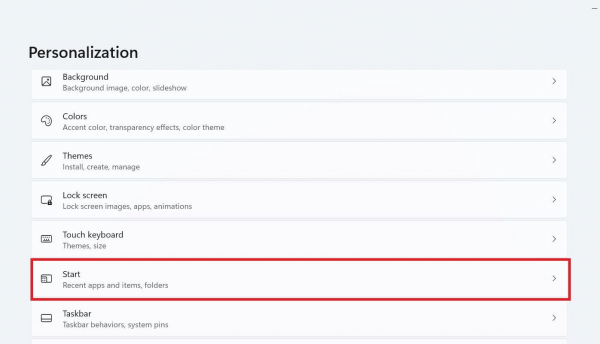 Step 4: You find the option Show recently opened items in Safari, Jump Lists, and File Explorer and turn it off.
You can turn off more Show recently added apps if you want to hide recently added apps from Start menu.
If you don't want to hide everything but only for certain applications, simply right-click the file in Recommended > Remove from list.


Hùng Anh