Recently a lot of readers of ElectrodealPro ask about how to get VIP account Zing mp3 for free in a short time, through finding out, we know how to make it extremely simple to receive 30 days of Zing Mp3 VIP account, how to invite readers to follow the instructions below.

Related posts
How to sign up for an account Zing Vip, listen to high quality music downloads
Change Zing MP3 password, change Zing MP3 account password
How to register an account Zing Mp3 on Android, iPhone
Sign up for Zing mp3, create a Zing Mp3 account to listen to music on your computer
How to download high quality music on Zing Mp3 for free
To be get a VIP Zing MP3 account for 30 days for free Completely simple, at least for the time being this article is still applicable. This is the same policy that Zing MP3 applies to its users. However to receive Z accounting mp3 Vip then the user himself must also meet certain conditions.
How to get VIP account Zing MP3
1. Tools needed in the post
Software and applications you should preload in the article to get the fastest in the process of receiving M accountp3 Zing Vip.
– The first is that you need to have Zing MP3 application to be able to download songs as well as receive a VIP account Zing mp3 in 30 days.
– Download Zing Mp3 for Android devices: Download Zing Mp3 for Android
– Download Zing Mp3 for iOS devices: Download Zing Mp3 for iPhone
– Next is that you need to have the Zalo application to facilitate the sync and receive your VIP account Zing MP3, so you should download Zalo Come back here first.
* Download Zalo for Android here.
* Download Zalo for iPhone here.
2. Eligibility for VIP Zing MP3 account
– If you already have an account of Zing MP3, it must be an account that has never enjoyed any policy related to Z.ing mp3 Vip before.
– In addition to Zing MP3 you must have an account Zalo, refer to how Zalo registration here.
Finally, your account Zing MP3 and Zalo must never be linked or synchronized with your Zalo account.
3. VIP Zing MP3 offers
– Enjoy listening to songs at 320 Kbps, 500 Kbps or lossless quality.
– Allowed to download 320 Kbps, 500 Kbps or lossless songs to your computer. However, some songs due to copyright can only be heard and not downloaded.
– Listen to the VIP music library of Zing MP3
– Watch the highest quality music videos on Zing MP3.
4. How to get VIP account Zing MP3
Step 1: First you just need to open the Zing MP3 application on your phone then click personal section > Click Next login section to proceed with logging into Zing MP3.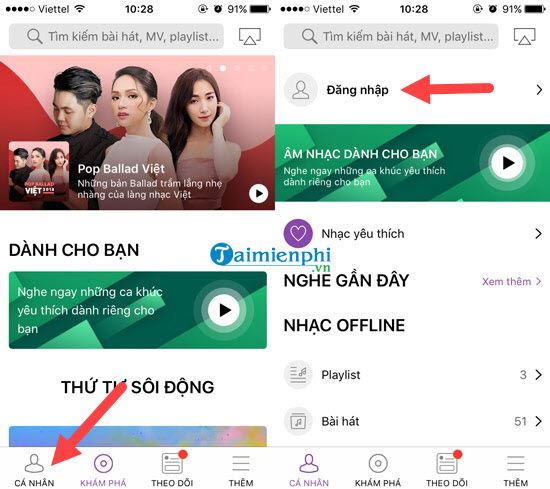 Step 2: A login icon via Zalo appears, click here is you can get VIP account Zing MP3.
Note: With the account that has linked Zalo VIP and then will not be allowed to receive VIP Zing MP3 account anymore.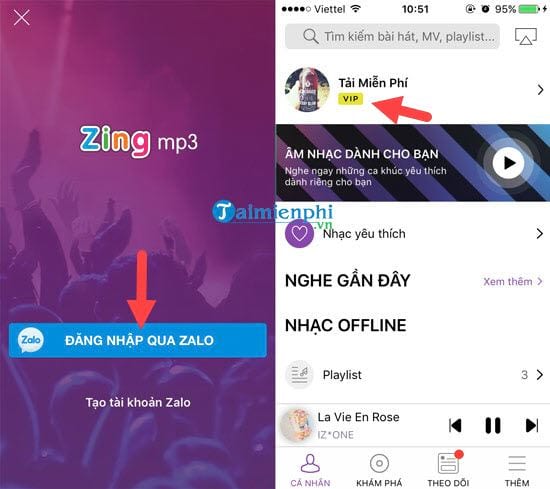 Step 3: Your account has been displayed VIP letters Then what are you waiting for without downloading the highest quality songs on Zing MP3 by yourself.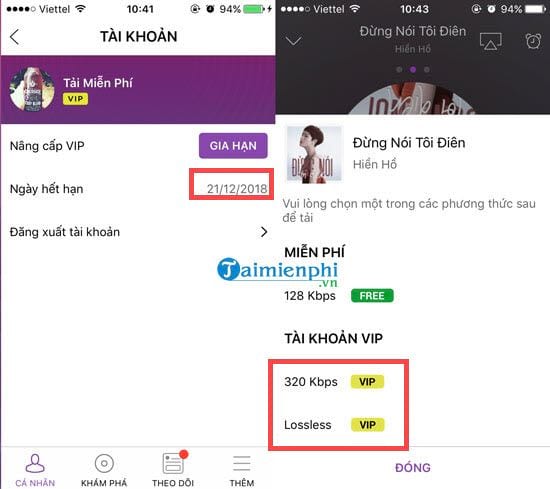 https://thuthuat.taimienphi.vn/cach-nhan-30-ngay-tai-khoan-vip-zing-mp3-mien-phi-39640n.aspx
Above is how to help you can get VIP account Zing MP3 in 30 days. Please note that how to upgrade Zing Vip by Zalo each account is done once and you will not be able to do the second time if you synchronize with another account. Anyway, this 30 day period should help you decide for yourself whether to apply for Mp3 Zing Vip or not and the money is worth it or not. As far as information is known, the Zing VIP registration fee is only about 45,000 VND only, quite cheap compared to other services today.
.