Java is the software that supports the application of many people. However, the Java installation also often makes errors annoying users. To fix that, ElectrodealPro will guide you on how to fix Java cannot be installed on your computer.
Related posts
Install java, use java on computers, laptops
Install Oracle Java 7 on Ubuntu 12.04
How to download Java to play Minecraft on your computer
Simulate java on computers, laptops, play java games on computers
What to do when the computer says "Java Runtime Environment not found"?
There are many errors when installing Java as well as many ways to fix them, but it will take you a lot of time to learn about those errors if you do not know how to distinguish the situation you are having with Java. . Therefore, determining the correct software disease will save you more time.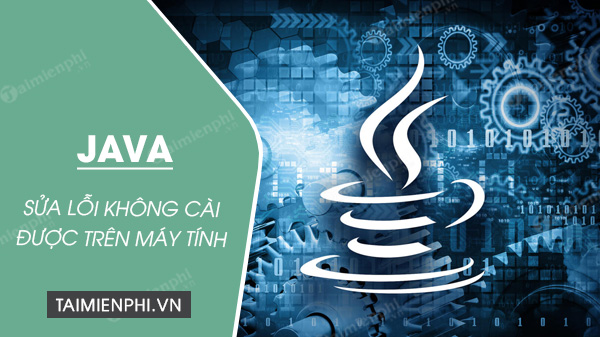 Fix the error of not being able to install java on the computer
Going back to the main problem of today's article is the failure to fix the error install java be on the computer. We will list all the errors that you may encounter as well as how to fix them effectively and simply so that you can also perform Java installation error easily. And now invite you to read follow the article immediately.
Instructions to fix the error of not installing Java on the computer.
1. Install Java offline
When you install Java the usual way, it means downloading the installer and it gets data from the web many times without success, it is because your connection is weak or problematic. Please use the Java Offline installer.
You can download the Java Offline installer here:
=> Link to download Java for Windows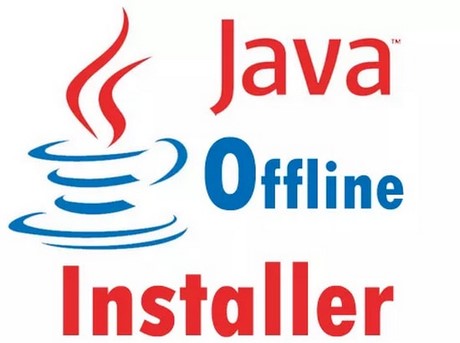 2. Install with Administrator
If Java cannot be installed, this can also be a cause, run the software to install with Administrator privileges by right-clicking on the installer and choosing Run As Administrator.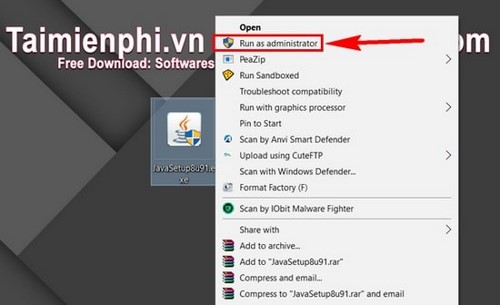 3. Turn off User Account Control
This is a default feature available in windows that helps the user to prevent external software from running in the computer. If you do not agree, the software will be removed or at least blocked connections to the system. To turn them off, do the following:
Step 1: Open Start Menu type "Control panel" and click on the found result.
Note: In Windows XP or Windows 7 version just open the Start Menu to see.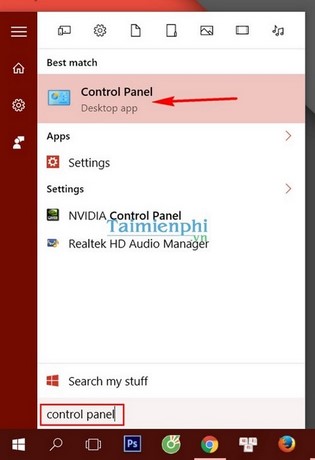 Step 2: Here, choose View by and select the item Category then click User Accounts in Control Panel.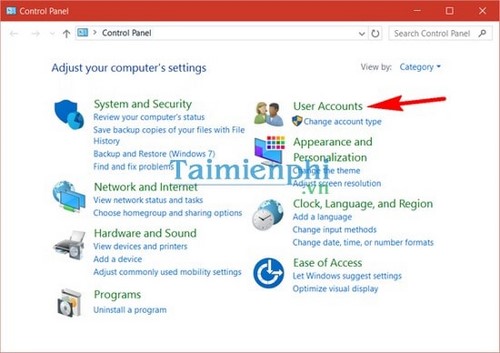 Step 3: To enter Change User Account Control Settings.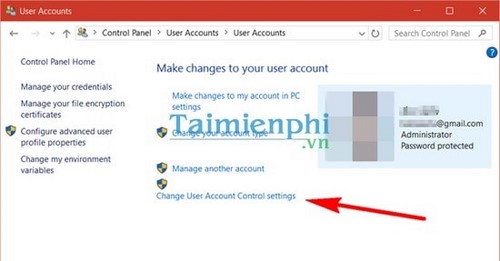 Step 4: On the Always notily bar, scroll down to the lowest level and proceed to reinstall Java with the file downloaded above.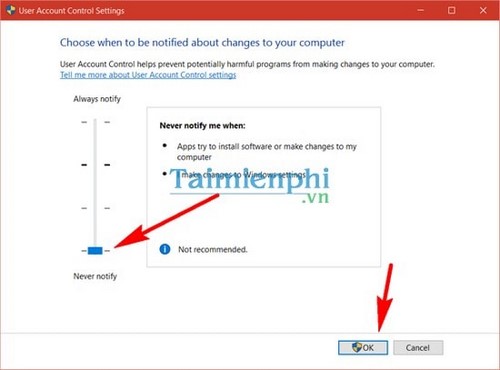 4. Turn off the antivirus.
For some reason anti-virus software is also one of the reasons preventing you from installing Java, perhaps because you set too high protection on your computer. Please temporarily turn it off and reopen it once the Java installation is complete.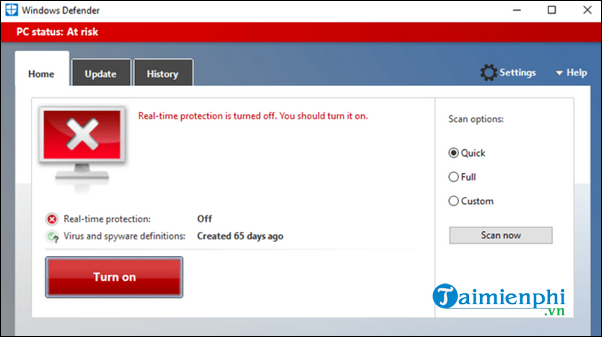 As computer protection software, Windows Defender prevents other software from being installed on the computer. Therefore, installing the software also causes more difficulties for you, so many people choose to turn off Windows Defender.
See also: How to disable Windows Defender on Windows 10
The above are easy ways you can fix the Java installation failed, in some cases you should also restart your computer before the installation to ensure success. In case you make a mistake with java runtime Environment not found, you have to reinstall Java on your computer and the error will not appear java runtime Environment not found anymore.
See also: How to fix Java Runtime Environment not found
https://thuthuat.taimienphi.vn/sua-loi-khong-cai-duoc-java-tren-may-tinh-5945n.aspx
Java affects a lot on software installation or playing games on your computer, if you are a fan of the Minecraft game, during the game, when you encounter a Java error, it is not surprising, Java error when you are playing the game. Minecraft play is quite popular and often encounters the cases of old, outdated Java versions, you just need to download the latest version of Java to fix Java errors when playing Minecraft successfully.
See also: How to fix Java errors when playing Minecraft
.