Audacity is a great tool for editing audio files for free. However, some users have reported problems when trying to record or open files with Audacity, with the error message "Error opening sound device" appears. So how to fix this problem?
Related posts
How to fix Delay on Mic on Audacity
Audacity 2.2 adds MIDI playback, support for macOS Sierra
How to filter noise using Audacity
How to separate lyrics using Audacity
How to download and install Audacity on a computer
You probably already know about that features Audacity This audio editing program offers and the greatness. You can play, record and edit all kinds of music files. The program also allows you to perform various complex tasks on your music files.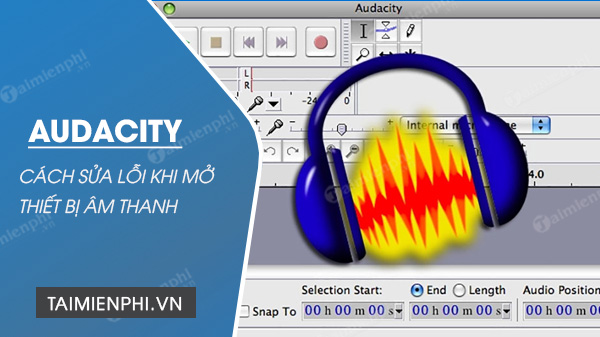 Instructions to fix Audacity when opening audio devices
Link to download the latest Audacity:
=> Link Download Audacity for Windows


=> Link Download Audacity for Mac


Audacity is completely free and you can understand why some errors and problems might occur from time to time. One of Audacity's "familiar" problems is the Error Opening Sound Device. If you see that message, you're not alone. In this few articles, ElectrodealPro will point out some causes of the problem and more importantly share with you how to fix the Audacity error when opening the audio device.
I. Why are you getting Error opening sound device error in Audacity?
When this message appears, you will be asked to review the playback or recording device options and sample rate of the Audacity projects. If the message says the problem is with the recording device, it means the problem is related to your operating system, the recording settings of the audio device or Audacity itself. These error messages can be related to a sound device or driver. Perhaps you are even using your device to perform an action that is out of its bounds.

This includes recording on more channels than what the device allows, or using the device to overwrite (play an audio file and overwrite it) when the program can only perform one action at a time (play re-recording or recording).
The biggest cause of recording device error on Windows is when some audio device input does not respond to Audacity. Simply put, that means it doesn't allow Audacity to start recording.
II. How to fix the Audacity error when opening the audio device
1. Check the external audio device
Make sure your computer recognizes the audio device you connect to, like headphones or speakers. This may sound silly, but first you need to check that the cables are properly and securely connected. Then see if the computer recognizes your device by looking at the system tray.
If you see X in red color on the audio device then try disconnecting and reconnecting the device. In case the error is still not resolved, open the Playback device by right clicking speaker icon located in the system tray. Guaranteed Spearker / Headphones has been turned on. For laptops, right-click speaker icon on the system tray, select Open Volume mixer > System Sounds> Recording and right click on the microphone to turn it on.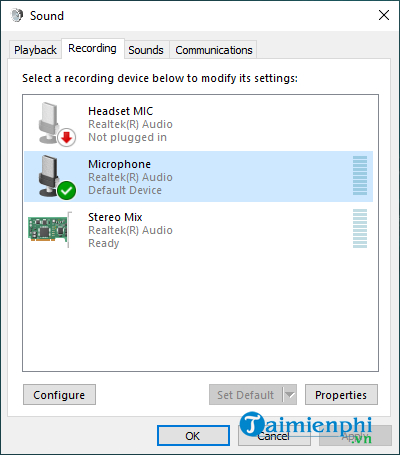 2. Check the audio driver
Your computer's built-in audio equipment always has the latest drivers for your operating system, supplied by either the motherboard or the computer manufacturer. A PCI or sound card should always have the latest drivers and firmware provided by the device manufacturer.
You may encounter this error in Audacity if your driver is not up to date. The solution given here is to update the driver manually or by 3rd party software.
3. Error comes from Audacity itself
When you are recording, you should not turn it on Software Playthrough in Audacity. This may cause an error. You can disable it by the following:
Open Audacity and click Edit located in the upper left corner of the program.
– Choose Preferences> Recording>unchecked Playthrough and press OK To confirm.
You should also check your audio device settings to see if they are configured properly by the following:
Open Audacity and select Edit.
– Click Preferences> Devices.
– Section Host should be Windows WASAPI. If not, you set it to WASAPI.
Click OK To confirm.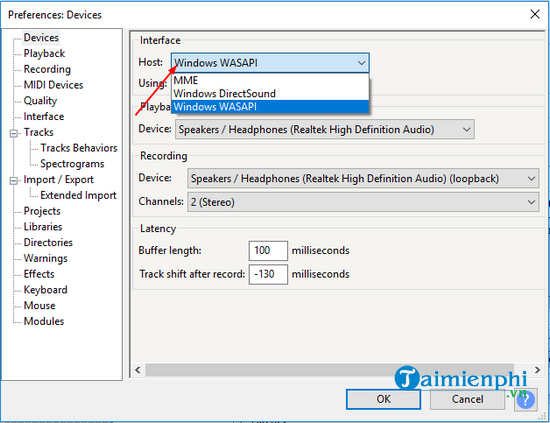 https://thuthuat.taimienphi.vn/cach-sua-loi-audacity-khi-mo-thiet-bi-am-thanh-58516n.aspx
The above are some of the main causes of Audacity error when opening the audio device and the fixes attached. You just need to go through the solutions shared above one by one to solve the problem. In addition, for your reference How to fix Delay on Mic on Audacity here.
.