There are many ways to fix Adobe Photoshop CC crashing, freezing or slow, not working properly. Read along, refer to the following article by ElectrodealPro to find out details.
Related posts
Link download Adobe Photoshop CC 2020 FULL
How to use Photoshop CC for beginners
The shortcuts to save files, save images in Photoshop CC 2020
How to install Photoshop CC on a computer
How to add new functionality to Photoshop CC
To fix the error Adobe Photoshop CC be Crashing or slow, not working properly, try restarting the application, reset options to factory default, …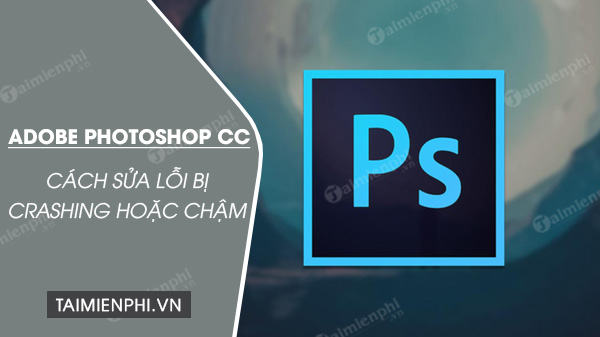 Fix bug, Photoshop is not working properly
Link to download Photoshop software:
=> Link download Photoshop CC 2020 for PC


=> Link download Photoshop CS6 for PC


=> Link download Photoshop CC 2019


How to fix Adobe Photoshop CC crashed or slow
Method 1: Restart Photoshop
Restarting Photoshop is a temporary solution and also the easiest solution to help fix Photoshop crashes, crashes, freezes, or slowdowns. After the application has finished restarting, try to check if the error persists, is working properly or not.
If not, try restarting your computer to see if that fixes the error. By restarting the computer to close background-based applications that consume a lot of computer resources, as well as corrupt or corrupted applications and utilities, can be the cause of the error that Photoshop works. Incorrectly, hangs.
Method 2: Update to the latest Photoshop version
Another way to fix Photoshop CC crashing or slow is to update the application to the latest version.
To do this, open the Photoshop application, then go to Help =>Updates to open the Creative Cloud app. Or the fastest way is to open the Creative Cloud app directly. Next, find and click Updates on the sidebar. Click on the 3-dot icon in the top right corner, select Check for Updates.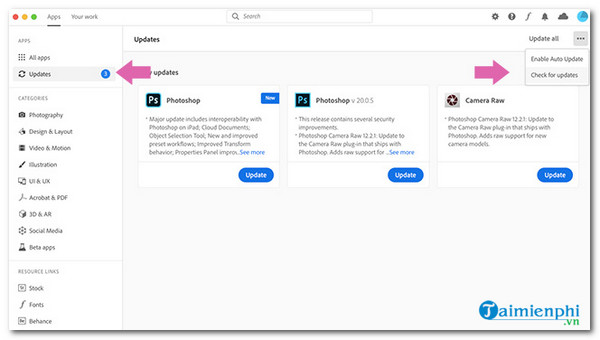 If there are any individual application updates available, click the button Update to update the application, or click the button Update All located in the top right corner to update all apps available in the Creative Cloud suite.
Also if you haven't updated your Windows or macOS version yet, try updating to the latest operating system versions and see if the error persists.
Method 3: Reset Photoshop options
In some cases, the cause of Photoshop not working properly, freezes, … may be due to a misconfigured option. In this case, resetting Photoshop options to their defaults is the ideal solution.
First open Photoshop, then press Alt + Control + Shift (on Windows) or Option + Command + Shift (on Mac). On the screen will display a message asking if you want to delete the Photoshop installation file, click to select Yes.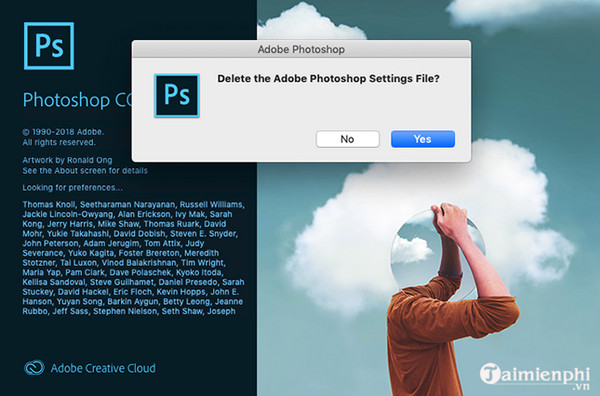 Once the process is complete, Photoshop will return to its original new state. Now you can use the application normally without errors, interruptions occur.
Method 4: Disable 3rd party plugins
Third-party plugins are known to be the "source" of many different bugs and problems in Photoshop.
To check and find out which plugin is the cause of Photosgop freezes, hangs, first open the app and press Shift key. A message will appear on the screen "Skip Loading Optional and Third-Party Plugins", Click select Yes.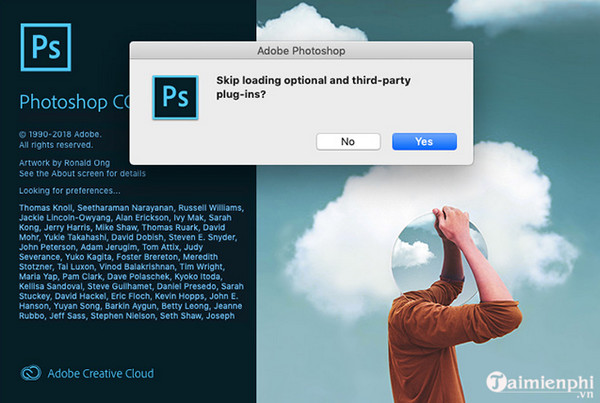 Finally try to open and use Photoshop to see if the application is still frozen, frozen, or slow. If the error no longer exists, the cause is obviously caused by 3rd party plugins. At this point you will have 2 options, either to update all plugins to the latest version or to uninstall each plugin one by one until the fix. Troubleshooting.
Method 5: tweak Photoshop performance settings
On Windows, open the Photoshop app and go to it Edit =>Preferences =>Performance. On the Mac, go to Photoshop => Preferences => Performance.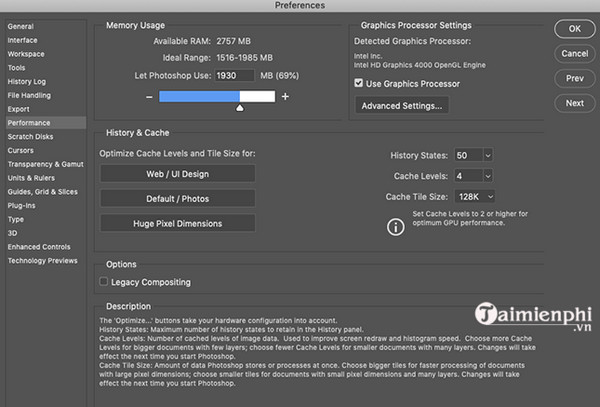 Here are 3 settings that you need to note:
– Memory Usage (memory usage): controls how much RAM Photoshop can use. If you are using a low-end computer, configure this option to make Photoshop work faster.
Graphics Processor Settings (graphics processing settings): check the option UseGraphics Processor to allow Photoshop to use the graphics processor as well as the CPU. In the item Advanced Settings, You can choose from 1 of 3 levels: Basic, thường or Advanced.
Also, if the graphics card you are using supports, you can choose the option Use OpenCL to speed up some features like Blur Gallery.
History and Cache (history and cache): determines the amount of information Photoshop stores in RAM. You can also manually configure the options as well History State, Cache Levels and Cache Tile Size.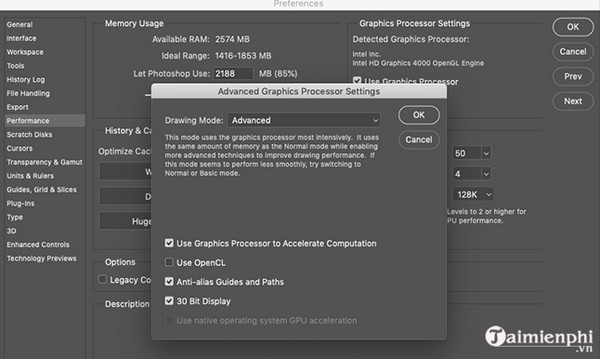 Finally restart Photoshop to apply the changes and check if the application is working properly.
Method 6: The problem is caused by external screen
Photoshop consumes a lot of space and computation to display the edits that the user makes in real time.
If the app works slowly when you connect to a larger screen, try disconnecting and using the laptop or computer monitor and see if the error persists.
Method 7: Upgrade your computer
Photoshop is optimized to run on low-end computers, with minimum system requirements: 2GHz Intel or AMD processor and 2GB RAM.
However, if the application works slowly or continuously freezes, hangs when working with large 3D images or dSLRs, to fix these problems, the last resort is to upgrade your computer.
https://thuthuat.taimienphi.vn/cach-sua-loi-adobe-photoshop-cc-bi-crashing-hoac-cham-59313n.aspx
Above are some ways to fix Adobe Photoshop CC being crashed or slow. Hopefully the above article of ElectrodealPro has provided you with useful information. If you are using Photoshop CS6 and have an error that you cannot type in Vietnamese, please refer to How to Fix Photoshop CS6 error in Vietnamese here. Good luck!
See also: How to fix Photoshop CS6 error that cannot type in Vietnamese
.