It's not hard to notice that you can't easily recover deleted messages on Android phone after deleting them, as there is no trash provided for text messages on phone.
So how to find deleted messages on Android? Is it possible to find and recover them? These are the key points in this post today. Let's get started and find answers for how to recover deleted Android text messages.
content
Things to do first when messages are deleted by mistake
Obviously, you can't view deleted messages directly on Android device, however, that doesn't mean deleted messages will disappear completely as they are usually stored somewhere by the carrier. In fact, they won't be deleted until new data replaces them.
Therefore, if you create new data after deleting an important message, it may be overwritten by the new data and no longer able to recover deleted SMS on Android phone.
In this way, to protect your deleted messages, you should stop using your Android phone right before restoring messages. Turn on mobile airplane mode at the same time, then you need to use effective tools to find and recover deleted messages on Android.
How to get back deleted messages on Android?
Here are 2 Android message recovery methods for your reference, including usage Google backup and Third-party software. Please choose a solution that suits your needs.
1. Use Google Backup
Google Backup It is quite effective to find deleted messages on Android via Google backup. However, there is a limitation. If you haven't backed up your messages to your Google account before you delete them, you can't find and restore deleted messages from Google backup. Conversely, if you have already backed up your messages with your Google account or enabled automatic backup on your Android phone before deleting, you can certainly get back deleted messages on Android.
You can check if you have backed up messages to your Google account this way: Go to app Settings, click Google option and Backup & reset icon.
When you see the feature Automatic restore enabled, it means you have backed up your messages on Google. Now, follow the steps to find deleted messages on Android to restore using Google backup.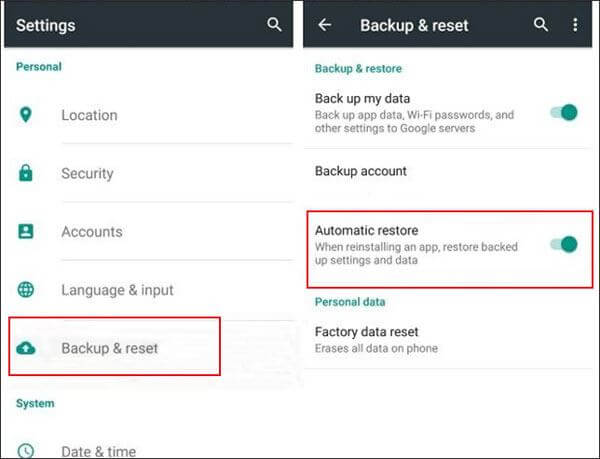 Go to the Settings app (

Settings

) on your Android.
Select the option "Backup and reset" (

Backup & reset

).
Turn on the "Automatic recovery" icon (

Automatic restore

).
2. Use third-party recovery software
Haven't backed up your phone before deleting mistaken messages? You can find your deleted messages on Android via third-party recovery software. It is important to choose a safe recovery program, as there are a multitude of softwares available that are full of different recovery programs, including effective tools and containing software malicious code.
You can choose a number of recovery programs by searching the Internet, some SMS recovery software like MobiKin can make it easier to recover deleted messages from Android, and contacts, logbook. call, photo, document, etc
You can recover your deleted messages with simple instructions.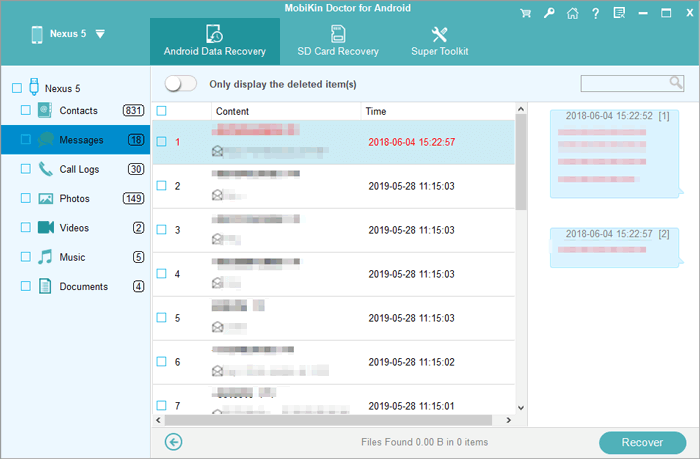 Launch the program on your computer after installation.
Connect your Android phone to computer using a USB cable and enable USB debugging mode on Android (USB Debugging Mode).
After scanning and rooting (if necessary), you can find the deleted messages. Next, click on a category "Messages" (Messages) on the left panel and you can choose the deleted SMS you want on the right side. Press the button "Restore" (

Recover

) to start restoring messages.
What should you do after recovering deleted messages?
After learning deleted messages on Android, there is still one important thing you need to do is to prevent data loss on your Android phone again. While you can get messages back using a professional recovery program, it is useless when they are replaced with new files.
You should make regular backups of your text messages and other important data.
For example: If you just want to backup your messages, you can use SMS Backup +. If you want to back up different types of data, Google Drive will be a great help.
Epilogue
Thanks to the evolving data recovery technology, how to retrieve deleted messages on Android will no longer be a difficult one. If you want to recover your deleted SMS, don't miss the ways I introduced above, as it gives you practical message recovery tips. If you have any other comments or questions related to this article, do not forget to leave your comments in the section below.
The post How to find and recover deleted messages on Android phone appeared first on Computer tips – Informatics for you.