Mono Audio is an accessibility feature of Windows 10 to ensure that even if listeners have problems with one ear or audio channel, they will never miss a word or sound playing in multi-channel speakers. or stereo headphones.
Typically, audio streams consist of left and right channels. Therefore, listeners receive a different sound stream from both channels with different tones. Unlike stereo, mono sound plays the same stream across both channels.
In Windows 10, you have a built-in option to enable mono audio output.
Enabling the Mono Audio feature is also useful when you are listening to only one channel audio, incorrectly encoded, or if the encoded channels are not compatible with your hardware setup, so there is only one. headphones or speakers that play the sound.
In Windows 10, the ability to enable Mono Audio is part of Ease of Access features. It can be enabled via Settings in compatibility category or through Registry editing.
Enable Mono Audio in Windows 10 Settings
1. Mở Settings.
2. Browse to Ease of Access > Hearing > Audio on the left.
3. On the right side, turn on options Turn on mono audio in Make your device easier to hear.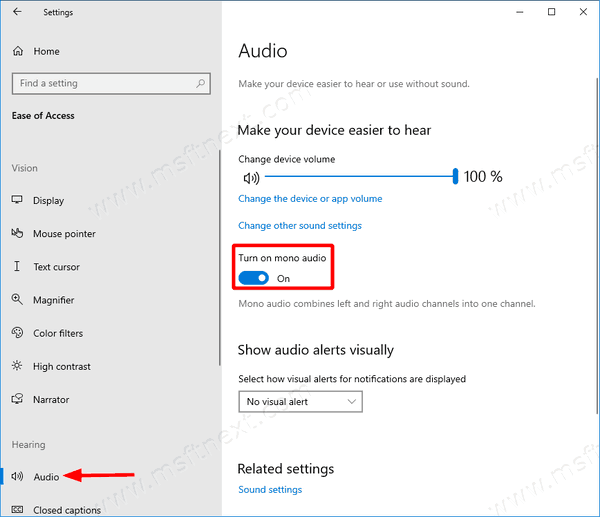 4. Now, you can close Settings if you want.
Everything is completed. The Mono Audio feature is now enabled.
Turn on Mono Audio by tweaking the Registry
In addition to Settings, you can enable or disable Mono Audio by tweaking the Registry. This is useful when you need to apply this option to a group of computers. Let's see how to do that.
1. Open the Registry Editor application.
2. Go to the following registry key:
HKEY_CURRENT_USERSoftwareMicrosoftMultimediaAudio
3. On the right side, create a new 32-bit DWORD value named AccessibilityMonoMixState.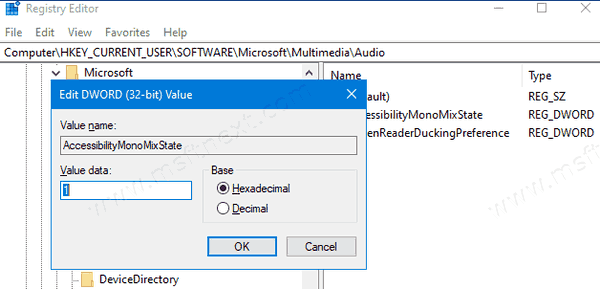 Note: Even if you are running a 64-bit version of Windows, you must still generate a 32-bit DWORD value.
4. Set its value data to 1 to enable Mono Audio. Value data 0 will disable the feature.
See more:
How to turn on / off volume in Windows 10
.