For each image file on the computer will contain relevant information, for some reason we do not want to disclose this information so the solution to change image file information is in place. It's great Windows has a feature that helps you quickly fix a photo's Metadata.
Related posts
How to delete metadata from pictures on a computer
How to edit photos professionally without installing software
Photo editing with Fotor on PC is free and simple
Link download CorelDRAW Graphics Suite 2020
Copy pictures from iDevice to a computer using Windows 8
In Windows operating system, we can easily view Metadata (information) of an image file including profile data describing origin, format, author, camera model … and also can edit Metadata. image on the computer. But how can I edit information quickly and conveniently without the need for photo editing software? Please join us to refer to taimienphi.vn through the article below.
How to edit the image's metadata, information on the computer
Step 1: Right-click on the image file you want to edit image information on your computer and select Properties

Step 2: On the window Properties show you switch to tab Details.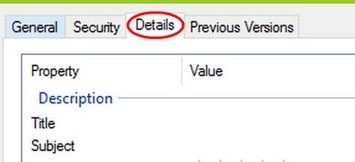 Here you can view all metadata of the image file. To edit information on a certain item, you will immediately prompt for you to enter information, but there will be some default items that we cannot change. Here are six main items of information in an image file: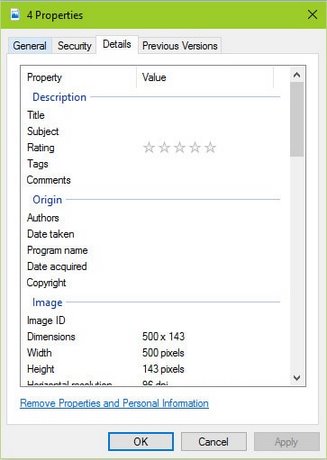 1. Description
In this section you can reset the title (title), add description, comments or add tags for the image file
2. Origin
You can add the author's name (Author), edit the date taken (Date taken), date acquired, the copyright (Copyright) for the image file.
3. Image
Here will display the image file parameters such as image ID (Image ID), width (Width), height (Height) … All this information will be attached automatically so you cannot change it. OK.
4. Camera
Displays details about the camera used to take the photo. Just like the photo specifications, you cannot change these information.
5. Advanced Photo
This information is especially interested by professional photographers and you can also change some information such as: Lens, Camera serial number, white balance, light source, EXIF ​​…
6. Information about File (File)
Display information such as: File name, file type, file path, file size … and you cannot change this information.
After you're done setting up the information of the image file, click Ok to save your changes.
Above is how to edit metadata of photos, information of photos on the computer to help you add some personal information, copyright to your photos. This is a very effective way of asserting the owner or copyright of a photo
Similar to the way to edit the metadata of the image as in the above article, you can also change the information of the audio, video files differently with the same way.
With beautiful images, you can completely use to create unique photo music videos in your personal style, refer to the video making software from photos for more details.
For those of you who are lazy to install image editing software, you can visit websites to edit photos online, nowadays there are many websites that specialize in helping users edit photos with available tools and are not inferior. the software is cover.
Good luck !
https://thuthuat.taimienphi.vn/cach-sua-metadata-cua-anh-thong-tin-cua-anh-tren-may-tinh-21843n.aspx
.