[ad_1]

Have you ever noticed an error in your Youtube video after being uploaded or shared by others on social media? If you run into this situation, your first reaction might be panic and think you'll have to delete the old video and upload a brand new one. However, this process will cause the old video link to die or no view statistics.
Related posts
How to fix the error of YouTube videos that stop automatically when watching
How to get the YouTube video link on computer and phone?
Blur objects in YouTube videos
Turn off youtube ads, block youtube ads, remove youtube ads
Cut youtube videos online, cut videos online on youtube
Don't forget that you will also lose all stats and comments related to the deleted video. However, there is another more effective solution, which is use YouTube Editor.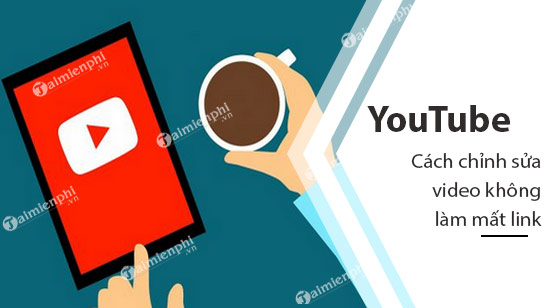 How to edit a YouTube video without losing links or statistics
Besides the basic features like creating video thumbnails, YouTube Editor also allows you to edit videos in a very useful way. Down here, ElectrodealPro Will introduce to you a few ways to correct errors in uploaded YouTube videos without losing links or statistics.
Article Contents:


1. Cut the video.
2. Editing audio.
3. Add End Screen.
4. Blur the subject.
1. Cut the video
This may be when you have to cut some parts from the beginning, middle, or end of the video. This feature is really useful for live streamers or videos with too much dead space to remove.
Instead of uploading a new video and losing the comments, original URL, number of viewers, edit your video with YouTube Editor following the steps below:
Sign in to your YouTube account
– Click on the avatar in the right corner
– Choose YouTube (Beta)
– If you use the older version with Creator Studio, please click on it
– Then you can use Beta Studio
Click on the tab video menu on the left
Click on the miniature video you want to edit the Youtube video
– Choose editor menu on the left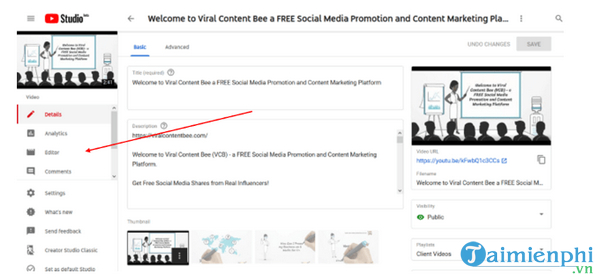 Now that you're in YouTube's video editor, you can choose to trim the beginning or the end of the video. No matter which part you want to cut, the process is the same.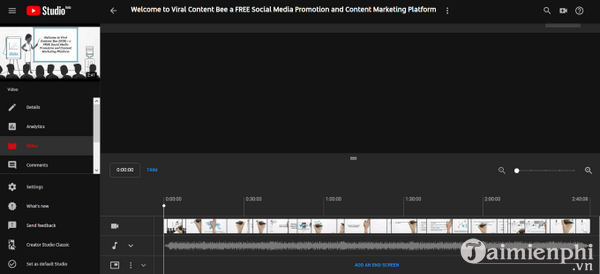 – Click trim to display the blue bars at the beginning and the end of your video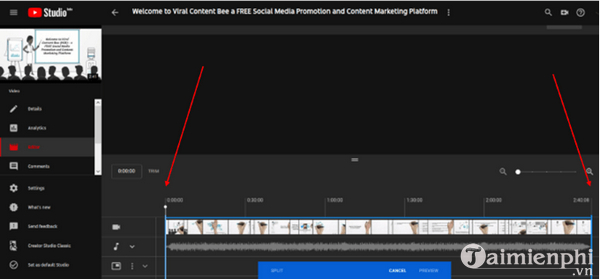 – Hover over the blue bar until it turns white and shows double arrows. You can then drag the bar to the part you want to keep
– Do the same operation whether you want to cut the beginning or the end of the video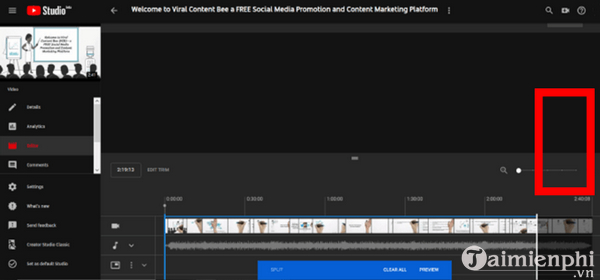 Note that, after selecting, the cut off part will be displayed in a darker color than the rest of the video
Now, click on preview to preview the results
You can continue editing by clicking edit trim
– When satisfied with the YouTube video editing above, click save. The highlighted portion (in the image above) will be cut off from your video.
– While editing is in progress, the original video will remain visible to viewers until it is replaced by the completed YouTube video editing version. This process can take up to several hours.
– To cut a part of video that is not at the beginning or end, first select the beginning point of the part you want to cut.
Then, click on trim and choose split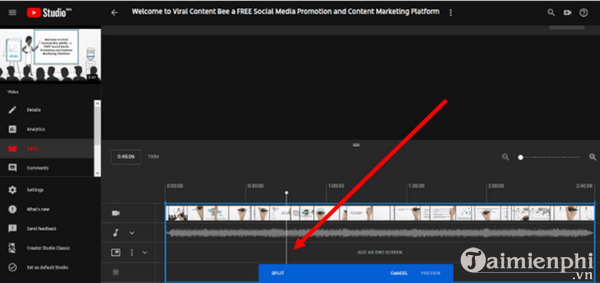 – Once clicked splitYou will find another white bar appear as if you were done cutting the top or bottom. Drag this white bar to the end point of the section you want to cut.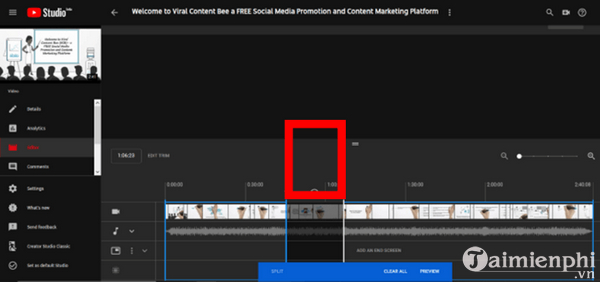 If you want, you can cut different parts of the video at the same time
– Click preview to preview edits you've made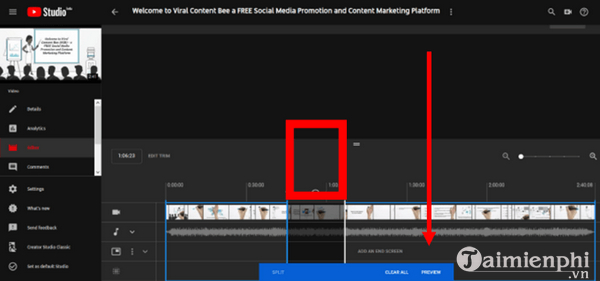 – Click edit trim if you want to continue editing YouTube videos
– When satisfied, choose save.
Don't click the "x"in the part you just selected. You will not be able to remove that part, otherwise, the selection will disappear.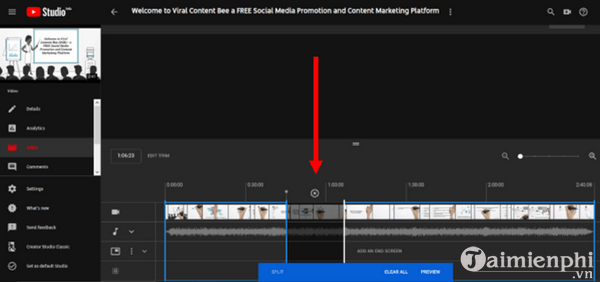 You will not be able to save your edited video without previewing it. Knot save will be gray. However, once you have previewed your edits, the button save will turn green and you can save the video.
2. Editing audio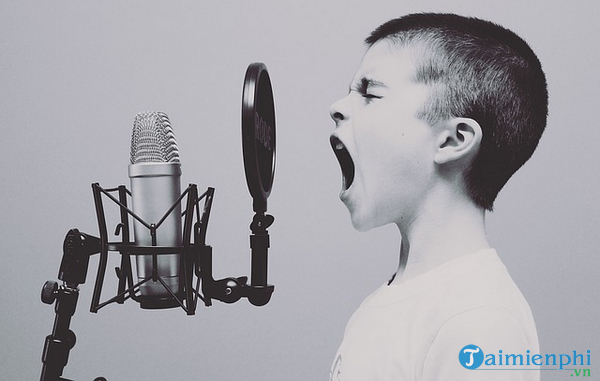 Editing the sound or background music of a YouTube video is quite a simple job. You can change or add music to your videos from more than 150,000 free YouTube tracks in the following ways:
– Using the video cutter above, find the section music note and click on the dropdown on the side
– When you click on the blue sound button, you will be taken to another screen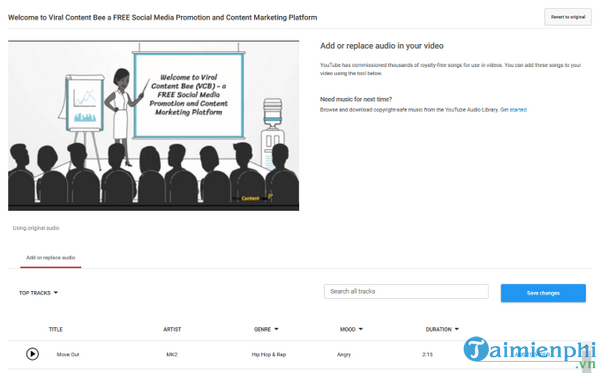 Choose one of the tracks provided by YouTube. You can filter by genre, mood, or duration.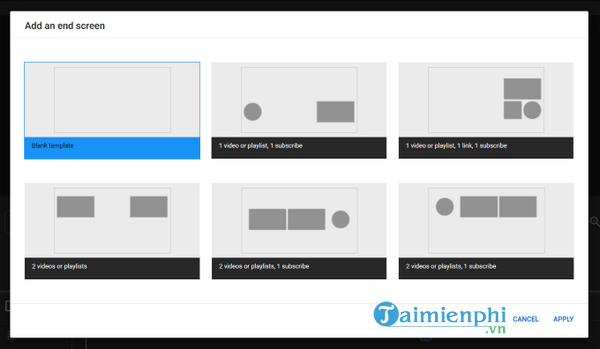 – When you have selected the music you like, click add to video, then select save. So you have successfully edited.
Trim YouTube videos and edit audio are two ways to avoid losing links or statistics. However, many other features of YouTube Editor can also help you increase the traffic and likes of your videos. Eg:
3. Add End Screen
Using YouTube Editor, you can add end screens to:
– Watch the most recently uploaded video
Provide links to related videos on your channel
Direct viewers to a specific video or playlist on your channel
– Get people to subscribe to your channel
– You can choose to use an existing end screen template or create from scratch.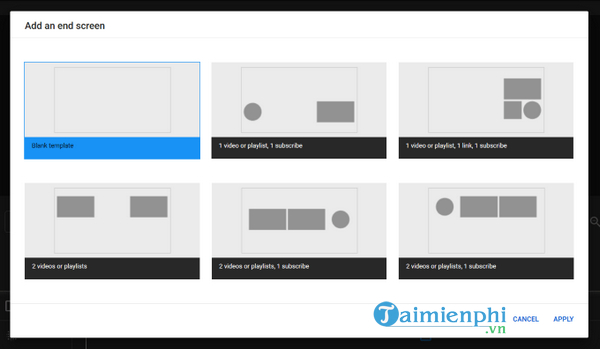 4. Blur the subject
There will be times when you don't want to show someone's face on a video. Instead of removing the paragraph, you can use YouTube's blur face feature. You can choose to blur any part of your video.
https://thuthuat.taimienphi.vn/cach-chinh-sua-video-youtube-khong-lam-mat-link-hoac-thong-ke-55636n.aspx
With the above instructions of ElectrodealPro, you will not need to worry about removing a faulty YouTube video, you can completely edit it instead. With YouTube Editor, it's possible to edit the video after posting without losing the original link or statistics. On Youtube there are so many great videos you can do download videos on Youtube to your computer to watch or create many unique video clips for yourself.
.

[ad_2]