Customizing Firefox interface helps users to experience new interfaces to avoid having to use it forever with the boring default Firefox interface, follow the instructions of ElectrodealPro to refine, customize the interface on the browser. browse Firefox.
Related posts
Hide, show or open New Tab empty tabs in Firefox
Firefox Quantum: Use less RAM, new interface, new tabs with lots of options
Turn Firefox browser into Internet Explorer (IE)
5 cool new tab custom add-ons in Firefox
How to install Firefox Aurora (Metro) on Windows 8.1
Change, adjust, or customize the Firefox interface will change the look of Firefox. One theme can be as simple as changing the background color of the toolbar or the buttons in use, but there are some themes that make Firefox look like a completely different application.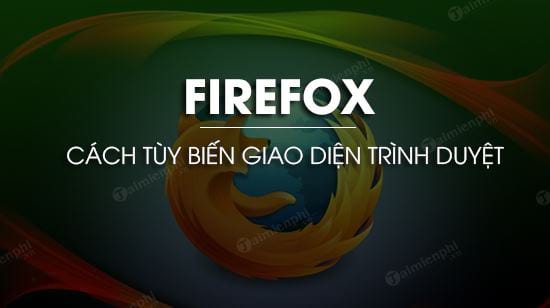 Change the look of the Firefox browser
Guide to customize Firefox interface
– Download Firefox in Vietnamese here.
– See how install Firefox here.
In this article, ElectrodealPro will guide you in a number of ways to customize and change the interface of Firefox.
1. Arrange the Toolbar menu
To enter the custom interface, mouse over the bar Toolbar (top) -> right click select Customization.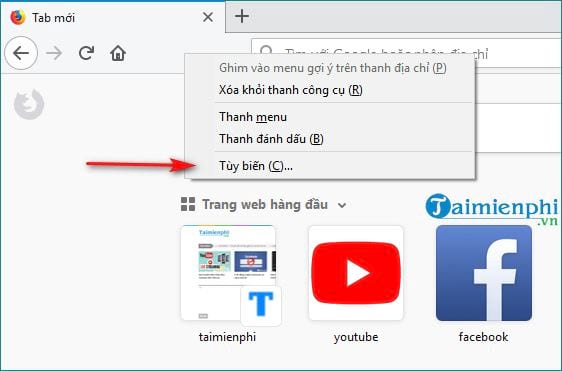 In the customizable interface, you can customize the appearance of function buttons and controls in Firefox, simply drag and drop.
Which function icons do you want to appear on the menu Toolbar -> Please drag up, if you want to delete, perform drag down.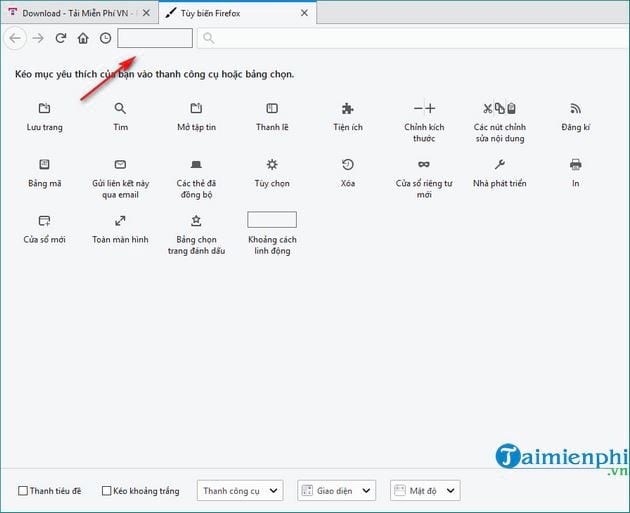 This way, you can customize the address bar to grow longer -> will display more information. Drag all the unnecessary function buttons downwards.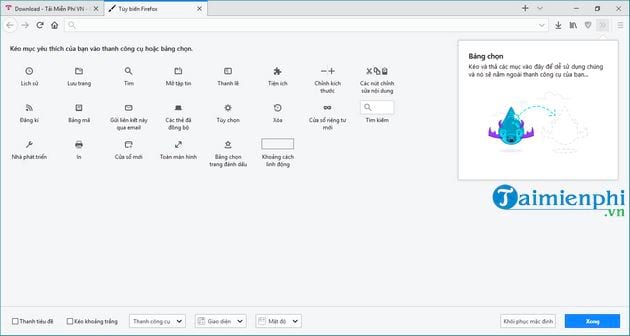 2. Change the Firefox theme
Still in the menu Customize FirefoxYou choose to enter the item Display.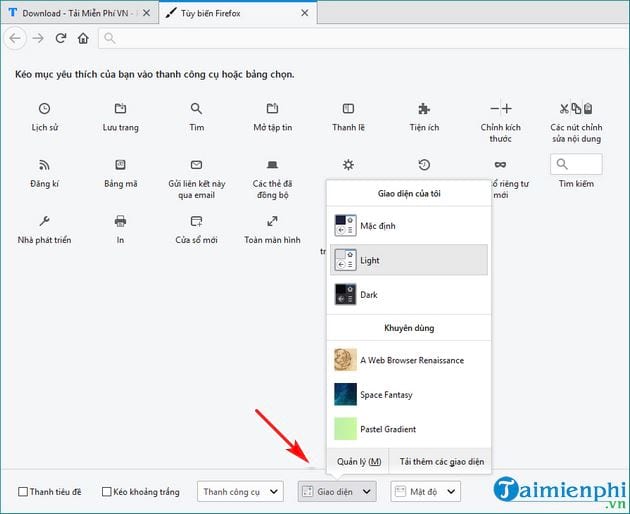 Firefox offers a number of default themes, you can choose from among these 6 themes or get started Load more skins from online store. Then you select the interface you want to place and press Accomplished to complete.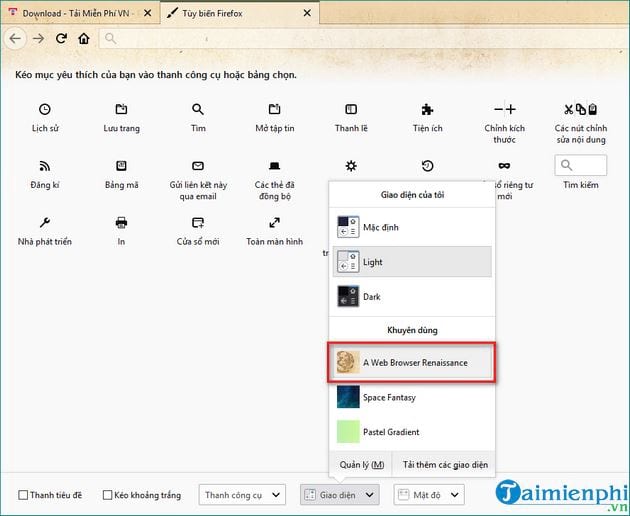 3. Customizable display size
You select the item DensityHere, Firefox allows us to choose from 3 levels of menu display, button display size.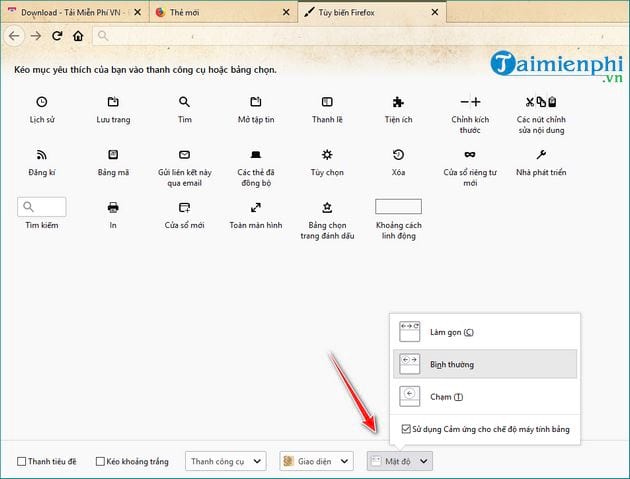 – Compact: Smallest size, extra display space for websites.
– Normal: Default level.
– Touch: The menu size, function buttons will be larger, convenient for operation.
You choose the size that feels most suitable and press Accomplished.
4. Other customizations
At default settings, Firefox Some toolbars will be hidden, so if you're on the latest version you need to re-enable them manually.
In the window Customize Firefox, you want to display any toolbar, please tick it (menu bar title bar, bookmark bar).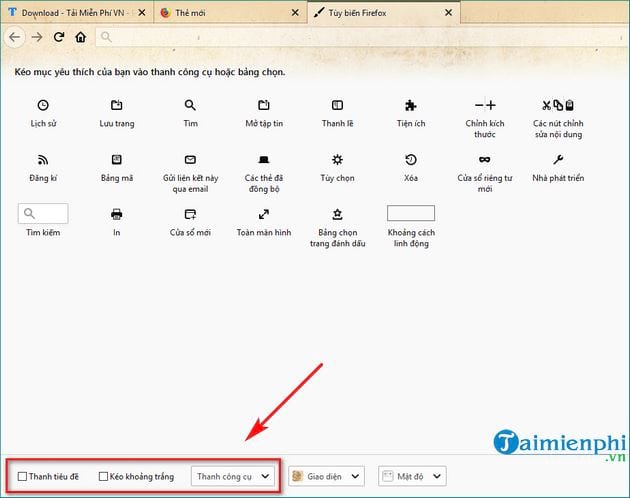 In addition, in this version the button Download will only appear when you download any file. To display, click on the icon Download –> Uncheck the box Automatically hide.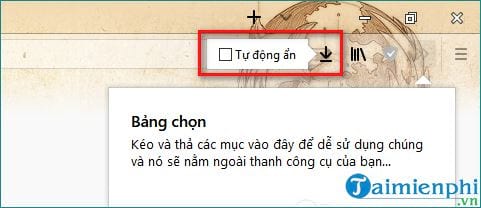 Knot Download will always appear in the right corner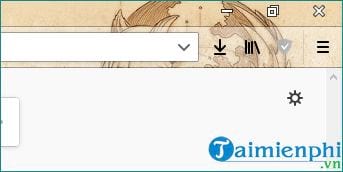 The above article of ElectrodealPro just helped you some ways customize the Firefox interface or use today to help users browse this web most convenient.
https://thuthuat.taimienphi.vn/cach-tuy-bien-giao-dien-firefox-47615n.aspx
In addition, if you are using a computer with Windows 10 installed, you should also try customize the application transfer interface on Windows 10 See how effective this job is. Here's how to make the App Switch app switch in Windows 10 cleaner and more beautiful. Good luck!
.