The Microsoft Teams app can be a great collaboration space for any workplace. The chats take place in a hub called Team, where people are gathered to work, discuss and develop projects. So how to create Microsoft Teams team and manage team effectively?
Related posts
Microsoft will soon increase the group chat limit in Teams to up to 250 people
How to fix common Microsoft Teams errors
Keyboard shortcuts in Microsoft Teams
How to rename on Microsoft Teams
How to go back to meetings, learn on Microsoft teams
With a user-friendly interface, seamless integration with Office 365 and an affordable cost, Microsoft Teams has become a popular collaboration platform. Once you have established or joined an organization, forming groups will provide you with more effective ways to work. And the following article will share you how to create groups and manage groups in Microsoft Teams.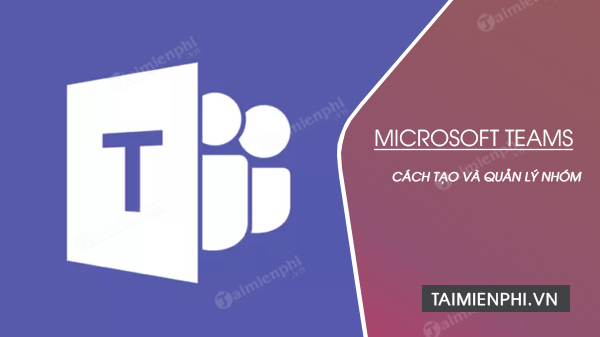 How to create and manage teams in Microsoft Teams
Before forming Teams, you need to have an account first, see how create a Microsoft Teams account here.
How to create a team in Microsoft Teams
In Microsoft Teams, you will join or build an organization made up of many different groups (such as the Content Department, the Development Department, the Marketing Department …). Each group can have different settings with different channels (such as Announcements, FAQs, IT Support …) for members in those groups to chat via audio, video. or text and share, and collaborate on files.
You can team up in the Microsoft Teams app on your desktop or on the web by following the same steps. Start by selecting a tab Teams on the left and then click on Join or Create a Team.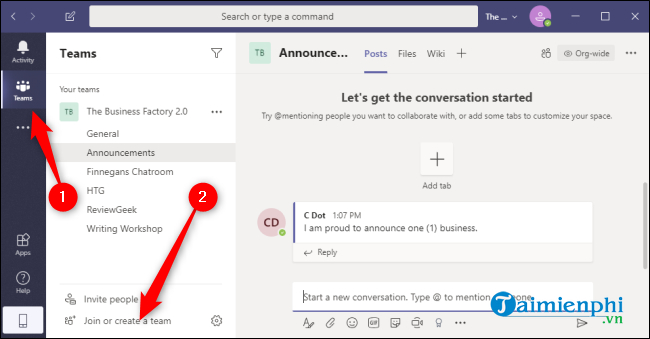 Click the button Create Team. You can also use the field Search Teams in the upper right corner to find the group you or the company created earlier.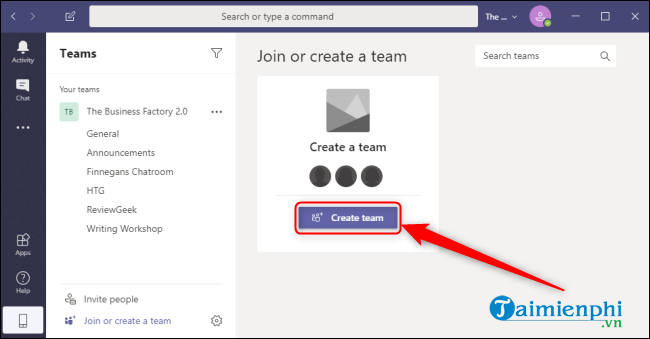 To create a new group, you choose Build a Team from Scratch. If you already have the Office 365 groups or groups you want to use as a template for this new group, click Create From and select that group. You can click What's a Team? to open the official Microsoft website that will give you more information about how groups and channels work.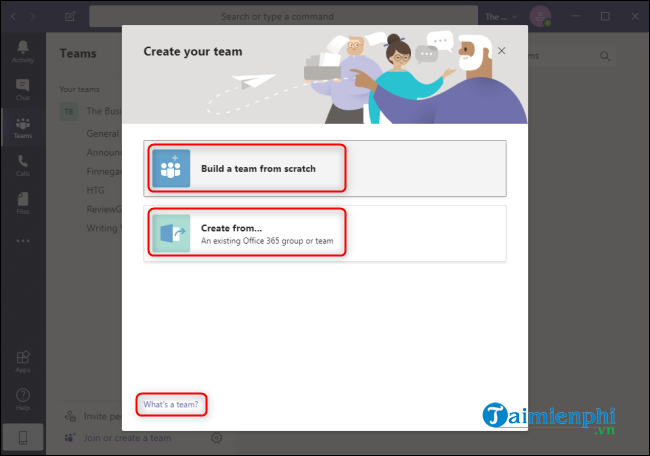 If you want to limit participants or see this group, select private. If you want anyone in your organization to be able to search and join the group, select Public.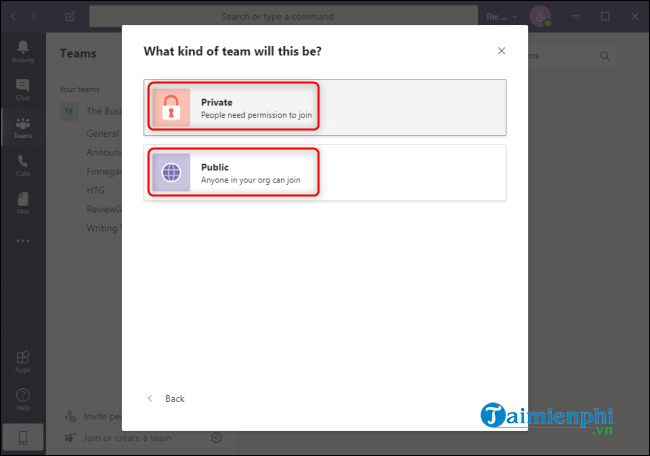 Name the group under the item Team Name. You can also fill out fields description with any additional information about the team. You can always change the team's name and description afterwards by clicking three dots next to the group and select Edit Team. To finish building your team, select Create.
How to manage teams in Microsoft Teams
Once the group has been created, you can immediately start inviting colleagues in the company to the new group. Enter the name of the person or group in the field Start Typing a Name or Group. You can always invite more members later by clicking 3 dots next to the group and select Add Member. Add all members as desired and click Add.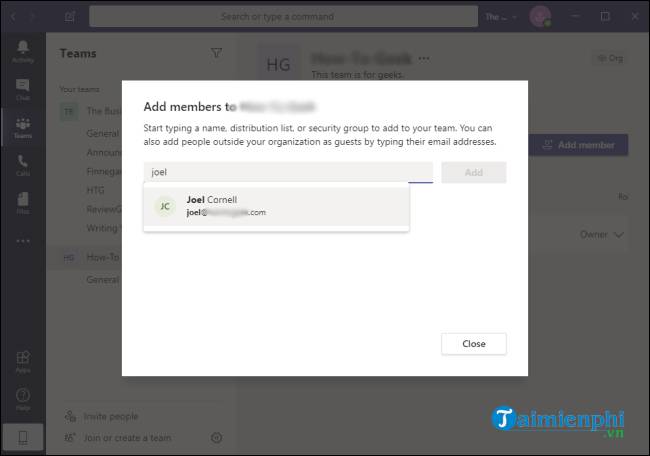 If you want to add someone to a group that person isn't currently in the company, you'll have to manually invite that person by selecting the tab. Teams> Invite People and provide their email address. These email addresses don't have to be Microsoft email addresses, but invited people will be prompted to use their email addresses to create a Microsoft account.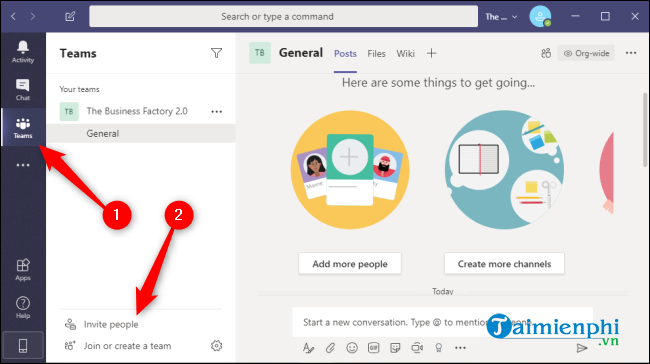 Once your company members have been added to the group, you can change individual roles, from member to owner, by giving them the same permissions you have. To do this, you click on arrow upside down next Member.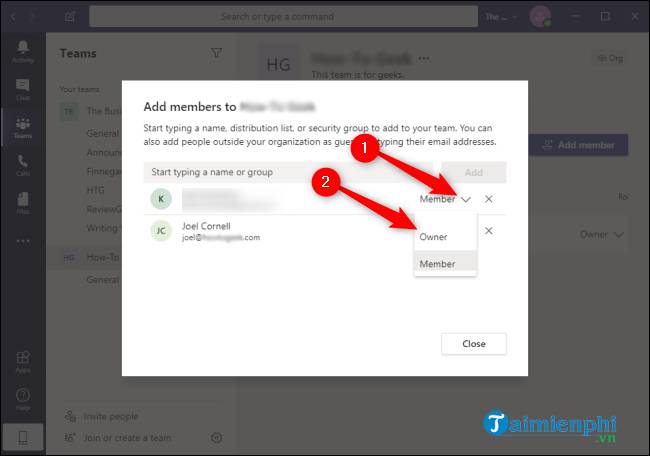 You can always change these settings later by clicking 3 dots next to your team and choose Manage Team.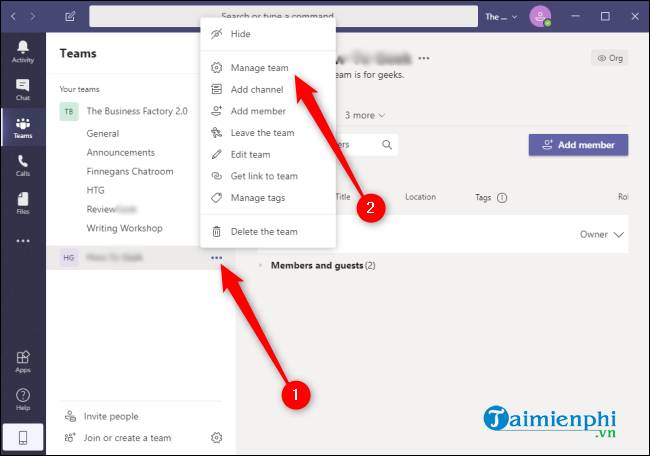 How to create a channel in Microsoft Teams
In the same menu that you use to add members or manage group settings as tags, you can create new channels by clicking. 3 dots stay next to the team and choose Add Channel.
Just as your group can be public or private within your organization, your channel can be set up public or private within the group.
Name the channel under the item Channel Name and description of the channel under the section description. Open the drop-down menu below the item Privacy to set this channel to mode private or Standard. Unless you want to manually invite the team members, check it otherwise Automatically Show This Channel in Everyone's Channel List. Finally click the pen Add to complete.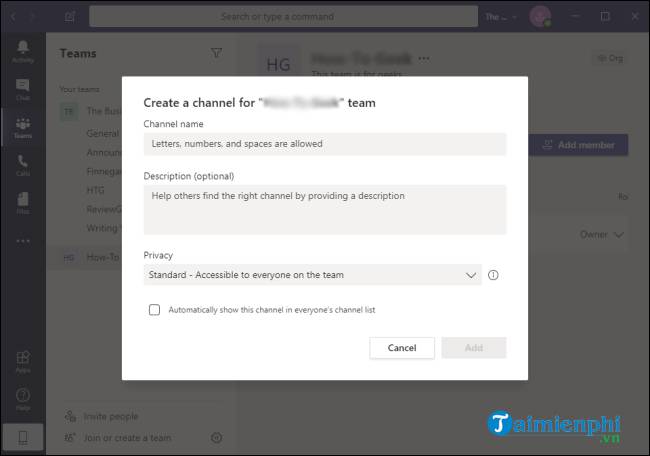 https://thuthuat.taimienphi.vn/cach-tao-nhom-va-quan-ly-nhom-trong-microsoft-teams-57332n.aspx
Once your team is up and running, you and your colleagues can use Microsoft Teams to communicate and collaborate more clearly through streamlined channels. Make sure your organization is integrated with Office 365 to get the most out of all the user-friendly features Teams offers for small and large businesses. In addition, for your reference how to use Microsoft Teams here.
.