Paint.NET is a compact but extremely high-quality image editing software. With the curl text creation feature in Paint.NET, you can create curling text logos with this software. The detailed tips to create curling letters in Paint.NET will be introduced by ElectrodealPro shortly.
Related posts
How to rotate selected objects in Paint.NET
Create shadow effect in Paint.NET
How to create a transparent background image in Paint.NET
How to change image color in Paint.Net
How to download and install Paint.NET
At first glance Paint.NET quite similar to the default Paint software on your computer. But if you compare the features, Paint.NET is really a professional image editing, logo creation software. Compared to Paint and some other photo editing software, Paint.NET excels with many features, along with unlimited Undo capabilities. If you correct the wrong image, make the wrong action, you can undo as many editing steps as you want. Paint.NET also supports the ability to work in layers like Photoshop, showing the professionalism of the software, but Photoshop is still used by many more users. Here, ElectrodealPro will introduce to you the function of creating curling letters in Paint.NET, helping to create logos and decorations for each purpose.
How to create curling text in Paint.NET:
Step 1: Download and install the latest Paint.NET version on your computer. Then open Paint.NET and click on the icon T (Text) to enter text.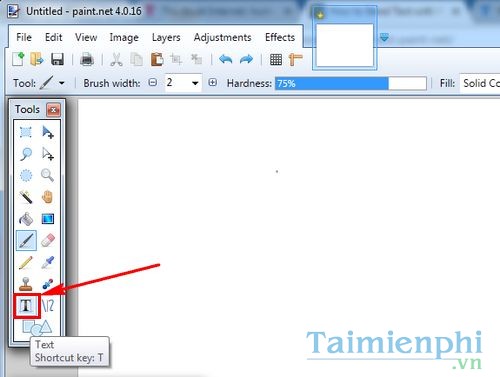 Write content whatever you want into Paint.NET.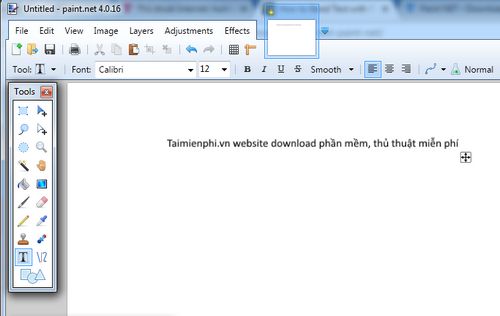 Step 2: To create curled text in Paint.NET click Effects and choose Distort. Then press Polar Inversion …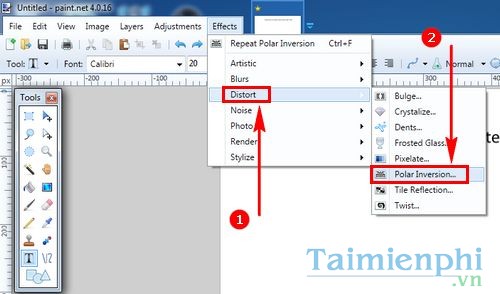 Step 3: Immediately, the text you just wrote will become curled letters in Paint.NET, you can adjust it Amount to customize the curvature of the text.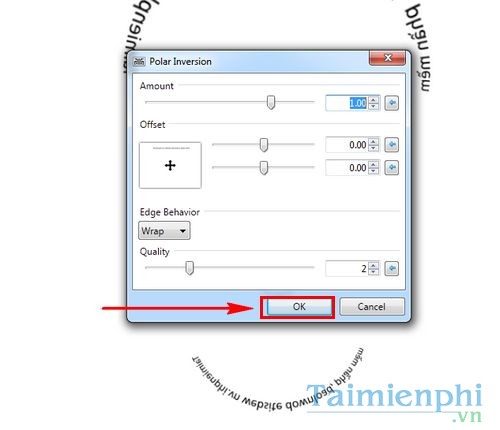 This is the result of curling text in Paint.NET.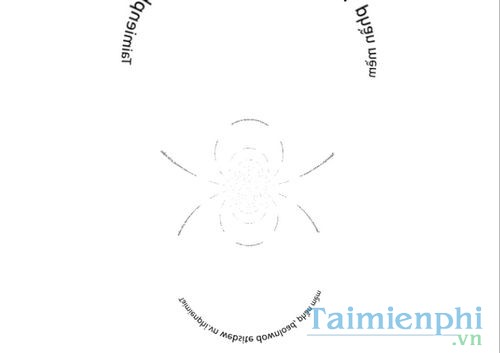 Step 4: If you want to bend less, press Distort and choose Twits.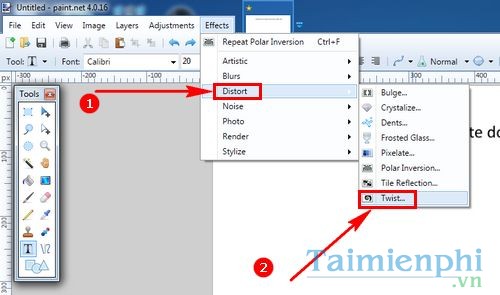 This will create very nice wavy text.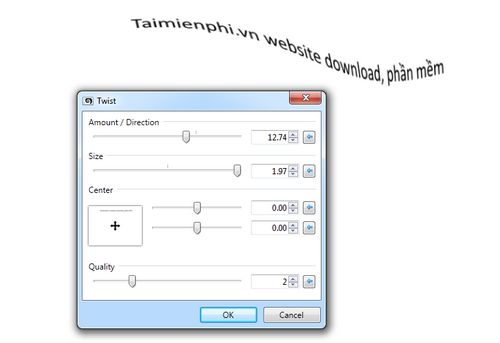 In addition to the two ways to create curled text in Paint.NET with interesting effects just now, you can explore many new features. Paint.NET software has full of leading functions to assist those who want basic photo editing.
In addition to creating curled text in Paint.NET, you can also perform shadow effects in Paint.NET. There are several levels of shadow editing in Paint.NET to suit certain images. Please try create shadows in Paint.NET Here the way that ElectrodealPro instructed. Surely you will manually create pictures with names, signatures or a few meaningful caption lines with your images.
In addition, if the image is rotated, or captured backwards, you can use Paint.NET to rotate the image in the correct direction, the trick to rotate the image in Paint.NET was guided in the previous article You can follow and follow the image rotation in Paint.NET.
https://thuthuat.taimienphi.vn/cach-tao-chu-uong-vong-trong-paint-net-24936n.aspx
Photoshop is a tool that can do anything with your images, if you do not know how to combine text on photos in Photoshop, with the Photoshop image collage trick available on Taimienphi, you will figure out how to do it yourself. Write words or meanings on it.
.