With Paint tool, you can create beautiful new year 2020 greeting cards for your loved ones in no time, even without a lot of time or professional graphics software or any previous experience.
Related posts
How to create 2018 Spring Mau Tuat greeting card with Paint
How to create a new year greeting card 2019 spring Ky Hoi with Paint
Create a New Year greeting card 2015, Spring of An Mui simple with Paint
Instructions on creating 11/20 greeting cards with Paint super simple
Video drawing Son Goku super level 3 in Paint is mesmerizing
With just a few days left, everyone will welcome the coming of the new year 2020. In the bustling atmosphere, happy to welcome the spring of Canh Ty, it is also a time for everyone to send meaningful and good wishes through cards sent to family, friends, partners, … And it would be even more wonderful to create those cards yourself.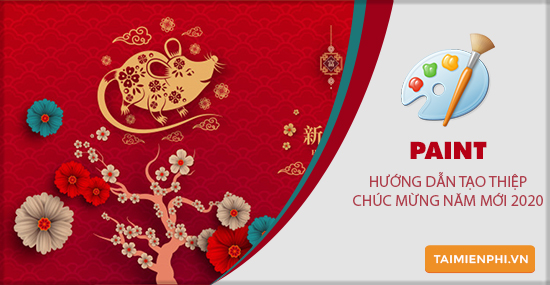 Create New Year greeting cards 2020 using Paint
However, what if you are a busy person or have no experience in card making? Don't worry, in this article Taimienphi will share with you how to create a simple yet beautiful new year 2020 greeting card using the Paint tool available on the computer.
Instructions for creating new year greeting cards 2020
The first thing, you need to prepare yourself interventions according to the theme of Happy New Year 2020. According to the traditional chi intervention system, the next year will be the year of the Canh Ty, so the image of the mouse will be popular and used a lot in the template of greeting cards, New Year, New Year.
Taimienphi has made a collection of some beautiful cards themed with mouse themes and celebrate the new year 2020, users can click on the link below to download and use.
– Link download New year card template 2020: Download New Year Cards 2020
Besides, you can also refer to the sample New year greetings 2020 the best and the meaning collected by Taimienphi.
After downloading the New Year greeting card 2020 file, you proceed to extract and perform the instructions to create the card as follows.
Step 1: Open the Paint app on Windows. Click on the item File and choose Open .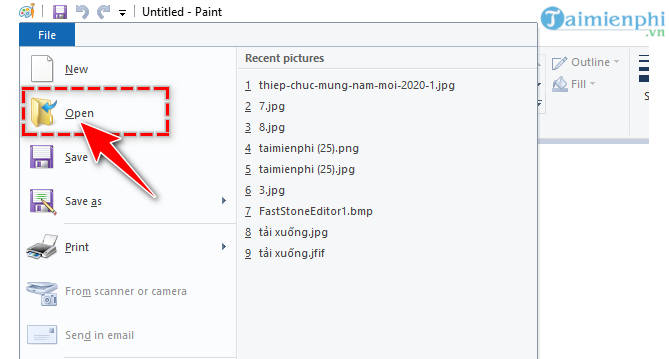 Step 2: In the window Open You will find the downloaded folder containing the new year greeting card template 2020. Choose an image and press the button Open under.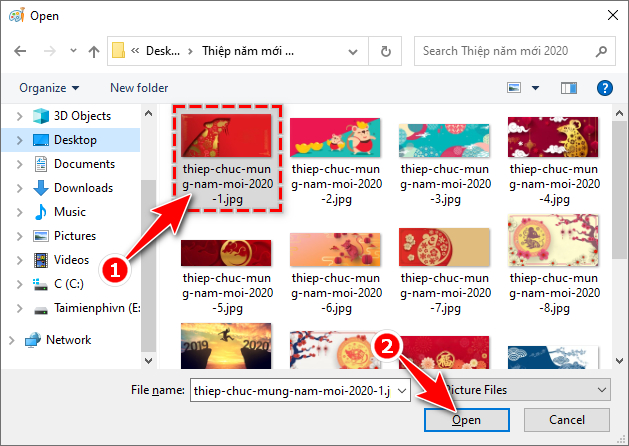 Step 3: In the Paint window, you click the card Home then select tools Text have letter A icon .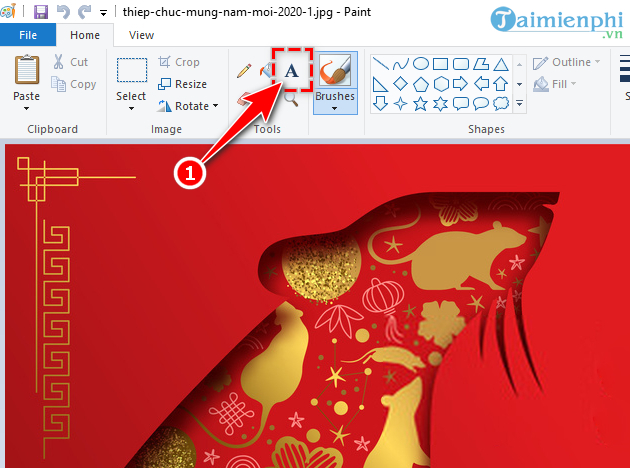 Step 4: Click and at the same time move the mouse to localize where you need to insert text in the image.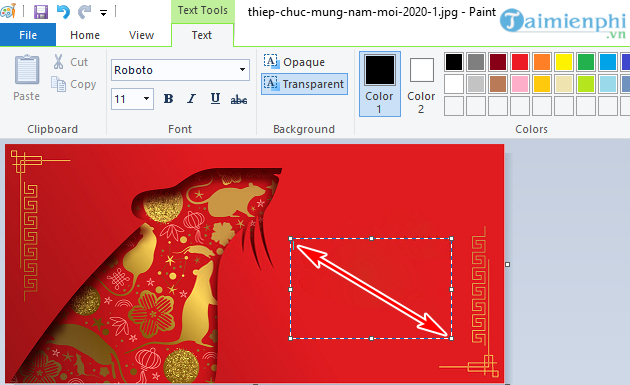 Step 5: Enter your New Year greetings in the box. Next you should highlight all the letters and use the tools Font , font size, italic, bold, underline in the functional group Font for completing.
In this example, Taimienphi used 2 fonts: Open Sans ExtraBold and UTM God's Word is a beautiful and easy-to-see text format. User can download and see how Install Font UTM in another article by Taimienphi.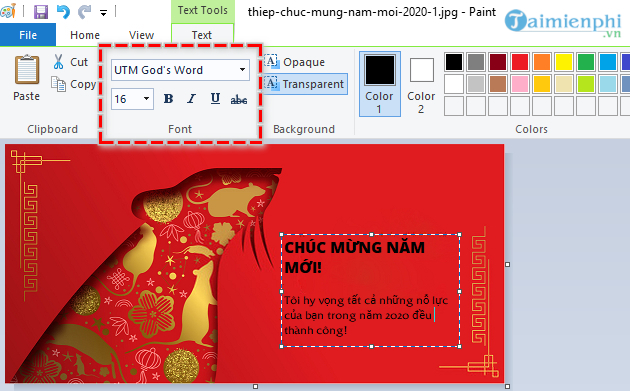 Step 6: To change the color of the text, you highlight it and select the color available in the tool Colors on the menu bar. If not satisfied, you click Edit Color to choose other colors.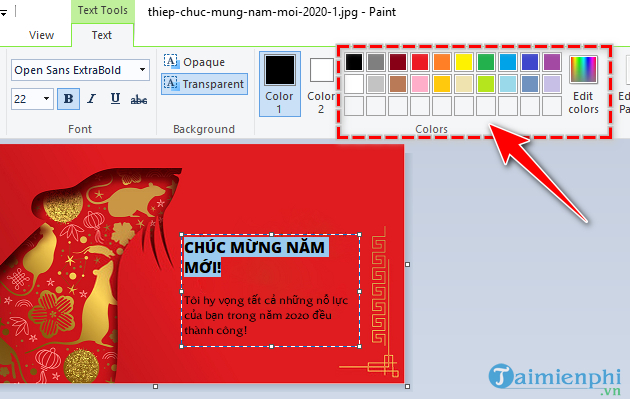 Step 7: After you finish creating New Year's greeting cards 2020, click on the item File on the toolbar. Here, you click to continue Save as and choose an image format like PNG, JPEG, GIF … when saving.
In this step, Taimienphi chooses to save the image as JPEG.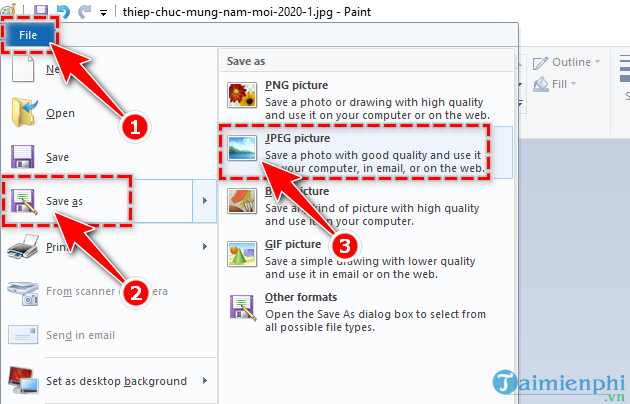 Finally, you review the New Year Greeting Cards – The result of your own design process.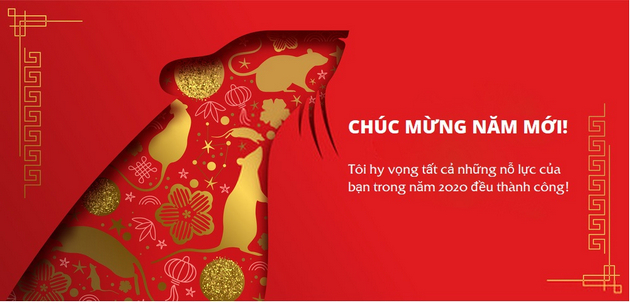 https://thuthuat.taimienphi.vn/cach-tao-thiep-chuc-mung-nam-moi-2020-xuan-canh-ty-bang-paint-54551n.aspx
With just a simple tool called Paint, you will quickly create a satisfactory card with New Year wishes to send to your friends, relatives or colleagues in the new year 2020. Hope The cards designed by yourself will bring joy to your recipients in this upcoming spring of Canh Ty. Good luck!
.