Have you prepared anything for the upcoming Christmas, buy a gift, a fir tree or try something new like creating a Christmas card in Photoshop, don't worry because it's not quite as difficult as you think. where.

Related posts
How to create borders for photos in Photoshop, inner and outer frames, blurred
Instructions Create Valentine cards in Photoshop
How to make a very beautiful greeting card with Photoshop latest
How to combine, create a panorama in Photoshop
Instructions for creating borders around people in Photoshop
How to create a Christmas card in Photoshop very simple, you do not see the word Photoshop but be discouraged because ElectrodealPro always creates simple and easy tricks even if it is a complex software like Photoshop. Your reading task is just to follow the entire instructions in creating Christmas cards in Photoshop in this article.
How to create a Christmas card in Photoshop
Tools need to prepare:
– Software Photoshop standard version here, download Photoshop.
– Materials used for creating Christmas cards in Photoshop, if you do not like to follow, you can download other images online. Dowmload of raw materials HERE.
Step 1: In this article, ElectrodealPro will use the simplest way to create a Christmas card in Photoshop with the 4 basic images below. All of our 4 images below have their fonts erased so readers can use it to blend into any image.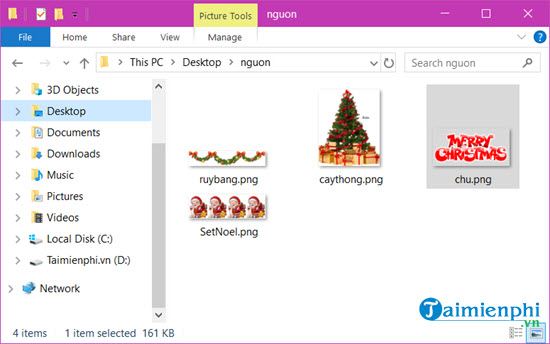 Step 2: Open Photoshop, create a new file or click Ctrl + N to create a new file. Here you choose a resolution of 1280×720, in addition if you like bigger then to bigger. Here we choose the 720p resolution that is most appropriate.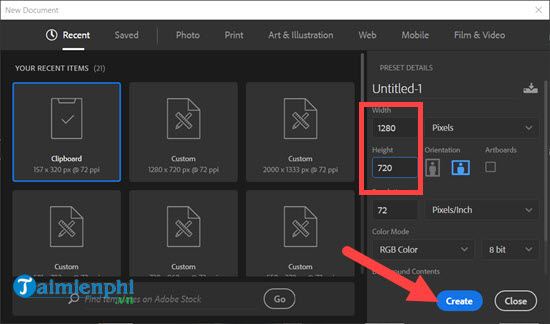 Step 3: Shortly after, we will perform creating Christmas cards in Photoshop from the first step that is throw the santa picture backWe will use the Santa Claus for the bottom border. As soon as you drag and drop you will be as shown below, at this time you just need to drag it down.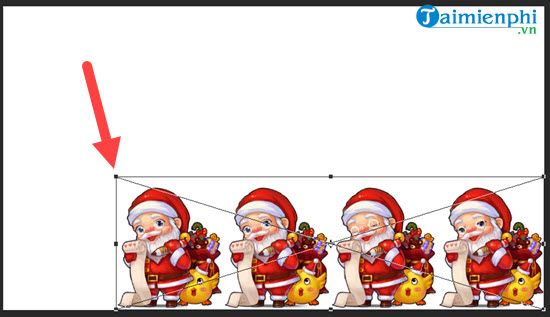 Step 4: Then press Ctrl + J To duplicate this Santa Claus layer up and align like image below.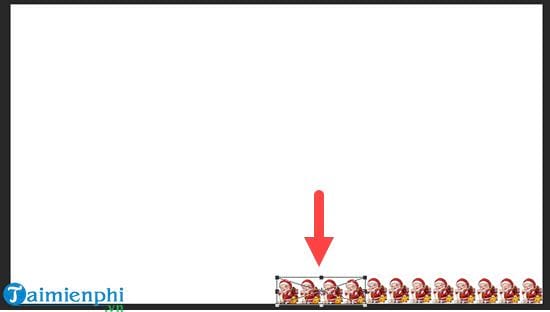 In the Layer to the right of Photoshop, click on the entire Santa layer just now and click Ctrl + G to create a separate group for it.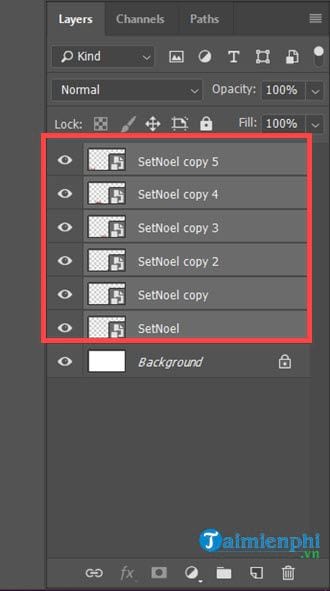 Step 5: Then continue to multiply that Group to edit and drag Make a long line with Santa Claus as shown below.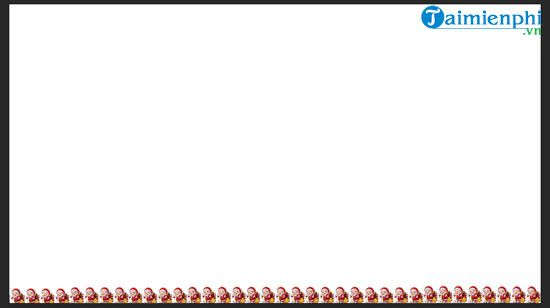 Step 6: Likewise we will make the top border with the ribbons, you do the same as Santa Claus and remember to tick chain icon to make sure the ratio of length and width is corresponding.

After multiplying the Layer and making it look like Santa Claus, you will be shown below, so we have created a Christmas card in Photoshop 50% already.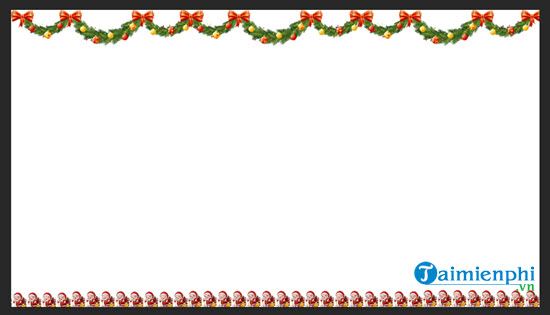 Step 7: Next you just need to Christmas tree scissors and gift boxes In the picture, here you will see that the gift box and the pine tree are very ugly. Don't worry we'll take care of it now.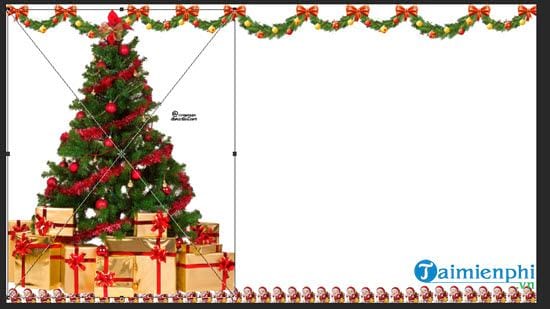 Step 8: On the right layer you just need to Hold and drag the fir layer near the bottom, ie on the Background is fine.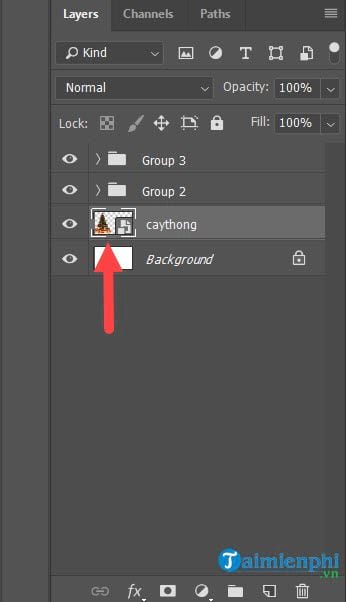 The final result after refining the tree's position a bit will be as follows. To fine tune you just press Ctrl + T on that layer is fine.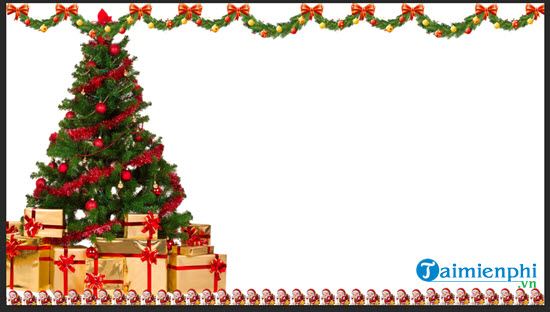 Step 9: The final step is to add a picture of Merry Christmas text to it, so we are 99% finished creating Christmas cards in Photoshop.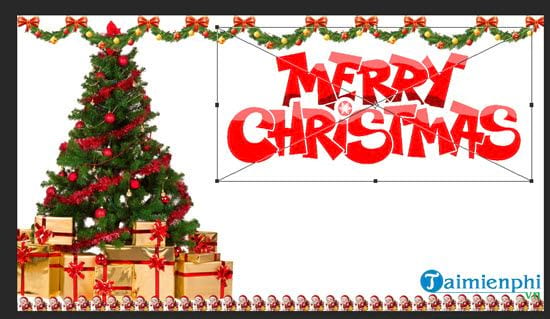 The remaining 1% is your eye, how you want to decorate the picture to create a Christmas card in Photoshop that makes the most sense. You can also write your Christmas wishes in English on the card you are creating.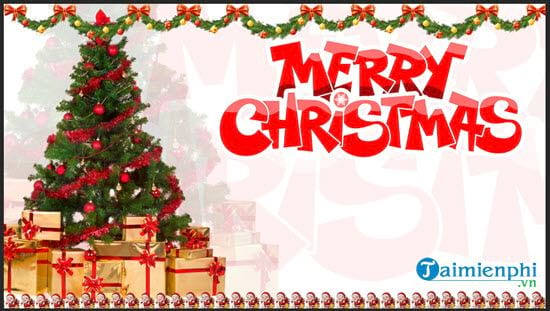 Above is the instructions for creating Christmas cards in Photoshop, as you can see, making Christmas cards to give to your friends is completely simple and easy, isn't it? Moreover, using Photoshop to make Christmas cards is not difficult, just follow the instructions of ElectrodealPro above.
https://thuthuat.taimienphi.vn/cach-tao-thiep-giang-sinh-bang-photoshop-41502n.aspx
In addition to making it easier for you to get acquainted with Photoshop, ElectrodealPro advises readers to learn about Photoshop shortcuts. With Photoshop shortcuts will help users use Photoshop more proficient.
.