When you consider buying a new iPad to use or as a gift, choosing the right storage capacity is a big decision. Thankfully, the days of 16GB of iPad (and iPhone) are long gone. Whether you use an iPad mini, iPad, iPad Air or iPad Pro, it's not always easy to determine the amount of storage you need in the future.
The temptation to buy more capacity than it actually needs is huge, but it's probably not worth the extra cost. That means, apps and games are getting bigger and bigger, and with video streaming apps offering downloadable content, storage becomes more important than ever.
Choose a small size to save
Apple's "low-end" iPad lineup (10.2-inch iPad) starts with 32GB and for most people, that's enough. First, do you have an iPad yet? If so, you should check and see the capacity currently in use. Choose Settings, click on General and then select iPad Storage. This number shows how much storage you use. If you're thinking about buying an iPad and currently only own an iPhone, the same method applies. This is the best first step to understanding your needs.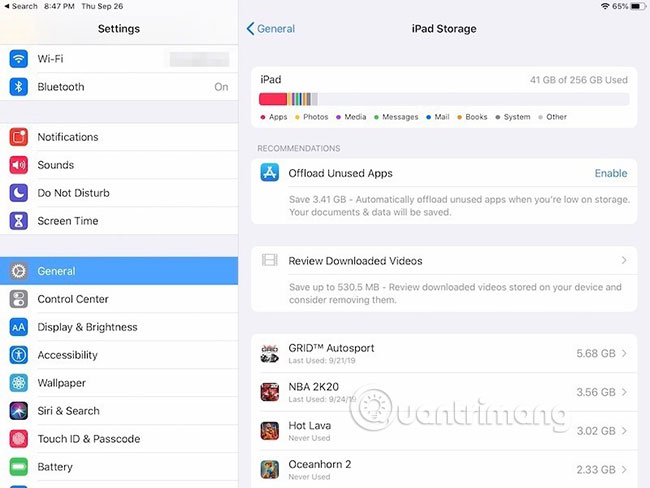 Once you've determined your current memory status, you'll know whether you can skip the larger storage options mentioned below or continue learning more. iPad 32GB and likely 64GB is probably the perfect choice. The good news is that you can still store lots of apps, games, music, photos, etc.You will find plenty of space to download Microsoft Office apps or drawing tools like Pixelmator.
When it comes to movies, it's important to note that downloading from an app store or Netflix can quickly take up memory space. A 4K movie usually ranges from 4 to 5GB while 1080p is capable of only about 1GB. In the case of 4K movies, the 32GB iPad is probably not the best solution. If you don't plan on downloading many movies or editing 4K videos shot on iPhone, the 32 and 64GB options are great options.
Choose large capacity
Higher starting at around $ 100 (VND 2,300,000) compared to the price of the basic product, iPads with 128GB or 256GB of storage are still a great option. Considering you can double or quadruple your storage for just over $ 100 can make it easier for some to make decisions.
IPad buyers often want to download tons of games or store a full collection of photos, so choose a larger storage capacity. If you want to edit videos on iPad, you should also choose a larger capacity.
On the App Store today, apps are getting bigger and bigger, and it's a trend that shows no signs of slowing down. Just a few years ago, games over 250MB were rare. Today, games over 1GB become standard and applications like GRID Racing are likely to account for 4GB or more. Movies like Aladdin from the iTunes store own a whopping 5.3GB in HD.

The same thing can happen to tourists who want to download movies to watch on the go. As mentioned before, 4K movies are plentiful on Netflix or the App Store and only a single movie can take up quite a bit of storage space on the device. If you're a movie nerd, never miss the latest movies, the iPad has as much storage capacity as possible. This ensures that you don't have to delete old items from your iPad to make room for a new movie.
For professional iPad users, especially those who are doing heavy graphic work, you need to consider an even larger size: the 11 and 12.9-inch iPad Pro with 512GB or 1TB capacity! Put simply, these iPad sizes are for those who aim to turn the iPad Pro into a working machine. If application development is intended in the future or you are currently operating in this area, the larger the iPad, the better. Developers working on augmented reality games are particularly vulnerable to running out of storage space.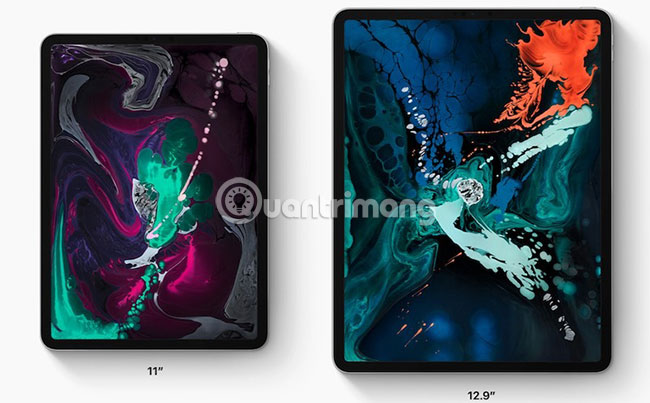 You still do not know where the capacity is right for you!
It's okay if you still can't determine which iPad capacity is right for you. No one can have absolutely correct answers. Often people will try and can make the wrong choice. The good news is that most retailers offer a generous 30-day return policy so you can see what best suits your needs. Plenty of time to decide how much storage you want and for what purpose you want it to be used. If you're not sure, the best decision is to spend an extra $ 100 and have future storage available.
The good news is that every iPad has access to millions of apps, games, and tools in the app store. So, no matter which capacity you choose, there's a lot of fun to be had. What iPad capacity do you own and how much are you currently using? Leave your comments in the comment section below!
Wish you find yourself a suitable choice!
.