If you want to start making money from Facebook Fanpage, besides knowing how to turn ideas, content into money, you need to check whether Facebook Fanpage is eligible to make money or not and this is how you do it.
Related posts
Set up automatic reply to messages for Facebook fanpage
How to activate the Hard Fan badge for Facebook Fanpage
Facebook – Block and unblock comments on Facebook Fanpage
Facebook restricts monetization and controls new advertisers
5 ideas for making money from Facebook Live
Facebook is a great place to advertise and make money Online. You can advertise the services and products that you sell in many ways such as running Facebook advertising and marketing campaigns to get better traffic and sales, or you can create a Facebook Fanpage. .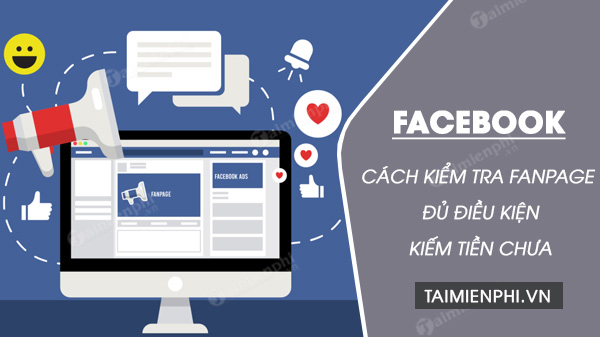 Instructions on how to check whether Fanpage is eligible to make money yet
See also: Guide to make money on Facebook online
With a 100,000 members or Likes on the Facebook page, you can easily earn a minimum of $ 1,500 per month. Of course, this depends on many factors such as the quality of the content, the level of engagement of the members … But one of the important steps that you need to take before starting any Facebook monetization plan. Fanpage is to check if your Facebook page is eligible to make money or not.
Instructions to check whether Facebook Fanpage is eligible to make money or not
Before proceeding to check if your Facebook page is eligible to make money, let's find out what Facebook Fanpage is and why many people choose it to make money.
1. What is Facebook Fanpage?
A Facebook page is a business account representing a company or business. There are many tutorials and resources that provide tips for developing Facebook pages effectively. Facebook also launched many API applications and tools to increase people's presence on social networks. The Facebook page allows people to access and share many useful and interesting resources, and as a result it is rapidly growing as a great marketing source for businesses around the world.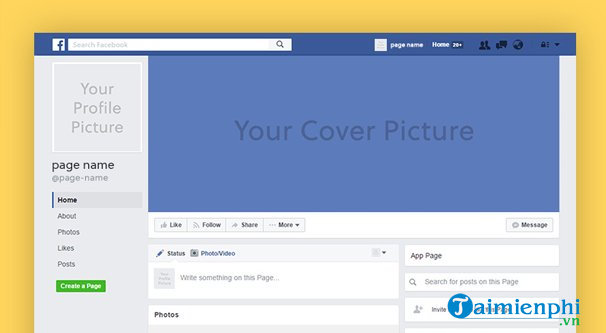 Today, people can easily make thousands, even millions of dollars just by creating Facebook people pages, increasing the number of members and monetizing the pages or even selling them like a real business. You can find a lot of articles that share different ways to make money from Facebook Fanpage such as publishing sponsored posts, posting content with affiliate marketing links, selling online or selling Facebook pages.
2. Why do you want a Facebook Fanpage?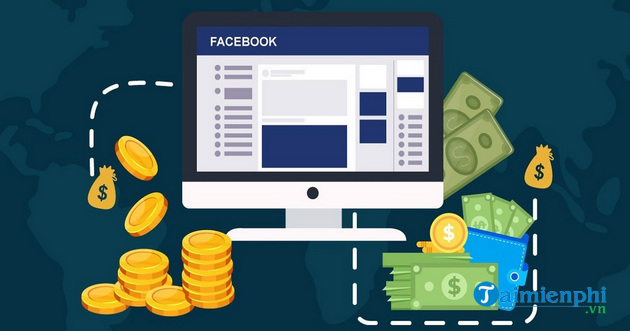 See also: How to create Facebook Fanpage
There is no limit to the number of fans you can have. This makes Fanpages especially valuable to Facebook users who have reached or is about to reach the 5,000 friend limit.
– Facebook Fanpage is completely free.
– Facebook Fanpage gives you a way to chat and get feedback from your target customers, because like your personal account, you can update status that will appear in News feed.
– You can promote the event here.
– Promote SEO. The fan page is the only part of Facebook that is fully indexed by Google. That means everything you post on your Facebook Fanpage will be found by Google. That is, if you have a Fan Page, you increase the chances of your business being found online, not only by people on Facebook but also by people on the entire Web site.
– You can customize the design using FBML, the HTML version of Facebook.
– Build a brand fan base.
Facebook Pages Insights analytics tool gives you useful information about your fans and their engagement.
– Build a community for your partners and potential customers.
It's another channel that leads to your website.
– You can add unlimited photos and videos.
All these reasons are for the purpose of making money from Facebook. So how to know if your Facebook page is eligible to make money or not?
3. How to check whether Facebook Fanpage is eligible to make money or not
To check if your Facebook Fan page is eligible to make money or not, do the following:
Go to Creator Studio (https://business.facebook.com/creatorstudio/).
Click on the tab Monetization on the left.
Select the page you want to test and click Apply.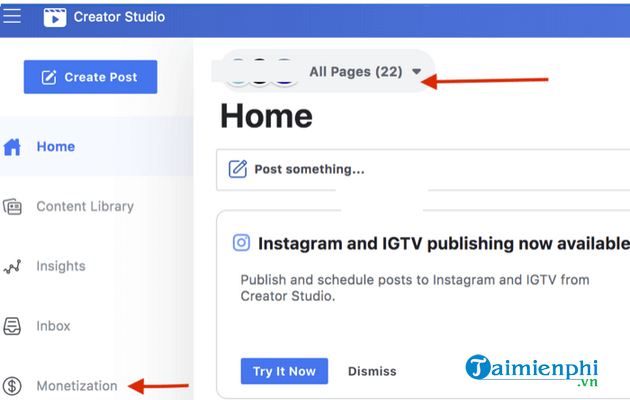 You will be taken to the Monetisation Eligibility Checker, where you can see and view your status.
– Green: Congratulations, your site is ready to monetize.
– Yellow: Your Facebook Fan Page still has a few issues that can affect your ability to make money.
– Red: Your site has had serious issues. Currently, you cannot use the Facebook page to make money.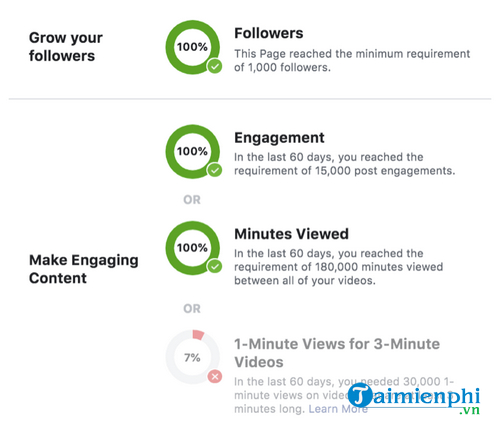 If you see a message that says your Facebook page is ineligible, it means that you need to meet some additional requirements to be eligible. Here are the requirements to make money on Facebook:
Your page should comply with Facebook's Partner Monetization Policies policy focusing on community standards, copyright enforcement, authenticity, and engagement.
– You must reside in one of the eligible countries and post content in one of the eligible languages.
– You must post content on your business page (not your personal account). Facebook's public documents state that a page must have at least 10,000 fans. Note: Facebook appears to be testing the 1,000 fan minimum in some regions.
Your page must hit one of these milestones in the last 60 days: 15,000 engagements; 180,000 minutes of viewing across all of your videos; or 30,000 1-minute views on videos 3 minutes or more in length.
– You must be 18 years or older.
See also: How to make money effectively from Facebook Group
https://thuthuat.taimienphi.vn/cach-kiem-tra-fanpage-facebook-du-dieu-kien-kiem-tien-hay-chua-60157n.aspx
Above are some things you need to know about Facebook Fanpage and how to check if your Facebook Fanpage is eligible to make money or not. These are the first things you need to consider before turning your ideas and plans into money on your Fan Page. Also, don't forget to access the catalog Tricks Facebook by Taimienphi to see great new Facebook tips.
.