To check privacy on Facebook, users can use the tools available, which are made available to users by Facebook, if you do not know where these tools are and what they feature. immediately refer to the following content.
Related posts
How to set up privacy on Facebook Workplace
Top 5 ways to protect privacy on Facebook
Check for hidden messages in Facebook Messenger
How to set up the best privacy for a Facebook account
Check who just unfriended on Facebook
Tools privacy check has been integrated on Facebook for a long time, helping users to control and customize the privacy of their personal social networking site. However, due to policy adjustments, Facebook recently made some new changes, and rearranged the interface, helping users to check, privacy settings on Facebook more convenient.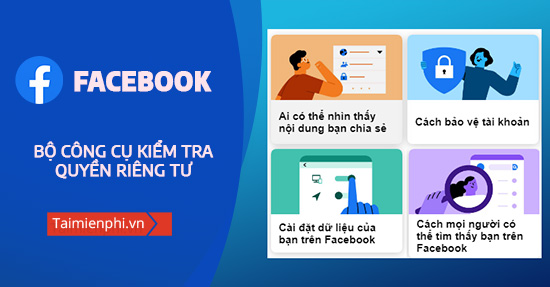 Facebook privacy testing toolkit
To open the privacy checking tool on Facebook, follow the instructions below.
1. Activate the Facebook privacy checking tool
Open privacy check on Facebook computer
First, you log into your personal Facebook account, click on the question mark icon on the top right tool on the screen. In the drop-down menu, choose Check Privacy.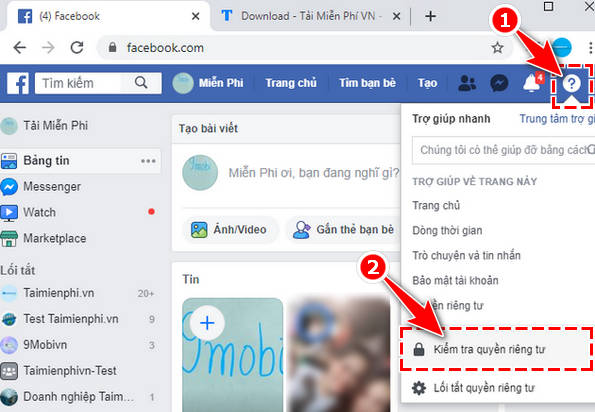 The Privacy Check screen on the computer interface will appear as shown below.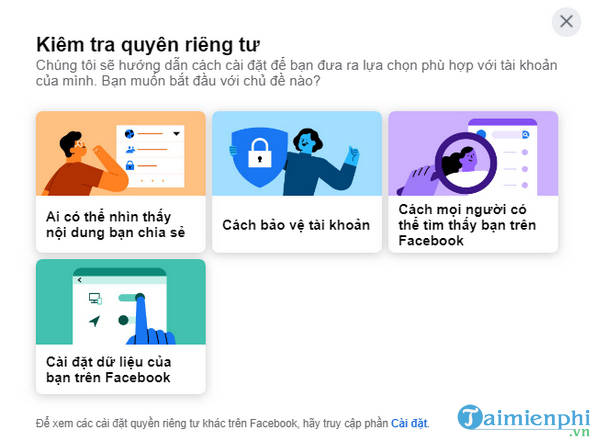 Open privacy check on Facebook phone
=> Link to download Facebook for Android


=> Link to download Facebook for iOS


=> Link download Facebook Lite for Android


=> Link download Facebook Lite for iOS


With the Facebook phone app interface, the way to open the Privacy Check tool will be a little different.
Step 1: Open and access Facebook on your phone, tap the icon Option There are 3 dashes in the toolbar below the screen.
Step 2 : In the list of function options, click Help & support . Then continue to choose Settings & privacy , then came Privacy shortcut .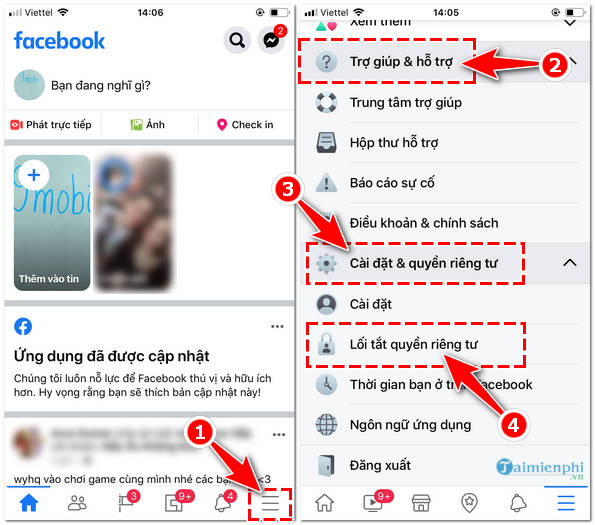 Step 3 : At the window Privacy off error you click Review some important privacy settings to access the screen Privacy check On Facebook.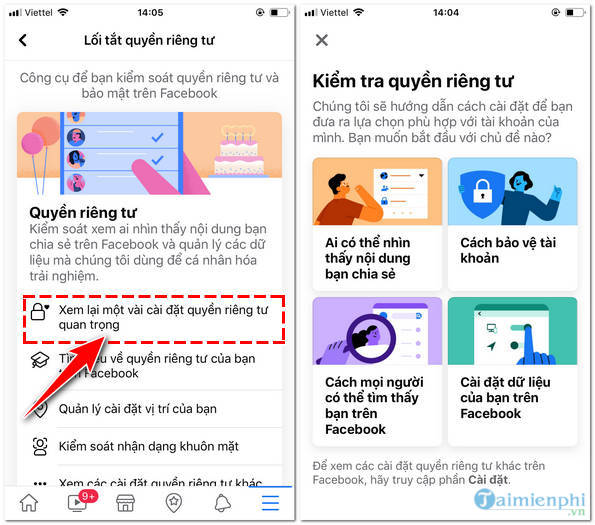 2. Introduce privacy testing tools
In a recently released version, Facebook made an upgrade to its privacy checking tool. With this new tool, users can edit and set up privacy on their Facebook more easily according to 4 topics.
* Who can see your content
+ Choose who can view information such as phone number, email, birthday, relationship status on the personal page.
+ Customize the audience that is allowed to see the content of your old and new posts.
+ Review who you blocked on Facebook's, and add or remove.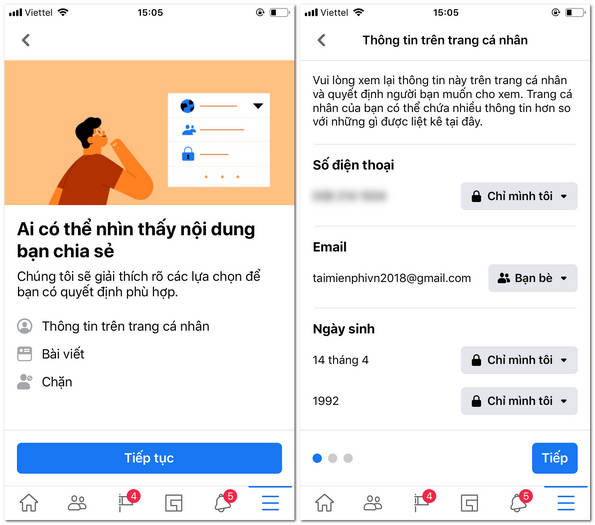 * How to protect your account
+ Change back to lose Facebook password.
+ Turn alerts on or off when someone else logs in to your Facebook account.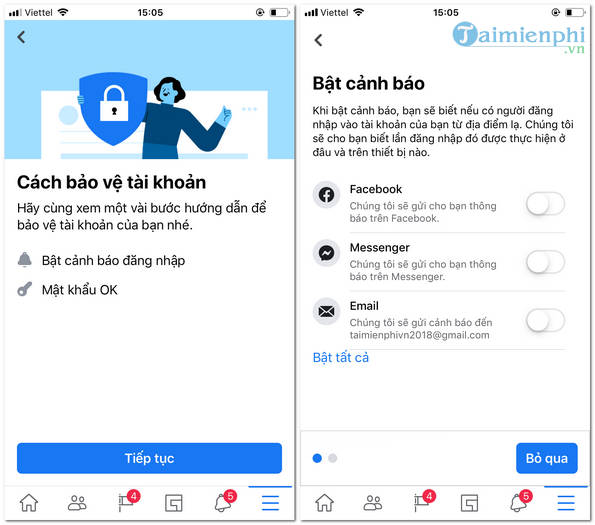 * How people can find you on Facebook
+ Setting object can send friend invitations to you.
+ Allow others to find you on Facebook via phone number or email.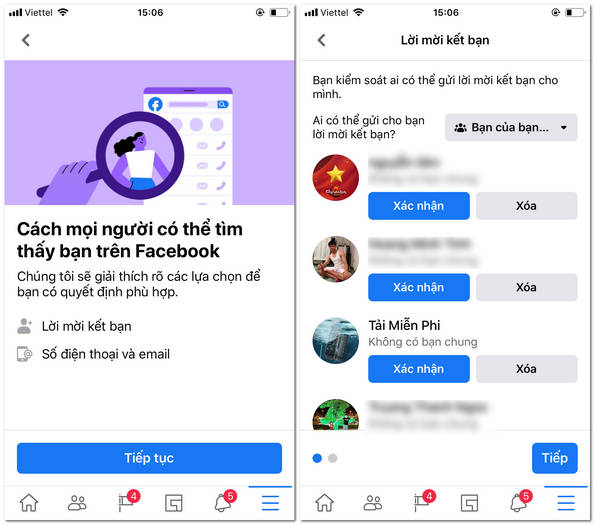 * Install your data on Facebook. Manage, remove applications that you have installed from 3rd parties.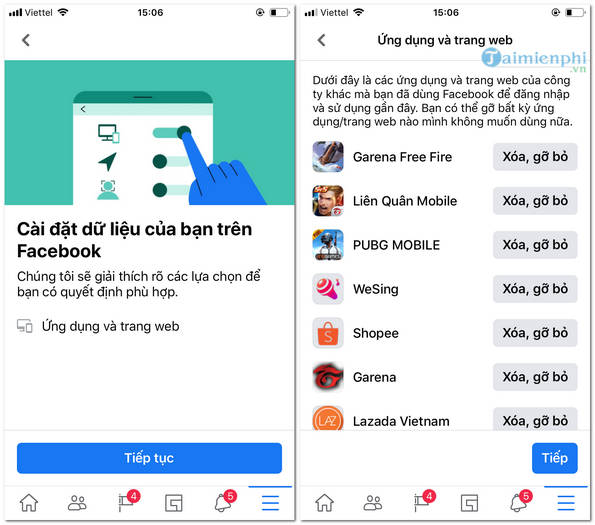 https://thuthuat.taimienphi.vn/cach-kiem-tra-quyen-rieng-tu-tren-facebook-55695n.aspx
Thus, Taimienphi has introduced you through the 4 and 4 viewer Privacy check on Facebook . In more detail on how specific features are and how to customize them, we'll cover them in more detail in the next series of articles.
.