In addition to easy search for online applications to check typing speed in Vietnamese or English, with the way to check Chinese typing speed introduced by ElectrodealPro in the article below will be the appropriate choice. For you to use if you are lovers of Chinese language.
Related posts
How to install Chinese Font on the computer
How to install VNI fonts on computers, laptops
How to install TCVN3 fonts, add TCVN3 fonts for computers and laptops
How to install Japanese fonts, Japanese fonts for laptops, computers
How to install VntimeH font and VNTime font on computer, laptop like?
To Chinese typing speed test How much is your own, you can use the software offline or online. With offline software, you will take time to install and setup the program before you launch it to practice typing, testing typing speed. The best way is to use an online application that helps you quickly practice typing as well as test your Chinese typing speed.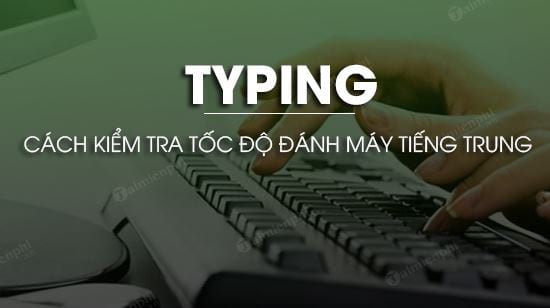 Use online software to test Chinese typing speed
Instructions for checking Chinese typing speed
To type or type in Chinese, you need to install Chinese percussion into your computer to use it. You can go to Google to search for sites providing Chinese language input and download, install and use. Or can download ElectrodealPro's Chinese percussion and font below.
– Download Chinese font here.
– See how Install the font go to the computer here.
You can check your Chinese typing speed by following these steps:
Step 1: Access online applications kukuw.com by clicking the mouse COME IN
Step 2: The interface when you access successfully will be as shown below: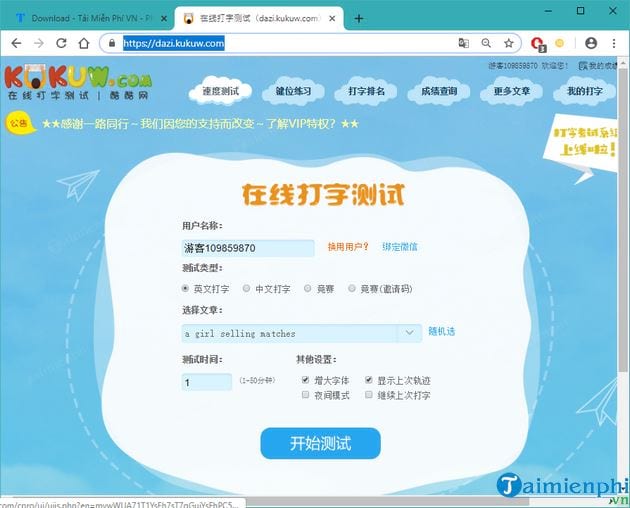 Step 3: You review the annotations we numbered in the image below -> then follow the explanations below to do a computer-based Chinese typing speed test.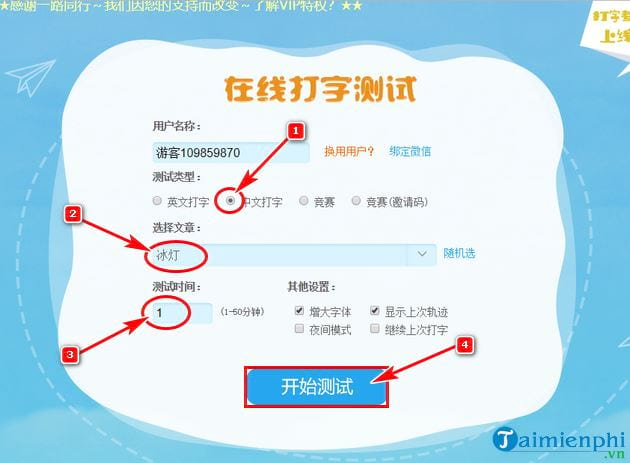 No. 1 – Click here to choose a Chinese mode to start.
No. 2 – This is the section that allows you to choose which cards to type. The first song will be the easiest one, the following articles will increase the difficulty. If you are just starting to practice typing in Chinese, you should choose the first lesson as shown in the picture above.
Number 3 – This is the section that allows you to enter the number of minutes to type. You should consider choosing the right time to test your Chinese typing speed.
4 – This section you use to start typing.
Step 4: After you press select Start typing -> Chinese typing interface will appear as shown below. Here, you perform typing in Chinese according to the software's instructions. The counting time (countdown) will apply when you start typing on the software.
On the right side of the interface, you will see the countdown time as well as information about:
– Your typing speed.
– Correct rate.
– Number of errors you typed.
– Total number of words you have typed.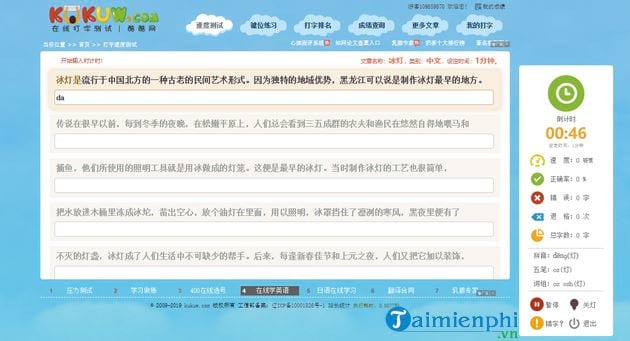 If you want to pause or switch screen mode dark or light or exit, follow the instructions in the image below: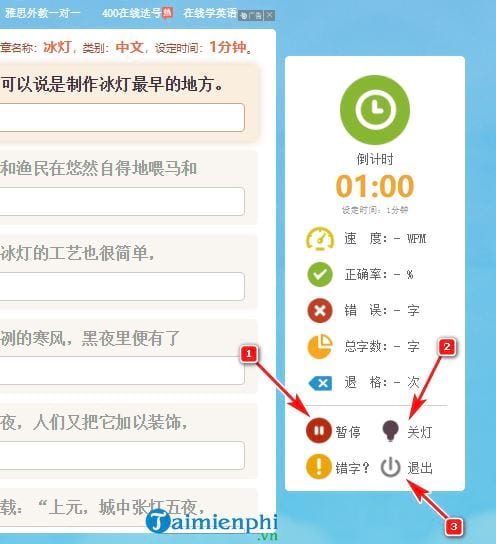 – No. 1 – Use if you want to continue or pause.
– No. 2 – Switch screen mode interface is dark or light
– Number 3 – Clicking here you will exit the Chinese typing test.
After the time is up, the application will display a notification about you finished.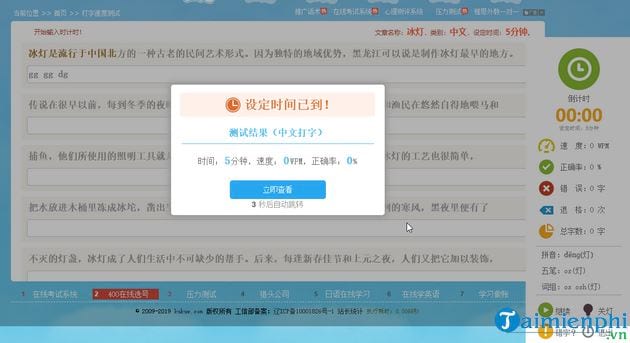 As well as the results of your Chinese typing speed test.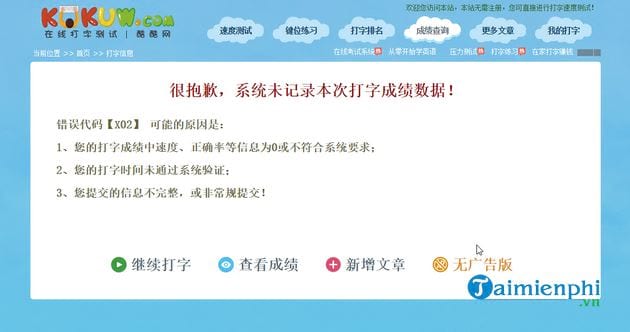 The picture above is an error code 02 output when you type Chinese. The idea is that the system does not record your typing data due to: your typing speed is poor or does not meet the system requirements; Your typing time has not passed the system's verification.

As for this picture, when you try to switch to English typing practice, the result in the picture above you will know the total number of words typed, the average speed when typing is how many words / minute as well as the fastest typing speed. is bao like word / minute.
https://thuthuat.taimienphi.vn/cach-kiem-tra-toc-do-danh-may-tieng-trung-46756n.aspx
Above is the tutorial Chinese typing speed test by kukuw.com online application – this is considered as one of the good applications to help users practice typing Chinese online for free. With this online typing speed test, users will actively practice typing in their Chinese and can repeat, repeat any song many times with many flexible time options. . Wish you practice and learn Chinese typing with good results.
.