Previously, it was difficult to add pages to PDF because there are few tools to support editing, but with continuous updates and improvements from software vendors, more and more tools or even websites online was developed to help users insert and add page numbers to PDF more conveniently.
Related posts
New point on Adobe Acrobat Reader DC 2020.006.20034
Foxit Reader, Adobe Acrobat Reader DC vs Sumatra PDF, which one is better?
Adobe Reader – Fix "Acrobat failed to load its Core DLL" error
Adobe Acrobat Reader DC 2020.006.20042 – Comprehensive PDF reader software
New in Adobe Acrobat Reader DC 2019.21.20058
PDF documents is one of the most frequently used document formats today. Unlike Word documents, PDF documents will display fully and correctly in the format even when used in many different environments. However, this document format also has the downside of being difficult to tamper with and edit, especially when you want to add content or simply insert page numbers.
Instructions for adding page numbers to PDF
In this article, Taimienphi will guide you through convenient tips or tools insert page numbers into PDF fastest and most effective.
Instructions on how to add page numbers to PDF
1. Add PDF page number on Adobe Acrobat
Adobe Acrobat is a familiar tool, allowing users to work and edit with PDF files. To insert page numbers in PDF using Adobe Acrobat, you first need to download and install the latest version of this software on your device.
– Download Adobe Acrobat software here: Download Adobe Acrobat
After completing the process Install Adobe Acrobat, you go to the following steps.
Step 1: Open the document page numbering is required on Adobe Acrobat.
Step 2: Click Tools (Tools) on the menu bar of the software, and select Page in the feature list.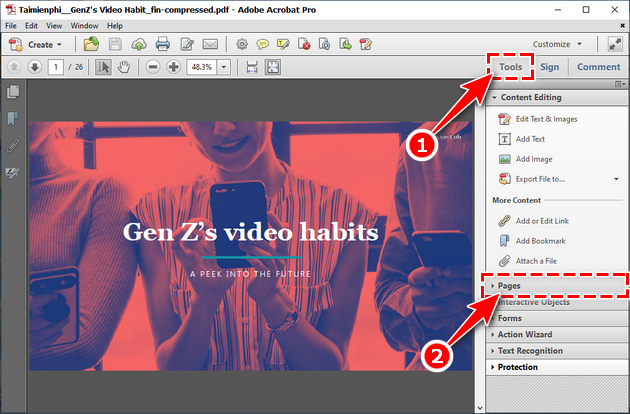 Step 3: In the item Page , you click on the item Add Header & Footer …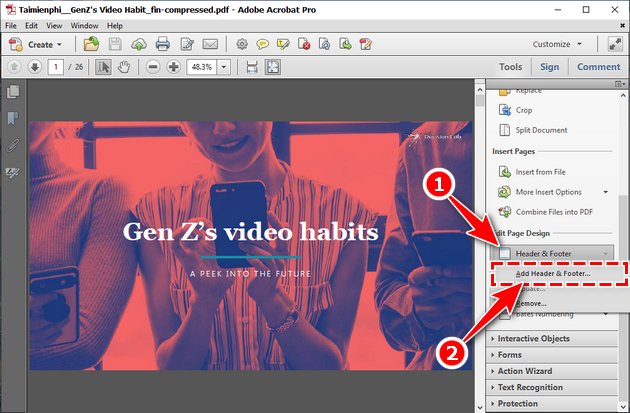 Step 4: At the window Add Header & Footer you press the button Insert Page Number . By default, the system will automatically number in the left corner, located at the top of the page.
To change the position, you can fill in the corresponding slot according to the format – >. Ooh>Once done, click OK to save your settings.
– Left Header Text Title on the left.
– Center Header Text Title in the middle.
– Right Header Text Headline right.
– Left Footer Text – Left footer.
– Center Footer Text – Middle footer.
– Right Footer Text – Right footer.
In this example, Taimienphi will insert the number at the Title position in the middle of the page.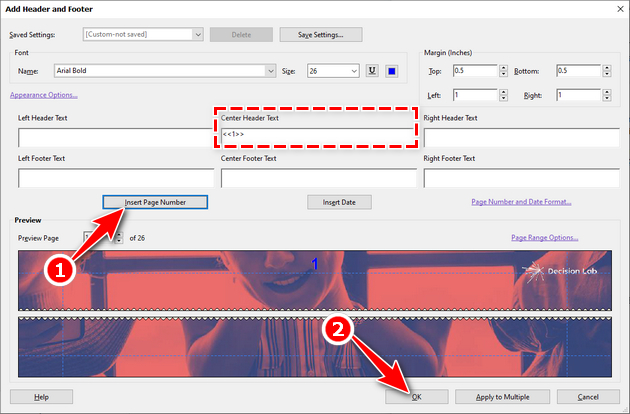 The page number will display exactly where you want it to be, as shown in the illustration below.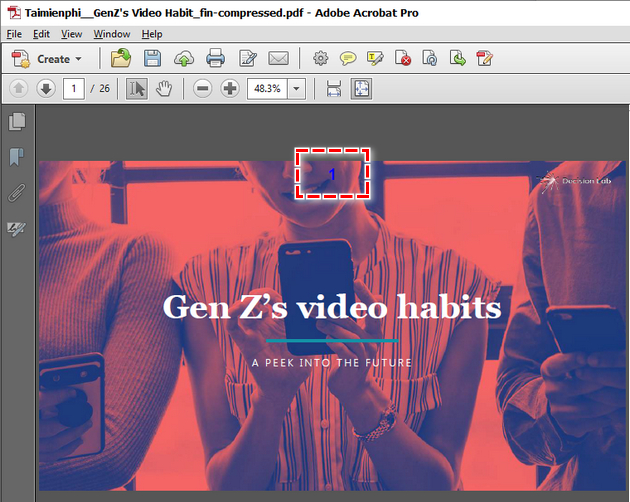 With Adobe Acrobat, in addition to adding pages to PDF, you can also copy PDF data to edit and then print into your document.
2. Insert page numbers into PDF with A-PDF Number
A-PDF Number is a small alternative to the heavy-duty Adobe Acrobat to help users add page numbers to PDF documents. First you also need to download and install the latest version of A-PDF Number on your device.
Step 1: Open A-PDF Number already installed on the device.
Step 2: In the working window of the software, you click the button Browser and choose the path to the PDF file to be edited. Press OK .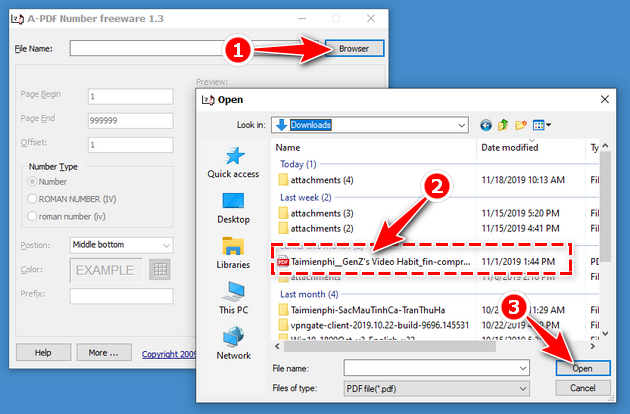 Step 3: In the item Postion , you select the appearance of the bookmark number. Then press Process . In addition, you can also refer to some other customizations such as.
– Number Type : Format the page number style.
– Color : Select the font color.
– Prefix : Add keywords in front of the page numbers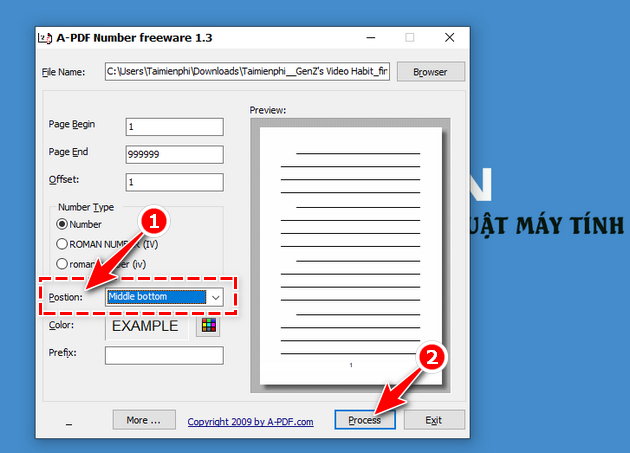 Step 4: A new window will appear asking you to choose a folder location to save the edited PDF file. Once done, click Save .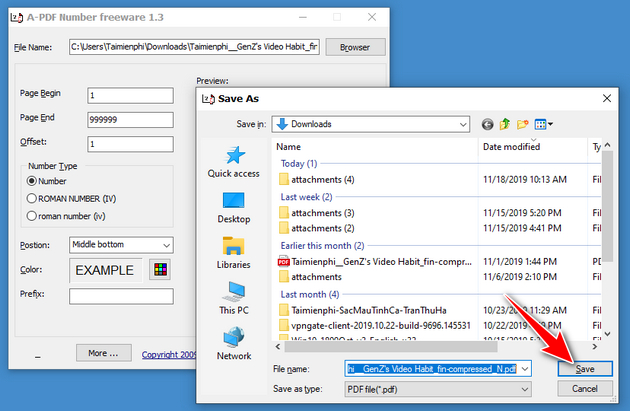 Below is a picture of the result after Taimienphi has done.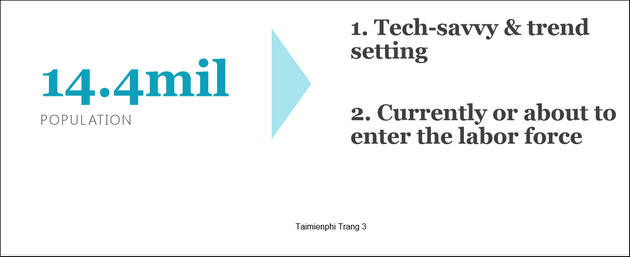 3. Add page numbers to PDF using PDF Candy
Besides the software to add the number of pages to the PDF to be installed, nowadays there are also many online tools to help users with this work. Although the software does not need to be installed, your computer also needs a web browser and an Internet connection.
– Download Chrome browser here: Download Chrome
– Download Firefox browser here: Download Firefox
Step 1: Access to the PDF Candy site via the address Here.
Step 2: Click the button Select File to add files directly to the computer or click the icon Google Drive or Dropbox to add from the corresponding cloud data warehouse.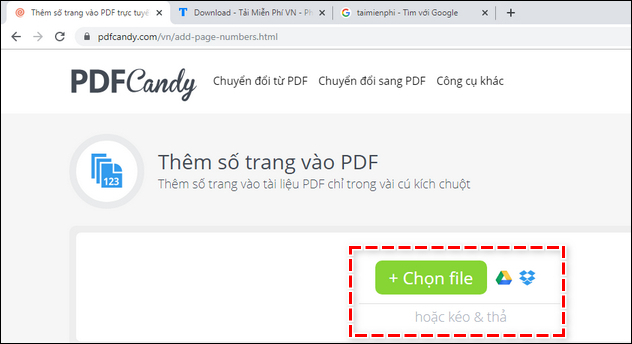 Step 3: You wait a moment for PDF Candy to load the data. Once completed, a screen will appear with some additional bookmarking tools. Please customize as you like, then click Add a Page number.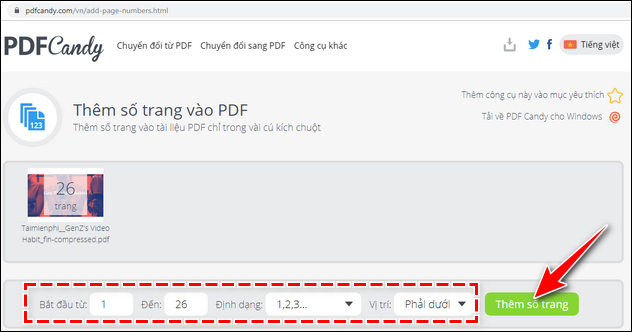 Step 4: Finally, click Download the file to download PDF files with page numbers added to the device.
If you find the waiting time to upload and download files is too long and complicated, you can also use the desktop version of PDF Candy here.
– Download PDF Candy software here: Download PDF Candy
https://thuthuat.taimienphi.vn/cach-them-so-trang-vao-pdf-54239n.aspx
Thus, Taimienphi has just instructed how to add page numbers to PDF directly with Adobe Acrobat, A-PDF Number on a computer and online via PDF Candy page. Each approach has its own advantages and disadvantages. Depending on your needs and circumstances, you should choose for yourself a most suitable tool to edit and add page numbers to PDF. In addition, if you need to read PDF files, you can download the software Foxit Reader to support this work.
.