At the beginning of the new crown epidemic, the game industry was ready for change. As more and more people stay home to prevent the epidemic, many industries are facing impact and have to find new ways to reach customers. However, unlike many other industries, as people began to find new ways to entertain and keep in touch with others, we found that consumer demand in the gaming industry has surged. Nowadays, the number of people who play games, watch and broadcast games is growing. There are both new players and "lost and recovered" players.
In order to understand the behavior of new "pit-in" mobile game players and the changing motivations of existing players, we conducted surveys on consumers from 9 markets and studied consumer behavior after March 2020. Many developers view these countries/regions as key strategic markets, and this article will delve into data for four of these markets: the United States, the United Kingdom, Germany, and South Korea. This research laid the foundation for the release of the new report "Game Marketing Insights 2021", which is available for free download today.
The number of new players will grow to 10 million in 2020
With the implementation of measures such as home isolation and social distancing, people are looking for new ways of entertainment, and the game industry has welcomed a large number of new players. In order to find out how influential this wave of players is, it is necessary to find out the number of new players since the beginning of the epidemic.
Since March 2020, the number of mobile game players in each of the markets we surveyed has increased: 25% in Germany, 28% in the US, 34% in South Korea, and 50% in the UK. This means that more than 50 million people in these markets alone are now using mobile games as their main channel for entertainment and social connections.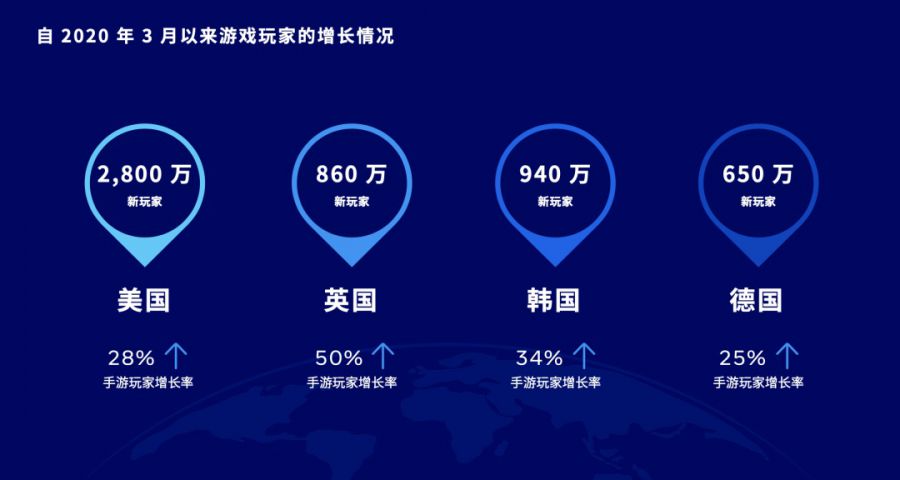 Data: Game Marketing Insights 2021, Facebook, 2020
The number of players is not only temporarily increasing. These new players still did not churn in July 2020, and months have passed since the first outbreak of the epidemic. More than half of the new players said that they will continue to play mobile games when the world gradually recovers from the epidemic.
Novice player profile
As the report shows, in all markets except South Korea, new mobile game players are obviously more in line with core player behaviors than existing players. In general, new players are younger than existing players. They are also more likely to own consoles and play more core game categories (such as shooting games). Not only that, but new players spend more time on the game every week.

Data: Game Marketing Insights 2021, Facebook, 2020
Kryptonian behavior and advertising preferences
In all markets, new players are more likely to play mobile games with Krypton since the beginning of the epidemic than existing players. Not only that, the monthly amount of Krypton in mobile games for new players is also more than existing players.

When analyzing the reasons for players' krypton gold, we found that the differences between different markets are greater than the differences between new and old players, and some of them are related to the game category. In the United States and the United Kingdom, players are particularly willing to pay to remove ads. In South Korea and Germany, many players are willing to pay to skip the waiting or difficulty (this is more common in puzzle games).
However, past research shows that players are still generally willing to watch ads in games. Our survey also confirmed this. Mobile game players in all markets indicated that they prefer to play free games that use advertising monetization. In the United States, the United Kingdom, and Germany, existing players are more willing to accept games that use the advertising monetization model than new players. For games that use other monetization models (such as in-app purchases, IAP for short), the acceptance of new players is higher than that of existing players.
Advice for game developers and marketers
1. Tailor ads for new players
There are millions of new players in mobile games around the world. It is recommended to broadly target the target audience, and at the same time find out the exact motives of these new players to play the game, display marketing messages that meet their tastes, and attract them to play the game.
2. Understand the long-term value of new players
The behaviors and attitudes displayed by new players are more in line with core player characteristics than existing players. Think about the long-term impact that new players will have on the mobile game field. For example, they have more behaviors that are in line with core players, as well as motivation to play games and gold.
3. Use a monetization mode that resonates with new players
Considering that new players have a longer game time and are willing to play games with Krypton, a mixed monetization model can be adopted.

Source: Something about mobile games
Original: hhttps://mp.weixin.qq.com/s/IwI8s3ToXLm8SHOCxR46Jw
.