App Annie's report shows that from 2017 to 2019, the mobile game market has shown explosive growth. Games with annual consumption of more than 100 million have increased from 88 in 2017 to 140, an increase of 59%. In addition, the scale of global mobile games will reach 100 billion U.S. dollars in 2020. Last year, the online games "Crossword Puzzle" and "Spelling Bee" developed by the New York Times website, which occupied the first place in the most searched entries on the New York Times website, also showed that the New York Times successfully tested the water in the $100 billion mobile game market.
The New York Times is keenly aware that this year's news subscription revenue is difficult to continue last year's brilliant growth. Operational pressure forces the New York Times to not be limited to a single news business. Entering the mobile game market is one of its important measures to maintain a good development trend.
At present, the New York Times not only plans to invest an unprecedented huge amount of money in games and anagrams, but also hires Jonathan Knight to be responsible for the development of brain games. Knight once worked for the famous game company Zynga and developed the word spelling game popular in the United States. Although the New York Times has experience in traditional crossword puzzles, Knight will bring them more experience and knowledge needed in the digital age.
The New York Times game and its promotion
At present, the popular games of the New York Times include "Spelling Bee" (test how many words you can form with seven letters), crossword puzzle game "Mini" and so on. Knight's mission is to make better and innovative products, and his team plans to recruit several more engineers, designers and game producers. "It's easy to add a lot of puzzles to the website, but it's just to carry the puzzles from elsewhere. But we want users to have a new experience and make unique games."
Note: In 2019, the growth momentum of mobile games (purple line) significantly surpassed that of computer games, notebook games and handheld console games, reaching the level of 100 billion U.S. dollars (Source: App Annie)
Crossword games are a type of casual game. Among the two main game types (casual games and core games), casual games have a larger download volume. Among them, crossword games accounted for 27% of the total downloads in 2019, which is the No. Two popular types of casual games.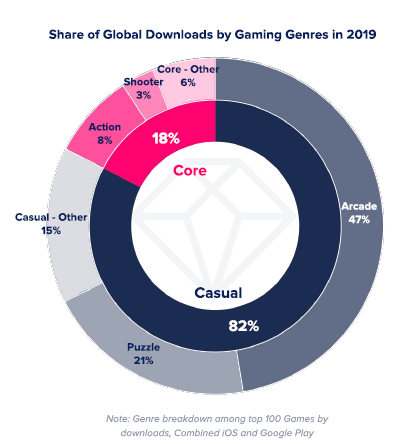 Note: Global downloads of puzzle games in 2019 accounted for 21% of all games (Source: App Annie)
US investment bank Evercore ISI analyst John Belton believes that the New York Times will not become a gaming giant, and it is difficult for investment banks to separate their media business and value their gaming business alone. But investors are very optimistic about the development of the New York Times in the digital age for two reasons: firstly, the newspaper has a huge online subscriber base, and secondly, people like to do some entertainment after watching the news. In 2020, the company's stock price rose by 61%, maintaining a four-year growth trend. In the first quarter of 2021, the New York Times stock price fell by 3%, and its performance throughout the year mainly depends on whether it can "rebound" in the years of "news trough" in a few years.
Knight compares games to desserts, a healthy way to "distract you from the news." During the epidemic last year, millions of people were forced to live in their homes, and at least 28 million people have played a New York Times game. This figure is an increase of 16% over 2019.
The New York Times recently started launching new games at the end of the daily "Morning News", including one-sentence riddles, picture riddles, and first letter equation riddles. For example, the answer to the equation riddle "52=C in a D" is "52 cards in" a deck" (a deck of 52 cards).
Executives said they realized that they could expand their gaming business after discovering that the "spelling bee" became popular. In 2020, 450,000 players have reached the "genius" level of the game.
Part of the charm of "Spelling Bee" is that its difficulty "makes people hit hard." A 26-year-old sports journalist from Detroit is a fan of the game. He said that when he first started playing, he was "insulted" by the game because he could only come up with a few words. Later, he resorted to "the power of the wild", his points reached the ceiling of the free zone, and he had to pay for a subscription to continue playing.
"The popularity of'Spelling Bee' shows that there is still a lot of room for development of puzzle games," New York Times CEO Meredith Kopit Levien said on a recent earnings call.
The New York Times will also invest more money in its cooking app; begin selling subscriptions on its product recommendation site Wirecutter; and further promote the subscription audio service Audm it acquired in 2020.
By the end of 2020, the company has 840,000 game users, an increase of 40% over the end of 2019. Gaming is the second most popular subscription of the New York Times (the first subscription is news of course, with 5.1 million digital subscribers), and the third is cooking (726,000 subscriptions).
Non-media products improve the "stickiness" of core news products
The New York Times game subscription price is about $40 per year. Currently, people who pay for news subscriptions can subscribe to games at half price. This is a method of "bundling sales", that is, making multiple subscription products into a "package" and selling them at discounted prices. This is a common sales strategy for the media. There are two advantages: first, consumers are less likely to cancel their subscription; second, it can also lay the foundation for the New York Times to increase subscription prices in the future.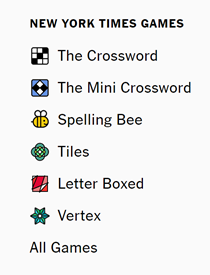 Legend: New York Times's main game list (source: the New York Times)
"These products increase the'stickiness' of core news products," said John Belton, an analyst at the US investment bank Evercore ISI. DFC Intelligence has been doing data tracking for entertainment software. Its founder David Cole said: "The number of gamers is now very large. During the epidemic, many users used games to meet social needs, which made the New York Times player base Go further."
However, the New York Times must compete with a large number of free riddles and games. For example, mainstream media such as The Wall Street Journal and The Washington Post almost all have free crosswords. In addition, once the epidemic is over, people will have more time to go out and whether they will have time to continue playing so many games remains to be seen.
The New York Times gaming team
Knight's team includes designers, product managers, programmers, and puzzle designers. They brainstorm and discuss game concepts, debate and vote for their favorite ideas, design creative prototypes, and then let employees "try out", and finally The game is pushed to users. Not all games are successful. For example, a game called "Gravity Golf" (Gravity Golf) was taken off the shelves.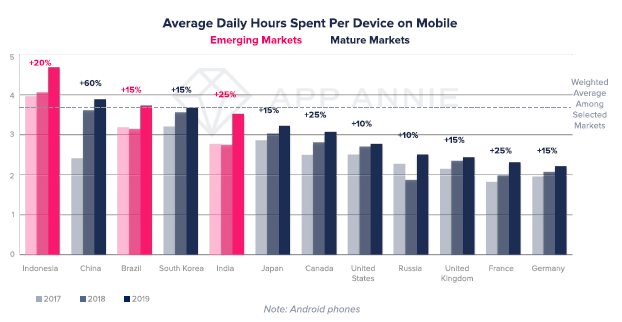 Note: 2017-2019, the average daily game time growth of Android mobile users (Source: App Annie)
Knight's everyday life begins with playing games. Play "Spelling Bee" first, then play Mini, and compete with colleagues on the leaderboards to see who can finish the fastest. "When playing Mini, it's really difficult to complete it in less than 30 seconds. Sometimes you get stuck by a clue, and it takes 1.5 to 2 minutes. You will definitely be at the bottom of the leaderboard."
For the 170-year-old New York Times, giving readers an interesting pastime is nothing new. As early as 1942, the New York Times published the first crossword puzzle to provide some comfort to readers who are tired of war.
This time, what players want to forget is the new crown epidemic. Pia Owens, a 42-year-old lawyer in the Boston area, likened the New York Times's "Spelling Bee" and other games to her "crutch in the epidemic." She said: "Five minutes of soothing activities make my brain active, but it will never make me worry about current affairs." "I have to work from home and take care of the children at home, making my time very fragmented. Games keep me in Concentrated in a short period of time, it is perfect as a life adjustment during the epidemic."
Conclusion
Casual games have always been a good partner for the news: after reading serious news, playing brainstorming casual games is conducive to alleviating mental anxiety, decompression and relaxation. Crossword puzzles are more suitable to be completed in cooperation with friends and family. The translator still remembers the joyful scene when all the students in the dormitory completed the "Xiaoqiang Crossword" together 20 years ago. With the game partner, it is indeed difficult for users to "cancel news subscription".
Author: Zhang Chunhua
Source: Dewai No. 5
Address: https://mp.weixin.qq.com/s/1ypM1E5FICtjP1Sp8fTi3A
.