How about the performance of the A12Z to be used on a computer? Running score surpassed Intel quad-core Core i5 processor, reaching mid-range level
2020-06-23 12:46:09
3 likes
3 Favorites
23 comments

This article is released under the authorization of Kuai Technology. Original title: New iPad Pro performance test: The A12Z runs beyond the quad-core Core i5. The content of the article represents the author's point of view, and has nothing to do with this standing field. Please do not reprint without permission.
From the actual test situation, in the Geekbench 5 test, the 11-inch 2020 iPad Pro scored 1114 for single-core and 4654 for multi-core. This result is similar to the 2018 11-inch iPad Pro. The A12X scored a single-core 1113 and a multi-core 4608.
Like the A12X, the A12Z is ​​also an 8-core design with a frequency of 2.48GHz. A12Z's Metal running score is also higher at 9894, and A12X's Metal score is 9020. In terms of GPU, the A12Z uses an 8-core design, while the A12X is a 7-core design, so it is normal to have a higher running score.
What level of performance is this? Before the foreign media Six Colors tested a new MacBook Air equipped with a 1.1GHz quad-core Core i5, it can be seen that in the Geekbench 5 test, the new MacBook Air scored 1047 for single-core and 2658 for multi-core. Compared with the 2018-2019 MacBook Air, the performance of the new MacBook Air is up to 76%.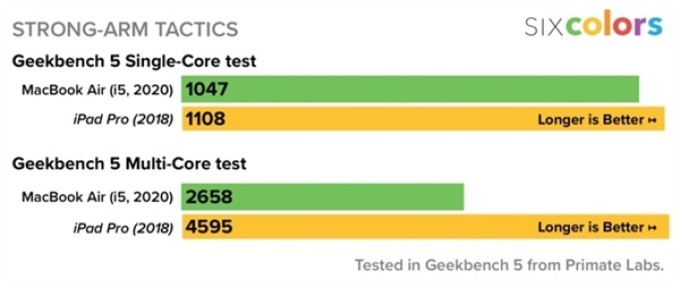 For this comparison, some netizens also said that the A12Z/A12X running points are stronger than the MacBook Air. However, it is also pointed out that the MacBook Air has also achieved active cooling fans, but the A12X/A12Z does not.
In terms of price, the MBA i5+256GB is $1299, and the price of the 11-inch iPad Pro with keyboard cover and Apple Pencil is similar, so how do you choose?
Unauthorized reprint

.