HP ProBook x360 435 G8 is an ideal work laptop option for those looking for a highly portable machine. This 13-inch hybrid laptop is equipped with a high-performance chip, large RAM capacity, and a convenient touch screen. And thanks to a 2-in-1 design, the laptop can be extremely flexible in use, meeting all the needs of users. The article reviews in detail HP ProBook x360 435 G8, thereby indicating the plus and minus points of the product line.
See more: Review HP ZBook Studio G8: A comprehensive workstation laptop in the segment
HP ProBook x360 435 G8 . Specifications
CPU: AMD Ryzen 5 5600U
GPUs: AMD Radeon Graphics
RAM: 16GB
Memory: 512GB PCIe SSD
Screen: 13.3-inch, 1920×1080 Pixel
Size: 308.5 x 222.9 x .17.9 mm
Mass: 1.45 kg
HP ProBook x360 435 G8: Design
The HP ProBook x360 435 G8 has a modern and neutral design language, with a shell made entirely of aluminum. Located in the middle of the lid detail is the glossy HP logo, bringing a highlight to the laptop's appearance. With 3-dimensional dimensions of 308.5 x 222.9 x 17.9 mm and a weight of only 1.45 kg, ProBook x360 435 G8 is a compact and highly portable laptop model.
The device is equipped with a touch screen with a diagonal size of 13.3 inches. The screen is encased in a mid-sized bezel, with the top and bottom edges being slightly thickened. Located on the top edge of the screen is the webcam, along with an infrared sensor, used to perform the face unlock function.
In addition to the ability to unlock the laptop by facial recognition, you can also log in thanks to the fingerprint security on the body. This fingerprint sensor has a fast and accurate reading speed, providing a good user experience for users.
The ProBook x360 435 G8's hinge pair can be extended up to a 360-degree angle, allowing users to convert the clamshell laptop into a tablet form with ease. The hinge system of the machine is firmly designed and has good resistance, helping the screen always stay in place during use.
HP ProBook x360 435 G8: Connector
All connections of the ProBook X360 435 G8 are located on the two sides of the body. Specifically, on the right side, you will find the charging port, 1 USB Type-C port (10 Gb/s) with compatibility with DisplayPort connectivity standards, 1 USB Type-A port (5 Gb/s) ), HDMI port, 3.5mm headphone jack and microSD card reader.
Meanwhile, located on the left edge is equipped with an additional USB Type-A port (5 GB / s) along with a Kensington anti-theft lock slot. Overall, the machine is fully equipped with connection ports in both quantity and type, giving you an efficient and comfortable working space.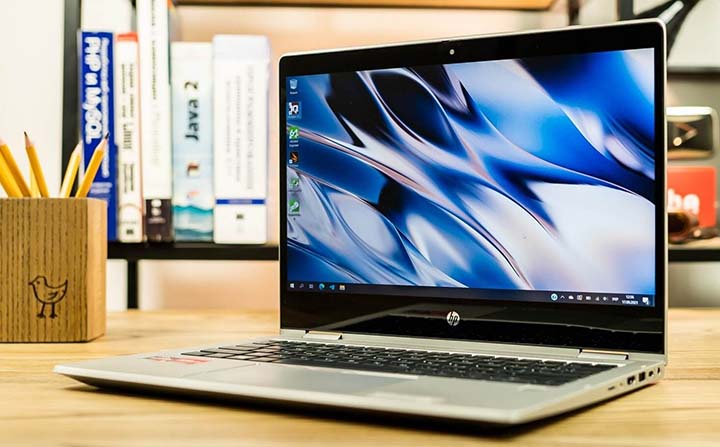 HP ProBook x360 435 G8: Screen
The laptop is equipped with a 13.3-inch touch screen, using IPS panels, with a resolution of 1920 x 1080 pixels and divided by the 16: 9 aspect ratio. The screen can be extended to a maximum of 360 degrees, supports multi-finger sensing and has a wide viewing angle.
In our test, the machine's screen is capable of covering 65% of the sRGB color gamut, with a gamma index of 2.2. The color reproduction of this panel is quite good, but the color temperature is slightly tilted towards the cold, with a specific index of 7300K. The screen has a maximum recorded brightness of 298 nit. This level of brightness is more than enough for you to use the device comfortably indoors, but a bit low if you use the device outdoors.
HP ProBook x360 435 G8: Performance
The version of the machine we used in the review is equipped with an AMD Ryzen 5 5600U chip. This is a 6-core chip, manufactured on the 7nm process, operating with a clock frequency ranging from 2.3 to 4.2 GHz, and has a TDP of 15W.
The chip is integrated with AMD Radeon Graphics with 512MB of DDR4 memory, operating with a clock speed of 1.8GHz, responsible for taking on graphics-related tasks.
The ProBook X360 435 G8 has a good level of performance in real-world use. Specifically, the AMD chip of the HP laptop achieved an overall performance score of 5196 when scored with PCMark 10. This is an impressive result compared to the segment average in which the machine is sold.
In terms of graphics processing performance, the machine scored 840 in 3DMark's Time Spy test. The graphics processing power of the machine will not be enough to play well with high-configuration games, but you can still work smoothly with popular graphics editing applications on the market.
Overall, the HP ProBook x360 435 G8 delivers a good level of performance, allowing me to interact smoothly with various apps on the Windows 10 operating system. Plus, thanks to a decent amount of RAM. Large, the laptop is also capable of handling multitasking very well. Specifically, the device can run 30 Chrome tabs at the same time, including 3 tabs that run HD videos on Youtube without experiencing lag.
HP ProBook x360 435 G8: Keyboard and touchpad
The HP ProBook x360 435 G8 is equipped with an island-style backlit keyboard. The keys of the keyboard set are large and spaced widely, allowing me to quickly get used to them after a short period of use. These buttons have deep travel, providing a comfortable typing experience.
The function keys on the top of the keyboard are equipped with quick setting buttons, allowing users to adjust the screen brightness, change the configuration of the keyboard light, and increase or decrease the volume. In addition, there is also a multi-function button, allowing you to freely adjust in the settings to best suit your needs.
The touchpad of the machine has a standard surface area, with Precision driver support, which makes all my mouse pointer operations done quickly and accurately.
HP ProBook x360 435 G8: Battery life
This laptop version is equipped with a 45Wh battery, which, when combined with an efficient power-consumption chip, will bring a long battery life to the device. In our test, the laptop lasted 9 hours and 20 minutes. This is an impressive battery life result, and should be enough to get you through office hours comfortably.
The device charges through a charger with a capacity of 45W and has a fairly fast charging speed. Specifically, during our actual use, the laptop can recharge 30% of its battery life after just 20 minutes of plugging in.
summary
The HP ProBook x360 435 G8 is a quality 2-in-1 laptop that offers users high mobility. In addition to the compact design, the laptop also possesses a level of speed performance thanks to the powerful AMD Ryzen 5 chip. And yet, the laptop also has a long battery life, helping you work for a long time without having to worry much. If you are looking for a reliable office laptop, then the HP ProBook x360 435 G8 will be an option worth considering.
See more: HP ProBook 635 Aero G7 review: Compact design, impressive performance
Plus mark
Speed ​​Overall Performance
Good build quality
Long battery life
Comfortable keyboard
Equipped with many connection ports
Convenient 2-in-1 design
Minus point
Screen brightness is not too impressive