Splinter Cell continued to spark rumors of a sequel when GameStop accidentally leaked images of Tom Fisher's glasses and product description lines.
Fans of Splinter Cell Perhaps still "standing still restless" because rumors of a sequel to this series have always been out there but have not seen anything from Ubisoft since the last game launched.
However, a copy of Sam Fisher's glasses has just hit shelves on GameStop, with a product description showing the sequel to Splinter Cell coming soon.
According to GameStop, the clear glass Splinter Cell This will be launched on 11/01 for 40 USD. As described by GameStop, this is the first time fans can own this glasses and "the 10th part of the series is on the way to dock".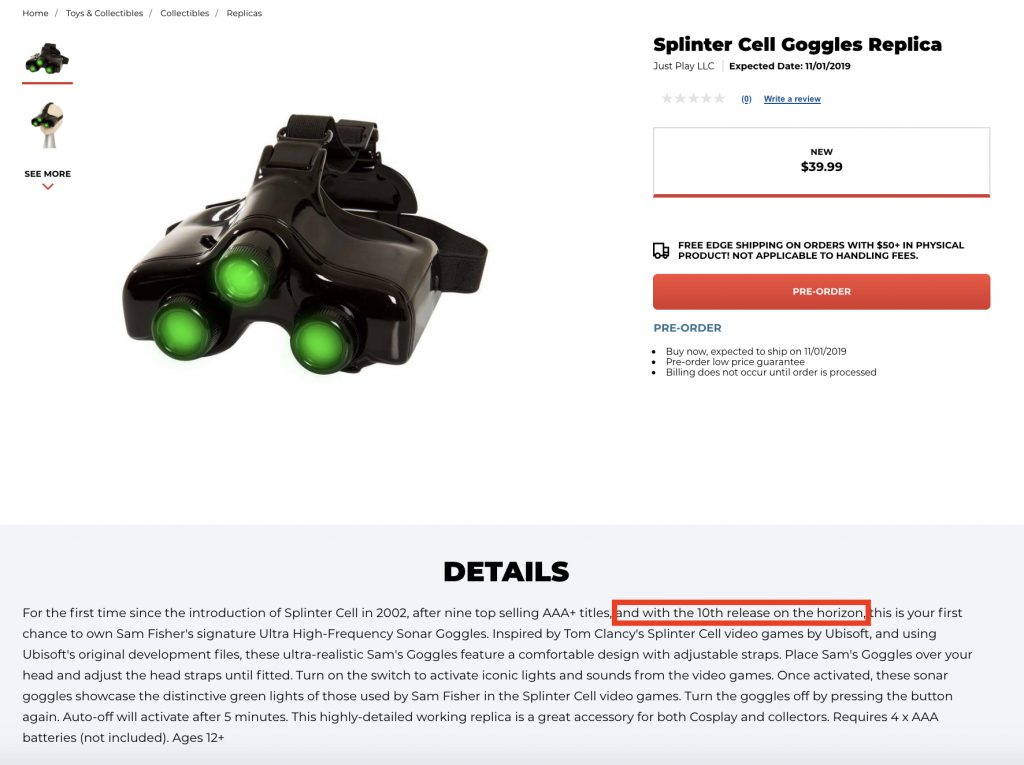 This may be a bug from GameStop and will be fixed soon. But it seems that the glasses are "opening the green light" for announcing the game will have a new part, because three months ago GameStop itself also revealed images of this glass.
Fans at that time quickly captured the product page before being taken down and looking forward to the monumental debut of Splinter Cell at E3 2019. And of course, nothing happened.
Then, Jason Schreier from Kotaku said he knew nothing about Ubisoft starting a game. Splinter Cell New and do not believe there will be any part of the game line being developed. If coming back, maybe this game series and Assassin's Creed will set foot on VR.
However, one thing is certain: Ubisoft is currently "warming" the name Splinter Cellbefore the epic comeback, one of which was the appearance of Sam Fisher in the Tom Clancy's Elite Squad – turn-based strategy game on mobile.
(Visited 2 times)


Killou