Recently, at a meeting of motorcycle manufacturer Qianjiang, the Chinese automaker announced its plan to launch and complete the product line in 2020. Most notably, in Qianjiang's plan. There are many new models, and there is also a light model that is jointly produced with the Harley-Davidson brand HD338.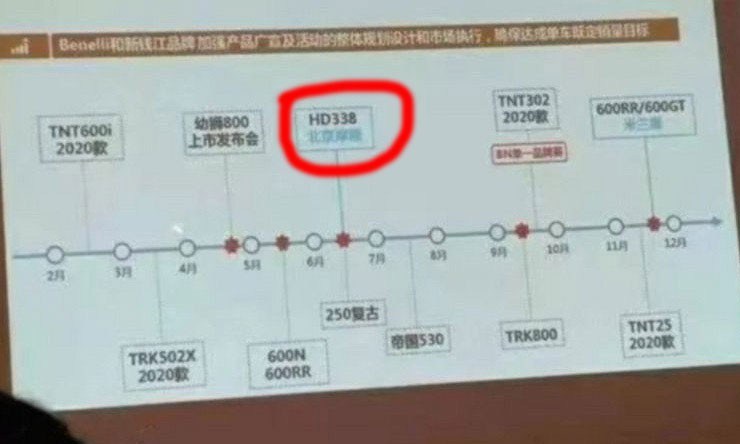 The roadmap for finishing products is given by Qianjiang China
According to previous information, the light model of Harley-Davidson will be named HD350 and equipped with 338cc engine block with double cylinder familiar. It is known that this engine block will be manufactured by Qianjang and is equipped on Benelli models. Since then, the chassis of the car is also very likely to be reused of Benelli 302S models and changes in the casing as well as the brand logo.
HD350 will use engine block and chassis from Benelli 302S
According to the announced launch roadmap, the HD338 model will be completed in mid-June 2020. It can be seen that, in addition to the very popular model from Harley-Davidson, Qianjiang then completed a number of Benelli products such as 2020 TRK502X or more notably TRK800 – a completely new Adventure model of Benelli?
Currently, apart from the image given above from Qianjiang, we still do not have more information about these models. Let's wait and see, what are the models made by the Chinese manufacturer and what prices will be in the future.
Kuro
.