Avira Free AntiVirus is one of the best antivirus software available today. However, recently, some people often complain that Avira is failing to update new data, so it does not guarantee maximum safety for the computer. ElectrodealPro will guide you on how to overcome this situation.
Related posts
How to install Avira, antivirus software for computers, laptops
Avira Free Antivirus – Fix "MSVCR100.DLL is missing …" error
Should I install Antivirus for Windows 10?
How to disable, block ads on Avira Free AntiVirus
Turn off anti-virus sound on Avira, mute Avira Free AntiVirus emitted when removing Virus
This problem cannot determine the cause of knowing only that Avira Free AntiVirus was unable to successfully update the latest versions released to the market, due to a faulty Avira server or the manufacturer's transmission line. There are problems, not yet clarified. However, to overcome this situation is not without a way, you should follow the instructions in the following article to help Avira Free AntiVirus work normally again.

Fix Avira failure to update
For the best support, users should download and install the latest version of Avira Free Antivirus. Download here: Avira
Method 1: Reset parameters in Avira Free Antivirus and edit the Host file.
Step 1: After installing Avira, launch the software. On the toolbar click Extras -> Configuration (or use keyboard shortcuts F8)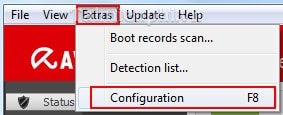 Step 2: In the window Configuration -> General -> Security
In the right window, in functionality System Protect, disable the feature "Protect Windows host file from changes"
Click OK to save your settings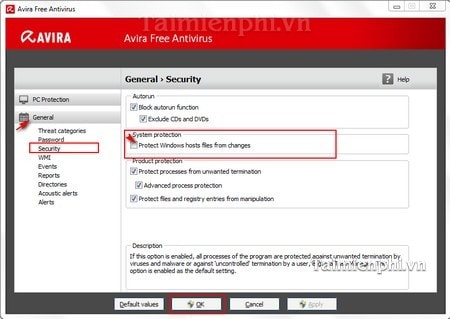 Step 4: Edit file Host
Open the file Host in Notepad (how to open the Host file mentioned in the article editing Host file). Copy the 4 lines below to the end of the Host file and save the Host file.
2a01: 138: a001: 201 :: 21 personal.avira-update.com
2a01: 138: a001: 201 :: 21 personal.avira-update.net
:: 1 personal.avira-update.com
:: 1 personal.avira-update.net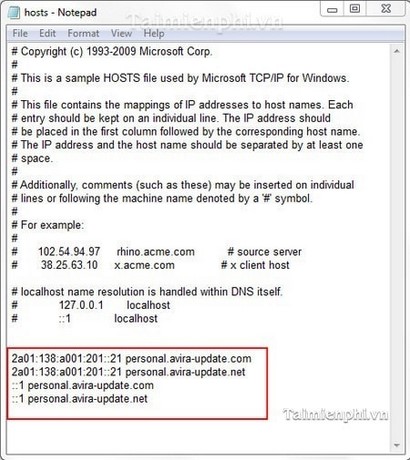 Method 2: In addition to editing the Host file, you can also interfere by changing the DNS of the computer system.
Step 1: Click the Internet icon on the system bar, click Open Network and Sharing Center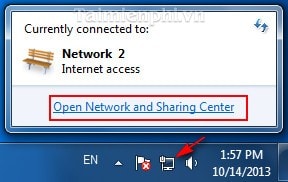 Step 2: In the item Connect or disconnect —> Click Local Connection

Step 3: Click Properties -> Internet Protocol Version 4 (TCP / IPv4) -> Properties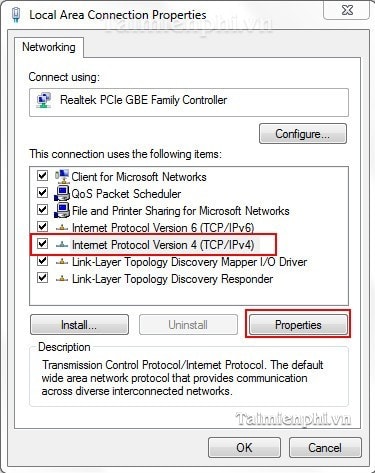 Select Tab General, in function Use the following DNS server address, change DNS
Preferred DNS server: Enter 198.153.192.1
Alternate DNS server: Enter 198.153.194.1
Click OK to save your settings.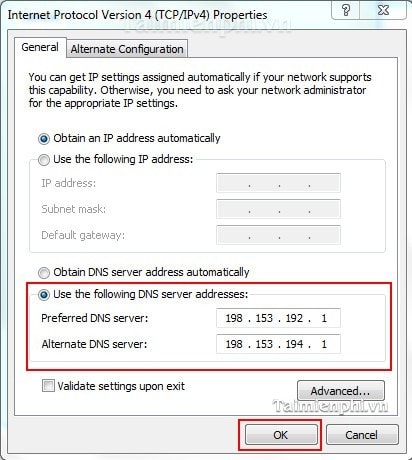 After performing either of the above actions, restart Avira Free AntiVirus and try the Update function. This way you can update to the latest versions of Avira Free AntiVirus easily with upgraded features that help keep your computer safe.
.