Before embarking on setting up a live video streaming system on YouTube using a computer or laptop, you are invited to re-read some of the tutorials posted on the Network Administrator below:
Stream video directly on Facebook computer.
How to record and play live video using iPhone, Android phone.
Some basic information to know when live video with YouTube.
Guide to live stream, stream live video on Youtube by computer, laptop
Option 1: Live stream on YouTube using Open Broadcaster

Step 1. To live video on YouTube, what do you need to prepare?
Step 2. Configure and set up to stream YouTube live video:

Option 2: Live stream on YouTube using OBS Studio

Step 1: Install OBS
Step 2: Get the live stream key and set up OBS
Step 3: Set up your live streaming
Option 1: Live stream on YouTube using Open Broadcaster
Step 1. To live video on YouTube, what do you need to prepare?
A stable browser, with 1 options as follows:
Google Chrome.
Mozilla Firefox.
Cup Cup.
Internet Explorer – Microsoft Edge.
Opera.
1 Google account to be able to use other services such as YouTube, Google Plus … How to create an account, read again here!
Broadcast Support – Completely Free on Windows.
Step 2. Configure and set up to stream YouTube live video:
First, log into your YouTube account, go to section Live Streaming follow the following link:
https://www.youtube.com/live_dashboard
Note that if your YouTube, Chrome are displaying Vietnamese, you can switch back to English to match the screenshots by this way.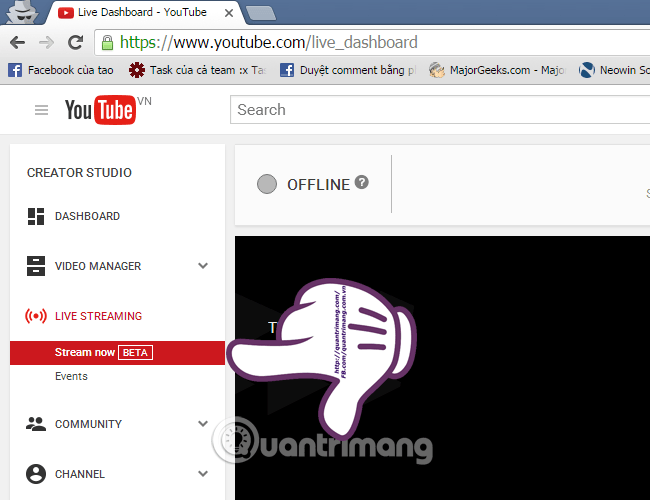 Trong tab Basic Info:
Enter a title for the video.
Content description channel.
Choose the right category in Category section
The Encoder Setup section remains, does not touch anything.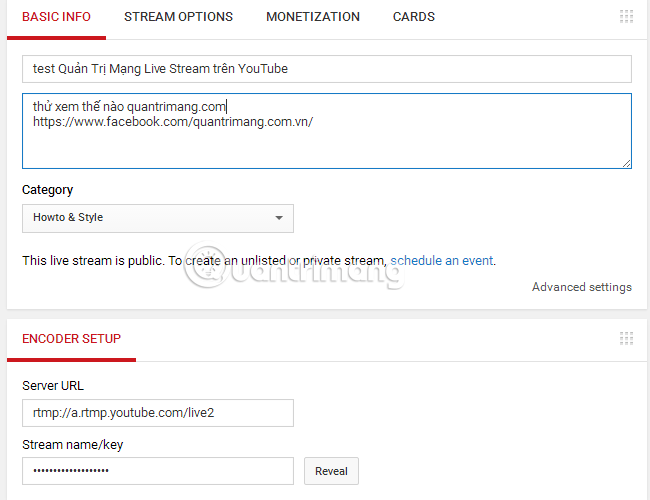 Switch to the Stream Options tab, depending on the speed and stability of the Internet, choose:
Optimize for interaction (low latency): In a nutshell, the latency will be low – for a network with great speed.
Optimize for less viewer buffering: for normal and weak networks, and of course the latency will be higher.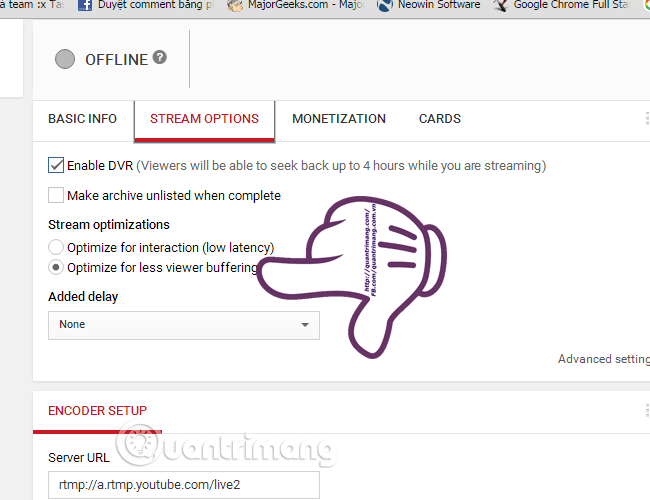 Tab 3, Monetization for you to enable video-based monetization, of course your account must be "clean" to use this. The fourth tab, Cards – connects to other videos, channels – this I will cover in another post.
So primitive is okay, now turn on Open Broadcaster. The basic settings are the same as when we configured the live Facebook video stream on the computer, you can review old memories here.
Go to the item Settings > Settings > Broadcast Settings as shown below: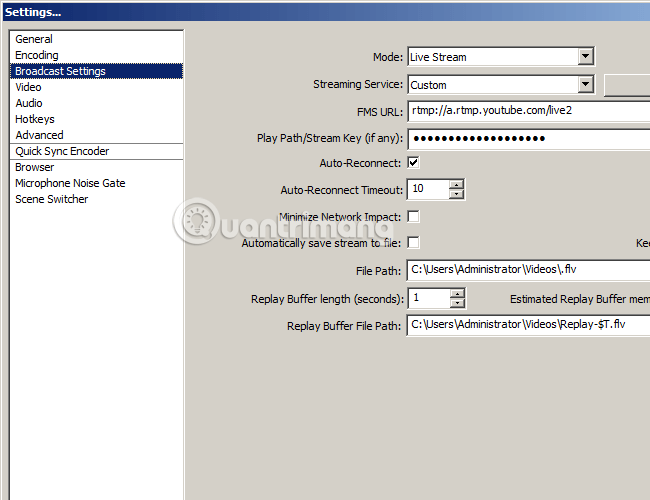 Return to YouTube's setup screen, at section Encoder Setup, you copy Server URL and Stream name/key and paste it in the section Settings in Open Broadcaster: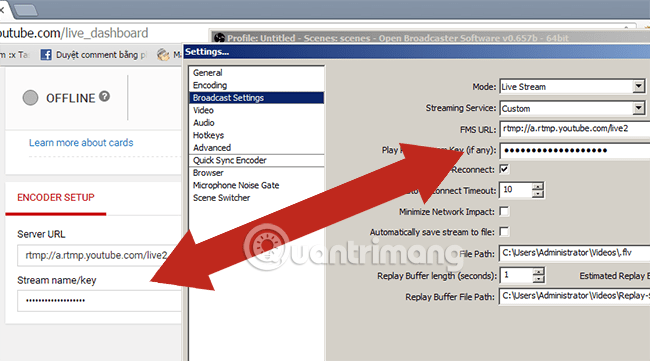 OK, go back to the main screen Open Broadcaster, you press Start Streaming, and wait a while, the video will be played live – directly on your YouTube account: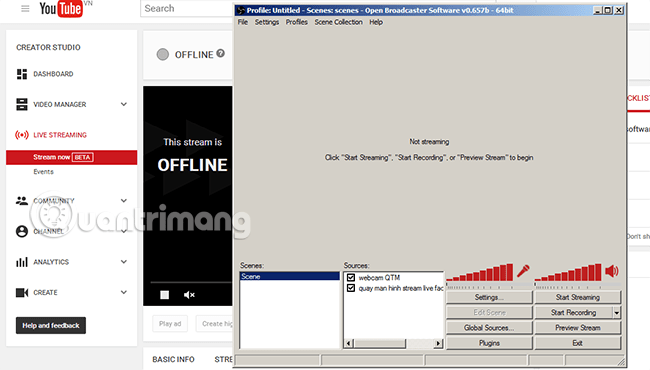 And latency – time to appear on YouTube video will differ about 1-3 minutes depending on the Internet speed. Your channel will be live at a link similar to below:
http://www.youtube.com/c/quantrimang/live – this is the live channel of the Network Administrator!
And you just need to copy and share the link to share with your friends. To chat with people watching the channel, you type in this window is: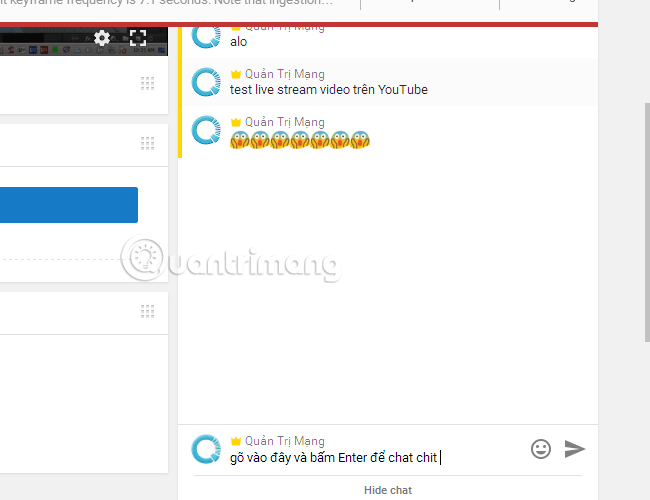 This is what your YouTube screen looks like. Note that if the Live icon on YouTube:
It's normal to have the green color: at that time the network speed is stable, or good.
Yellow or red corresponds to slow, problematic network speeds – You need to check.
Upper right corner shows live video time stats – Elapsed Time, and number of viewers – Watching.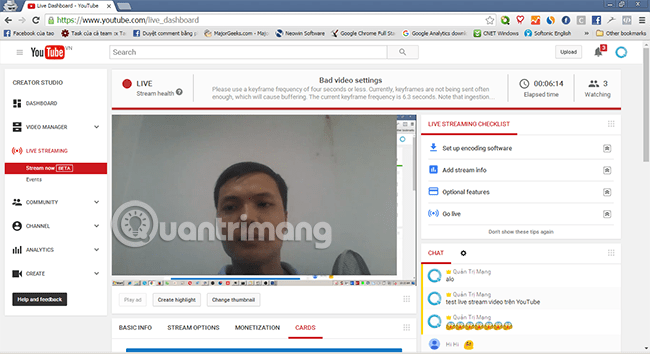 If you do not want to Stream – play live video again, you click Stop Streaming on Open Broadcaster. Unlike live videos on Facebook, YouTube doesn't have video playback, and Facebook will automatically replay your videos on the Timeline at the end of the event.
Option 2: Live stream on YouTube using OBS Studio
YouTube's support for live streams has gotten better and is now a competitor of Twitch. If you are a YouTube content creator and want to live stream the game on this platform, follow the steps in the following tutorial.
Instructions on how to create a YouTube Channel
Step 1: Install OBS
OBS is a popular streaming and recording program. It takes the game output and then streams it directly to YouTube or Twitch. Setting up OBS is pretty straightforward but comes with a lot of advanced settings you can configure.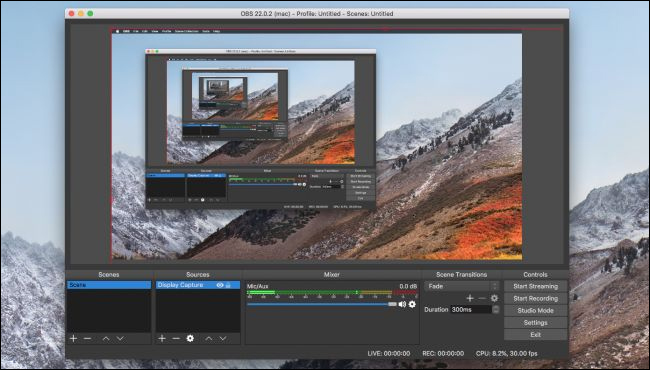 In general, you will get good performance when running screen recording software at the same time as the game. However, if you are using a low profile system, you will not get the performance you want, although recording settings and quality can be adjusted.
Download: OBS Studio
Step 2: Get the live stream key and set up OBS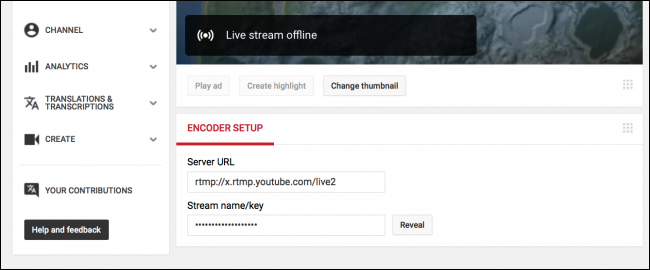 Right-click your avatar in the upper right corner of your YouTube settings, then select Creator Studio. You will see the live stream key in the section Live Streaming in Encoder Setup.
Open OBS and start the automated configuration wizard. When it comes to part Stream Information, change Twitch Fort YouTube and then paste the live stream key from YouTube's settings.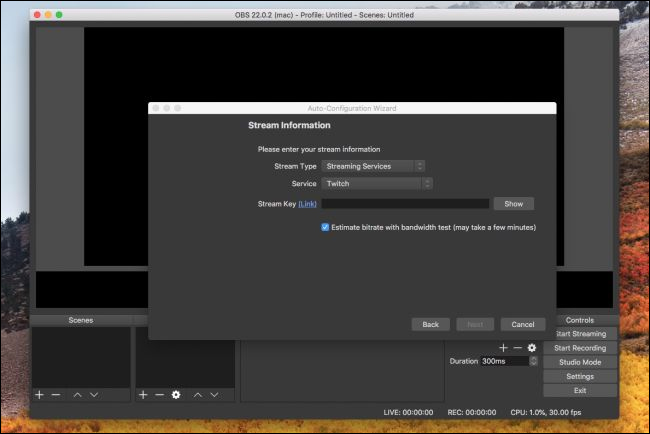 You should keep this key in a safe place because otherwise someone can stream it to your channel. If you can't get the key, you can reset it from the YouTube dashboard.
Step 3: Set up your live streaming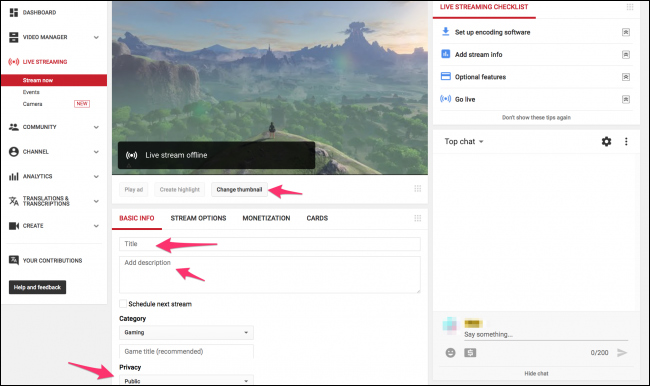 You will have to set this up every time you live stream. YouTube works a little differently than Twitch when it goes live. On Twitch, simply select the game you're playing and set the title to stream. On YouTube, game-streaming is similar to video-streaming, so you'll need the thumbnail, title, description, and metadata in a regular video. You also have the option to stream publicly, hide, or leave it private if you want to check your live streaming settings before playing.
In Stream OptionsYou can enable or disable the DVR, create live streaming archive after completion and choose timeout. Alternatively, you can also add a delay if there is a problem with the Stream sniping feature (watch other gamers' live streams).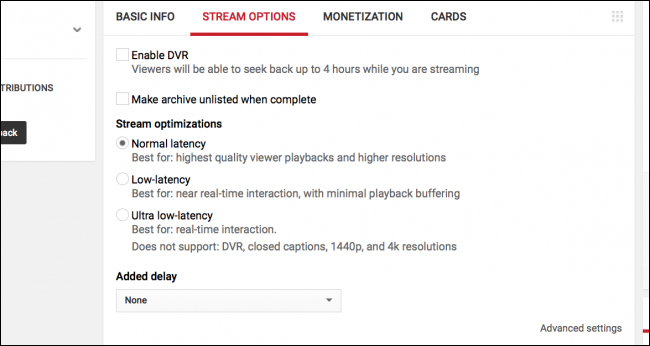 In Advanced SettingsYou can configure chat options such as enable slow mode and only members can send chat messages.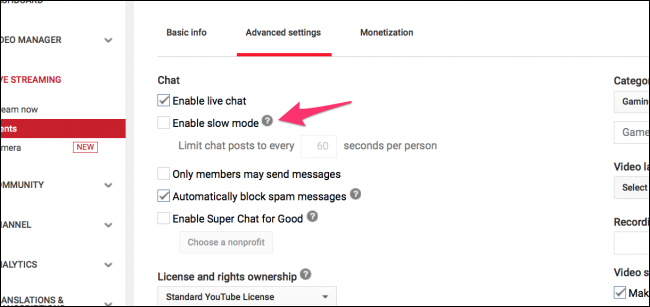 From here, press Start Streaming in OBS to start streaming and you'll see the game streamed in the YouTube dashboard.
If you've turned on monetization, you can trigger ads during live-streaming and allow others to contribute in chat. If you have a second monitor, you can drag the dashboard over to this so you can follow the live stream and read the comments.
Wish you all success!
See more:
How to stream games on Twitch using OBS
Here's how to Live Stream Facebook Video on PC, Fanpage
How do I stream video on YouTube?
.