---
"RPG" (role-playing game) can be considered the most original format of videogame, when it contains the essence of almost every game genre in the world.
Indeed, whether it is a platformer action game, a strategy or a puzzle, isn't the player "playing" into the character that he controls?
Originating from table-top games, the early role-playing game has a slow pace, almost sequentially.
The appeal of mythical epics, delicate little models, multi-sided dice filled with magic … are things that shape this fascinating game genre.
However, according to the flow of time and development, people need something faster, more intense, more dramatic – and so the "tight-cut" RPGs are born, with names. start as Diablo, Nox, Divinity…
It is considered an immortal monument of the slashing role-playing genre (hack RPG n slash RPG), Diablo and Diablo 2 always alive in the hearts of those who are really looking for a quintessence of this series.
Many other products want to target this great goal, but only a few true wonders are close to reaching that "ultimate" realm.
Together from a "kiln" production, Titan Quest days ago and Grim Dawn of today, can be considered true inheritors of the essence Diablo That old year – if not to say that they could be equal, even surpassed those "predecessors" in certain categories.
Launched in 2016, Grim Dawn quickly became a village phenomenon that tightened RPGs because of the attraction in play, massive epic, and infinite depth.
In the video village, it's not uncommon for a "soon-to-die" game to be played, if not to say it's a natural rule. But nearly 4 years have passed but the attraction of Grim Dawn almost only increase but not decrease.
With the launch of the expansion pack Ashes of Malmouth in late 2017, people thought like Grim Dawn has reached its limit, when it brings a great value to play with a cheap price – something that today's gaming companies have neglected to place more revenue on passion and enthusiasm.
But Crate Entertainment has never surprised fans, when from the beginning of 2018 they announced a next expansion with the name Forgotten Gods.
Promised with countless new features and powerful tweaks, the release date was moved continuously from the summer of 2018 to the end of 2018, and was finally officially fixed on March 28, 2019 – indeed community Grim Dawn The world has "been on the coal" counting every day in wait.
So, Grim Dawn: Forgotten Gods Is it really worth the great expectations sent? Please read with Vietgame.asia to learn through the following review.
---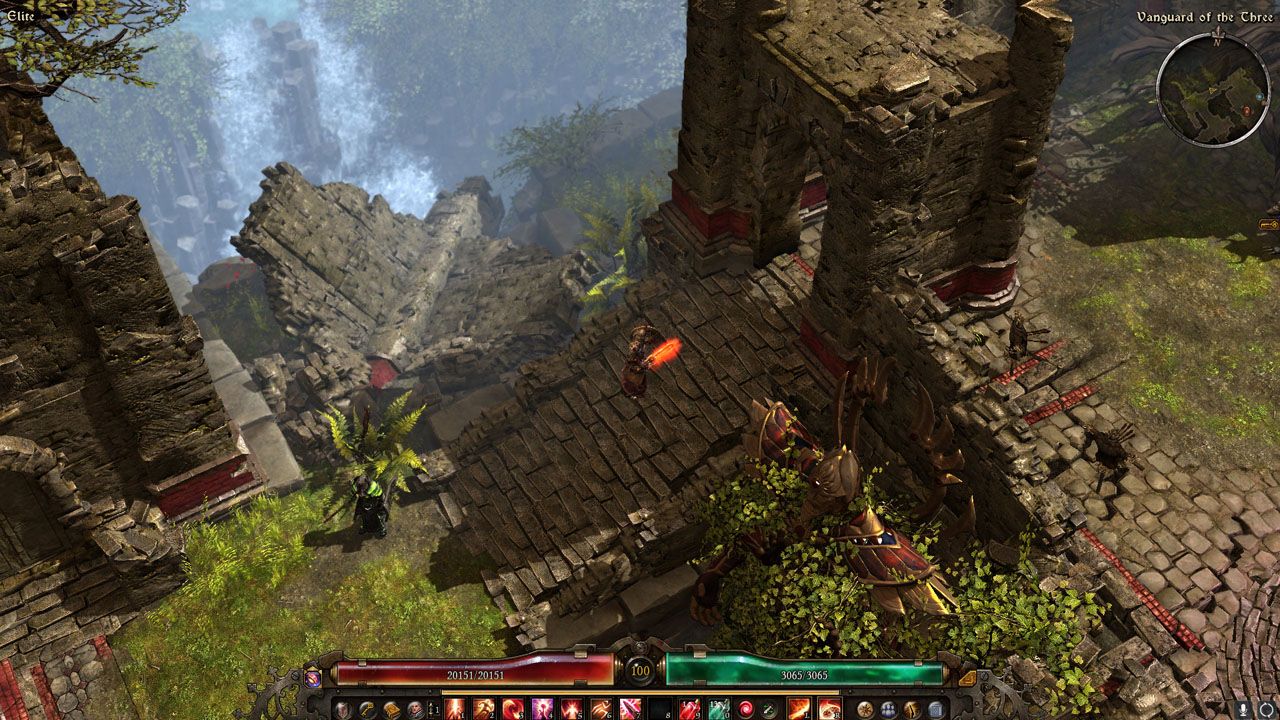 HEAVY NEW FEATURES
It's a game that is almost 4 years old, and although it has a very solid and powerful platform, developers Grim Dawn At Crate Entertainment, knowing that in order to retain this glory for a long time, they will need to do more, not just "sit down to eat gold bowls" like the vast majority of "big men" in other game industries.
So with the expansion pack Grim Dawn: Forgotten Gods This, from the beginning Crate announced that they will focus on honing the main aspects of Grim Dawn, includes modifications / upgrades / additions to enhance the player's experience.
And like always, Crate has always shown that he "can do it", when they blow in Grim Dawn: Forgotten Gods The new wind is extremely refreshing, cool.
First of all, in order to solve the needs of … the contents of the players which have become so urgent when the number of equipment so far has not been little, but Forgotten Gods There are also a few more things – Crate has come up with a temporary solution, expanding a sixth compartment for each character and a common inventory.
At first, Grim Dawn only for four compartments and copies Ashes of Malmouth has "added" up to 5 compartments – but with the number of "terrorist" equipment Grim Dawn bring, the expansion of the box is really necessary.
Next is the expansion of the game's Devotion star map system by 9 more constellations, including 4 large constellations and 5 small constellations.
Devotion is a system that extends skills, allowing players to "attach" a secondary skill to their attacks / defenses, creating a multitude of ways to build characters that are extremely diverse and rich.
With these 9 additional constellations, players will have more options to build towards the Acid + Cold damage (Yugol constellation) or the multi-purpose / animal attack (Korvaak constellation) …
The player will have more options to build towards the Acid + Cold damage (Yugol constellation) or the multi-purpose / animal attack direction (Korvaak constellation).
In parallel with the new Devotion constellation, a character class called Oathkeeper is also included Grim Dawn: Forgotten Gods.
With the body which was the royal guards protecting the ancient Korvan dynasty, the Oathkeeper class brought the power of the characters to use their shields to a new level, now that the effect of the vehicle is not limited to vi support, but also used to … strike the enemy's face, throw a wall-like shield like Captain America, or even … rotate like Saint Garen in League of Legends.
The emergence of numerous new equipment, whether to supplement Oathkeeper or to diversify the old classes, also unintentionally re-ignited a "secret pain" of the players. Grim Dawn So far: equipment according to set (map Set).
When you earn 4/5 dishes and spend a few months languishing in finding the rest, or the Blueprint hunt (cones of recipe making paper) in vain … is something too ordinary.
However, with Grim Dawn: Forgotten Gods everything is over, now that NPC Inventor can "dial" a dish in a set into something random (in the same or different order) at a cheap price – but at least hope to complete those The "legendary" suit is closer to reach than ever.
In addition, there are many other small improvements that sit all day long, such as the new system of mobility skills to improve the flexibility / survivability of players and systems. skip "Normal / Elite difficulty" and "jump" straight to Ultimate …
Can speak, Grim Dawn: Forgotten Gods completed the promise of Crate when trying to improve the experience Grim Dawn a new level.
---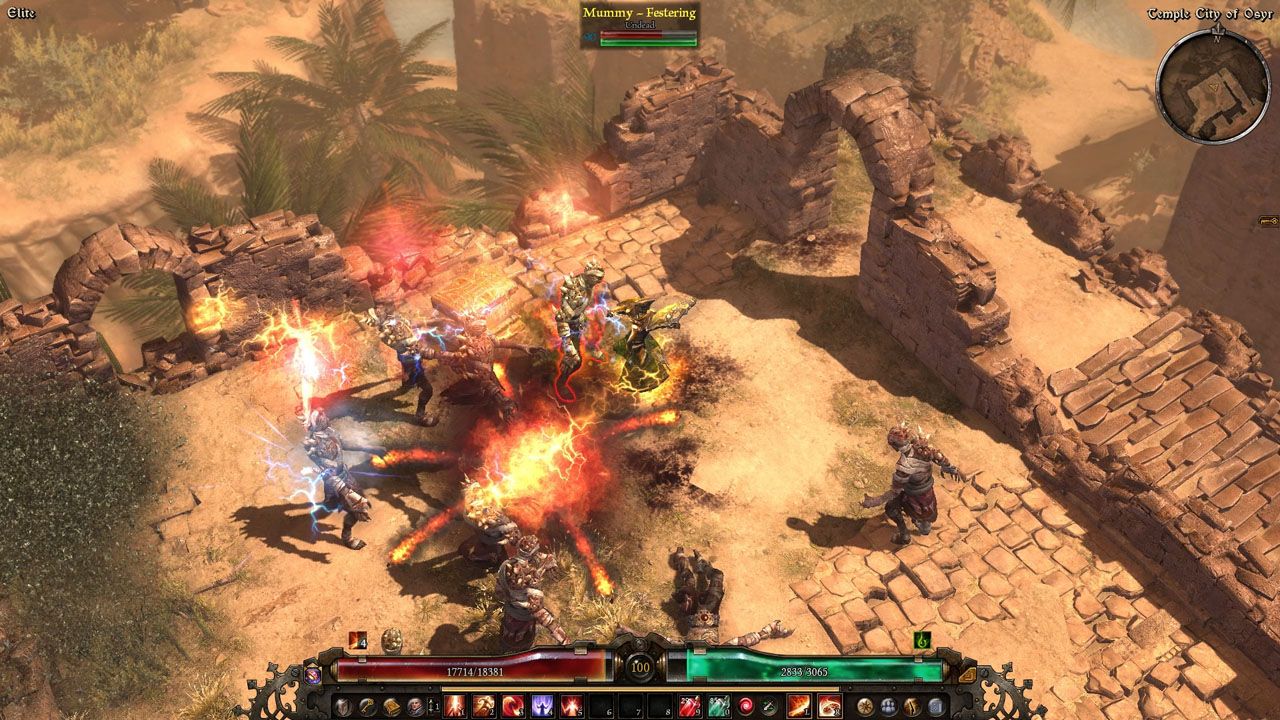 A LONG STEPS OF GRAPHICS
There is an interesting thing that not everyone knows, that is although it started to develop from 2013, but Grim Dawn Actually built based on the old engine of Titan Quest – a product of 2005.
So original Grim Dawn There are a lot of big problems that have only been solved to this day, such as the game can only be used … one CPU core, resulting in FPS drop and "hot", or limitations due to incompatibility. like with DirectX 11 platform …
Therefore, it can be understood that in terms of graphics, Grim Dawn It's hard to do something bigger and more grandiose than the limit of an old engine more than 10 years old.
However, this is the time when Crate's "witch" hands come in, to perform miracles to create things that seem impossible.
Realistic, graphic Grim Dawn It is difficult to say bad, although the gloomy context and design of Lovecraftian "tentacles, venom" is not everyone "swallowed".
With Ashes of Malmouth, Crate has made a lot of graphical investments when bringing players to Ugdenbog, a dense forest with a subtle nuance, where untouched beauty contains deadly dangers.
Crate was even more successful when he recreated a city of Malmouth – once the richest and richest capital of the Erulan Empire, now collapsed and devastated, boasting an air of resistance in the threat. threatening destruction of the Aetherial corpses.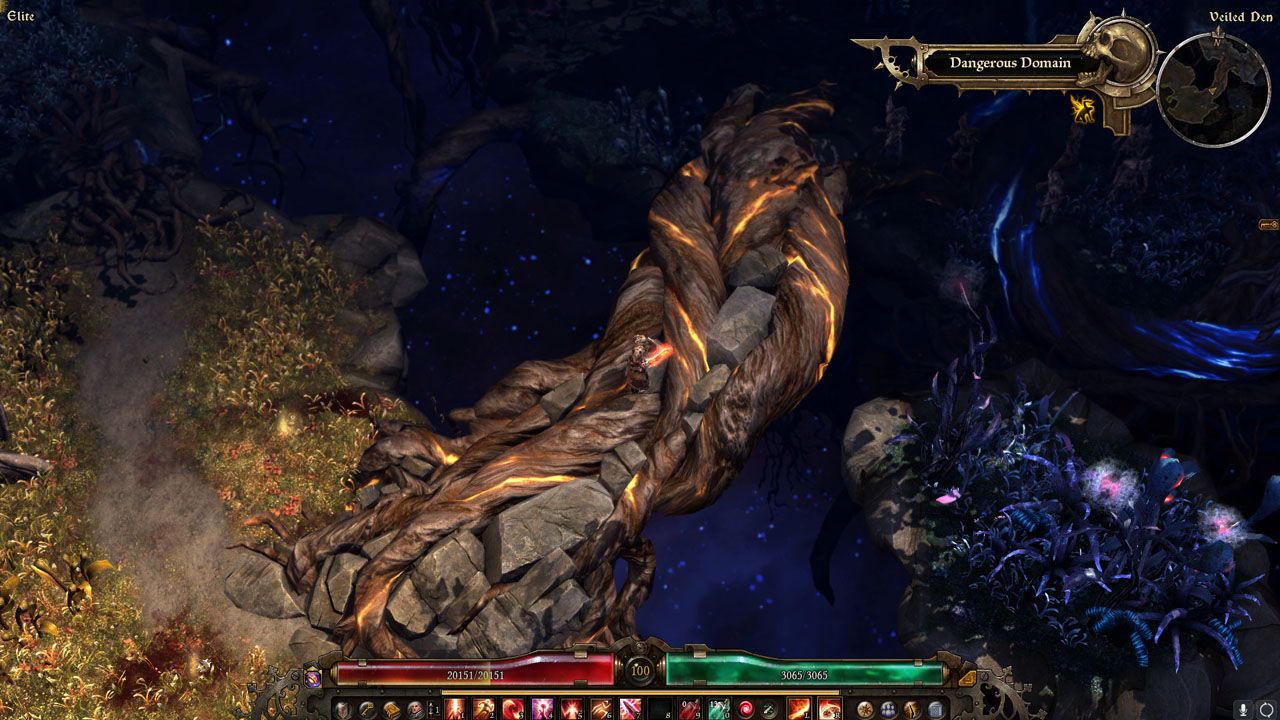 It can be understood that in terms of graphics, Grim Dawn can hardly do something bigger and more majestic than the limit of an old engine more than 10 years old.
However, the things that Ashes of Malmouth can do, are just a little variation, taking advantage of most of the original graphic resources inherent from the original.
Players accept, because they understand that Crate has worked hard to bring the best in the most restrictive conditions.
However, is this really Crate's ultimate?
Answers are: NO.
With Grim Dawn: Forgotten GodsCrate boldly stated that there is no such thing as a limit in the world.
Even with an old engine with no further development, they still create wonders withGrim Dawn: Forgotten Gods – a powerful ancient empire that was once the culmination of both science and magic, once blessed by the ultimate light of the sun god Korvaak, now buried deep in the burning sand of a desert region dead.
Crate succeeded beyond imagination when creating something that completely escaped from the old framework.
There are no patchy wooden houses of the cities destroyed by the Aetherial epidemic, no dark space full of ruins in The Void, nor cold cryptic tombs under the earth is full of undead skeletons …
With Grim Dawn: Forgotten GodsThe player who admires is the golden sand beaches that are vastly thousands of miles away, where the ruined walls of a lost empire are buried.
Huge statues were worn by sand and dust, great temples with meticulously sculpted bas-reliefs, smooth green oases and rare blue water in the desert … all were recreated in a virtual way, with subtle and meticulous touches.
Really, with Forgotten Gods, Grim Dawn seems to have molt into something completely different, like a "Grim Dawn 2", Not a game that is nearly 4 years old.
---
TROUBLESHOOTING, LACK OF DEEP
Ever, Grim Dawn conquering players not only with a deep combat system or unique, unique graphics – but also in the epic epic with mighty gods, great empires, and relationships overlapping intertwined political flavors between factions.
Watching conversations and reading old pieces of paper recorded history in Grim Dawn can be considered a rather peculiar animal, when the player is like being immersed in the infinite flow of time in the universe Grim Dawn so.
However, with the expansion version Grim Dawn: Forgotten Gods This, players can hardly find the same interesting experience, when this story is extremely superficial and superficial.
Grim Dawn: Forgotten Gods just an "out-of-the-box" version, unrelated to the main plot that temporarily ends when the player has finished destroying the evil god Loghorrean of the C'thonian as well as Theoden Marcell, the minions of the Five Council The headquarters of the Aether clan, freeing the city of Malmouth from the rule of the evil forces.
From the way of storytelling, the writer felt an immense loss when there was almost no "lubrication" between the two worlds at all.
A messenger (The Emissary) naturally appears in front of the city gates, telling the player to "return to my team".
And so, BOOM, steamed pear, players appear right in the first city of Grim Dawn: Forgotten Gods with just a snap of his hand, he was chosen to join one of the three factions of Tam Dai Vu Than.
with this Grim Dawn: Forgotten Gods expansion, players can hardly find similar fun experiences, as this story is extremely superficial and shallow
Here, on the ground of the ancient Korvan dynasty, a frantic war between the Three Witch Gods (The Three Witch Gods) was directed against an evil organization that wanted to revive the evil god Korvaak to destroy The world, going on and players are thrown into it in a way that is as ready and "as bone" as possible.
The most interesting thing, though, is that when you get most of the scrolls here, play the main branch and the side quests. Grim Dawn: Forgotten Gods, players are still "going in the fog".
There are still countless questions that have not been answered yet, but also a lot of a lot of other "wonder who to ask" questions.
For example, who was Ulzuin in the end, playing a role in the overthrow of Korvaak? What relationship does Solael, Dreeg, and Bysmiel have with Korvaak, and why must a coup take over to rule over Eldritch? What relationship does Korvaak and Empyrion have …
In fact, the conversations with the NPCs did not help much, apart from the representation each faction tried to "celebrate the merit" of the gods that they were worshiping, or ask the players to look for something. hey, go kill that child … there is almost no specific relationship.
In the end, the players did not know what the truth Korvaak used to be, why they were betrayed, who lied to anyone to tell the truth, the Korvan dynasty collapsed because …
Can speak, Grim Dawn: Forgotten Gods is the expansion version that has the most "pleasing" plot since Grim Dawn Launched so far, with a system of tasks … crap and rambling epic episodes as possible.
And the map of Grim Dawn: Forgotten Gods It is quite detailed and beautiful, but the way that Crate "collects" it in Cairn's main map really looks very cheap and "eye pain"!
---
MINIMUM CONFIGURATION
OS: Windows Vista / Windows 7 / Windows 8 / Windows 10
CPU: x86 compatible 2.3GHz or faster processor (Intel 2nd generation core i-series or equivalent)
RAM: 2 GB
VGA: 512MB NVIDIA GeForce 6800 series or ATI Radeon X800 series or better
HDD: 5 GB
TESTING TESTING
OS: Windows 10 Pro 64-bit
CPU: Ryzen R7 1700 @ 3.7 GHz
RAM: 16 GB
VGA: Gigabyte Rx 560 OC 2GB
HDD: Samsung 950 Pro 256GB
---
GAME IS SUPPORTED BY CRATE ENTERTAINMENT
GAME PLAYED ON THE PC
(Visited 2,333 times)


Hai