No matter what interior design project you are working on, you will want to convey your ideas to everyone involved as accurately as possible and the following interior design software will help you do just that. there.
Related posts
Instructions for downloading and installing AutoCAD 2020
Top 5 best 3D interior design software
Difference between Autocad and Autocad LT
Shortcuts in AutoCAD, the basic commands are common
How to download and install AutoCAD 2018
One Good interior design software can create 2D, 3D renderings of design projects honestly and quickly, giving customers a clear view of design ideas. There are many different useful tools for room design, they can be simple to use and perfect for those who want fast but professional room design, and also have complex options that require knowledge and time. considerable practice time. Depending on your needs, ElectrodealPro will share some room design software and good design ideas for your reference.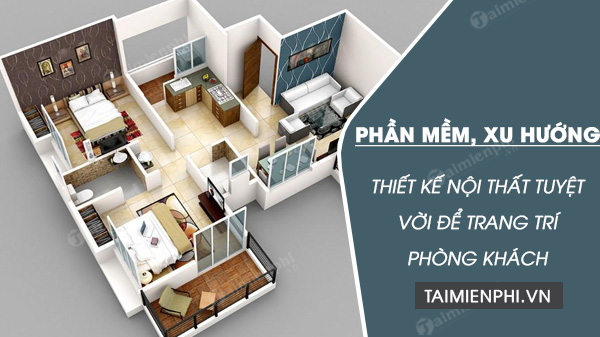 Best interior design software and trends
1. Why use room design software?
Room interior design software makes it easier for users to visualize what a design concept will look like in real life. This makes the customer happy and can help them give feedback or make design adoption decisions earlier, making the transaction and design process faster. Here are some of the benefits that interior design software offers:
– Create 3D house plans from 2D images and CAD drawings.
– Create 3D rendering of designs to help customers clearly understand what they get.
– Provides almost limitless information such as materials, textures and colors to create an object. This eliminates the need for costly physical modeling and offers unlimited customization.
Save time and money as interior design softwares help you complete your design in a few days depending on the scope of the project. Using software to create prototypes across devices means no need to shop or buy and rent furniture or prototypes.
Many software brands have pre-made templates that have generic audiences. They can be used immediately to quickly and conveniently create a complete set of room furniture.
Interior design software often provides a 360-degree view of the interior space, as well as creates 3D directions. This creates an interactive experience for the client because they can envision and feel what the design will look like in real life.
2. The best interior design software for room decoration
Some of the best interior design software is easy to use yet still offers extensive functional and customization options. Multiple software can work together and easily import different file formats.
2.1. SketchUp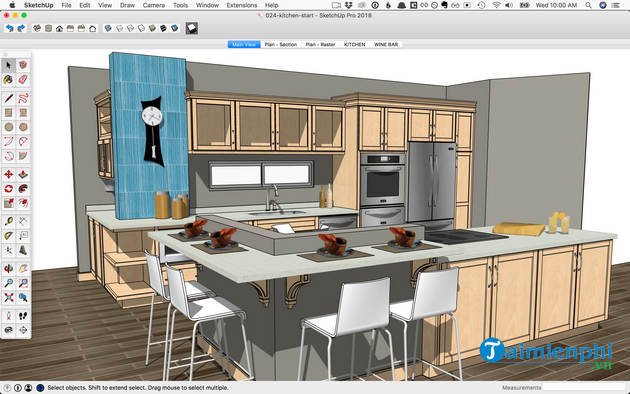 Google's SketchUp has all the features needed to interior design for any room in the house, and this interior design software has a user-friendly interface, especially for those who don't want to. spend too much time researching like complicated software. You can use SketchUp to draw house plans, add depth and dimensions, use pre-made product models without having to design it yourself. SketchUp can also be used to create realistic drawings and include cloud storage, 2D documents, and more.
Latest download link:
=> Link download SketchUp for Windows


2.2. AutoCAD Architecture
Autodesk's AutoCAD Architecture can be used for the purpose of designing room interiors and any space. Tools allow you to work with a drawing and switch between changes or innovations to avoid errors caused when working with multiple drawings. With AutoCAD Architecture, you can plot plans, lay out doors and windows with real-world properties. It offers a variety of furniture design options with different materials for the room.
Latest download link:
=> Link to download AutoCAD Architecture for Windows


2.3. ActCAD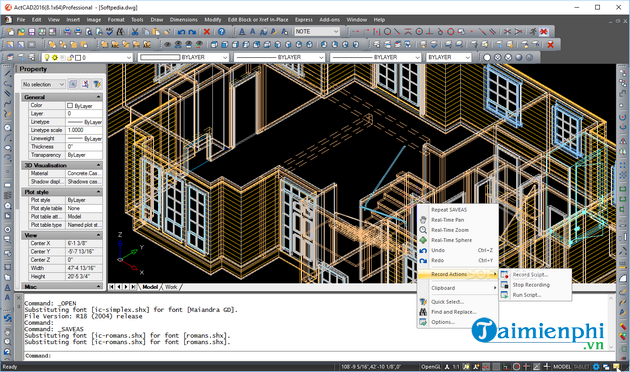 ActCAD is often touted as the perfect alternative to AutoCAD, offering comprehensive 2D and 3D features and being small in size. This software is very flexible as it supports many different file formats from PDF to SVG and 3D SAT. ActCAD allows users to create realistic design images using existing fixtures and textures. It has familiar features and interfaces that can be found in some expensive CAD software, as well as has a few unique features of its own and even allows you to export 2D and 3D PDFs.
Latest download link:
=> Link download AutoCAD for Windows


=> Link download AutoCAD for Android


=> Link download AutoCAD for iPhone


2.4. 3ds Max
3ds Max is a relatively complex design software and provides many realistic renderings of materials and textures to create extremely realistic images and renderings for your designs. 3ds Max can be used to build all kinds of 3D models, and there are a variety of furniture and equipment models available for download for free. 3ds Max also includes lighting and texturing options to create realistic designs.
Latest download link:
=> Link download Autodesk 3ds Max for Windows


2.5. Autodesk Revit
Revit from Autodesk has informative modeling features and is very useful for building and architecture, as well as interior design and room design. It works in popular formats, has sharing and collaboration features, and supports multidisciplinary design and creation. It can be used for interior design and layout drawing, annotation and 2D documentation, but is also widely used in engineering and architecture.
Latest download link:
=> Link download Autodesk Revit for Windows


3. Some interior design trends are favored
3.1. Wall panels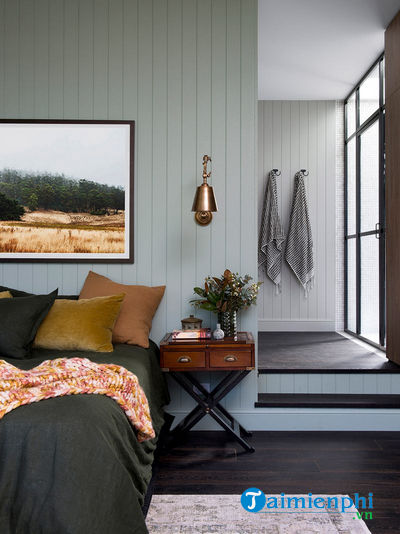 Wall cladding appeared many years ago but is still the trend for many years to come. This is an affordable design solution and gives an impressive look to the space inside.
3.2. Soft appearance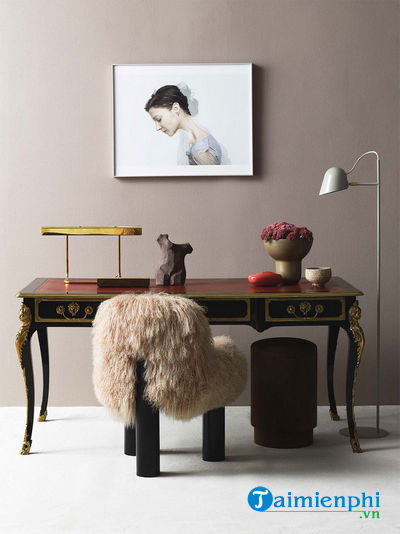 Design styles with soft shapes are making an impact in interior design and contrast perfectly with raw materials like concrete and brass.
3.3. nature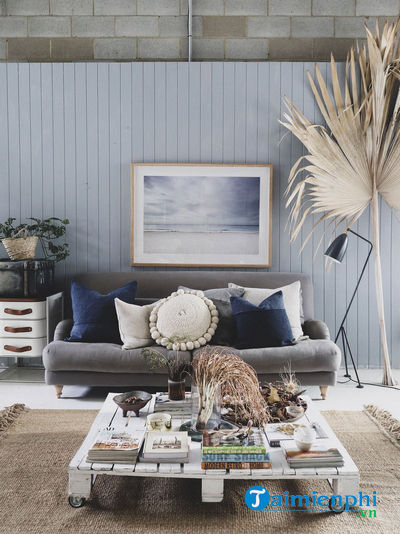 Natural elements in interior design are very popular. To bring natural trends into your home, choose items made with natural materials such as wood and stone, decorations from palm trees, twigs or leaves.
3.4. Products from fired brick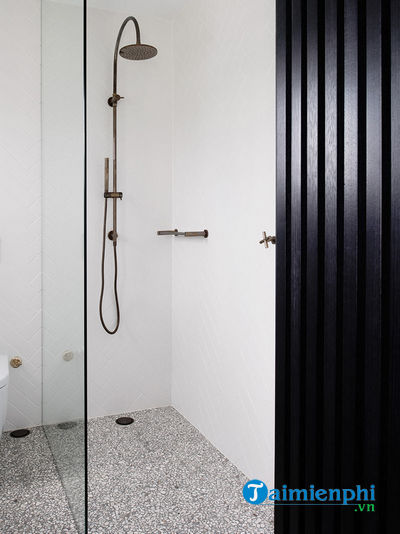 Fired brick is a great texture and fun for a room's space, whether it's in the bathroom or the kitchen. With the development of this trend, many tile companies have developed stylish but inexpensive products.
3.5 Crafts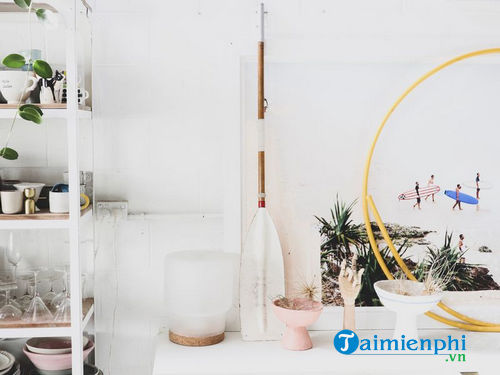 If you've never paid attention to these products, it's time to appreciate the beauty and imperfections of handmade creations. Hand-made items are very special and unique, nothing like any other.
4. Criteria for selecting software for interior design of the room
There are many factors that need to be considered when choosing the best room design software for you, depending on the scope and scale of the project such as:
User interface and visualization: If you are working on room interior design projects with little need for detail and authenticity, choosing software that requires less time to learn is better than professional software. Complex, providing more functionality than needed.
– Budget: Many high-end interior design software costs up to $ 2,500 / year. You can find good quality tools starting at $ 99 or even for free, but of course with more limited features.
https://thuthuat.taimienphi.vn/cac-phan-mem-va-xu-huong-thiet-ke-noi-that-tuyet-voi-de-trang-tri-phong-59090n.aspx
Above are some furniture design software that you can use to complete your design project. Besides, the trends shared above will also give you some inspiration to foster creativity in design. In addition, you refer to Top Interior design application professional here.
.