Say that Godfall Had the effect of a wet firecracker on us would be an understatement. The title of Counterplay Games certainly has for him a graphic realization and a really fun gameplay, it lacks nevertheless a certain depth which would make it an absolute must-have. And we are talking about lacks related to the role play aspect, the scenario or even the endgame, ultimately poor in proposals.
However, it would be a lie to say that the studio behind this next-gen A-RPG is not giving its baby remarkable follow-up, as since its release in October 2020, there have been plenty of updates to correct various aspects of the title. . We were then waiting for the arrival of a first real content to be added to the experience Godfall and giving it that extra depth that it sorely lacks.
And as planned since December, it is now done, since Counterplay Games has just released a significant update for the game in nature with the free Primal content already available on PlayStation 5 as on PC.. Overall, it focuses on the endgame by bringing a lot of little things that will make players happy.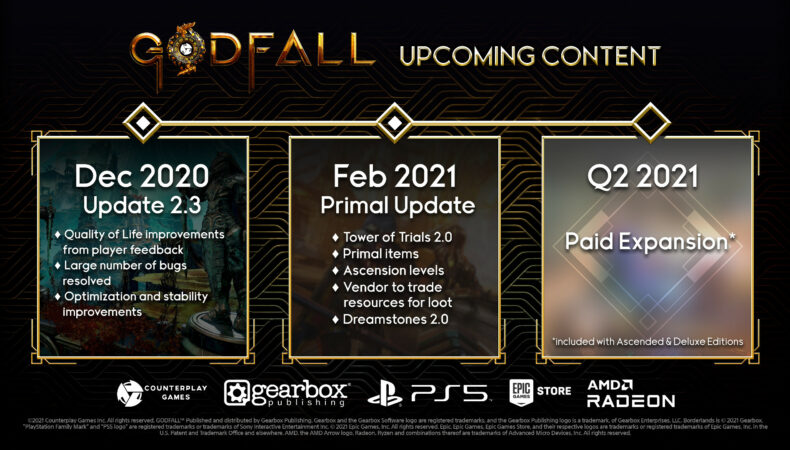 You can then continue to improve the power of your character even once the maximum level has been reached thanks to the new powers and bonuses of Ascension or even use object modifiers called Primal which make it possible to increase the power of your character again. our weapons and armor via large buffs whose effects are visible on the statistics screen of our avatar.
Also, the Tower of Trials is going through a big upheaval, both in its normal version and in Ascension, and is offered new quest objectives, better loot and a bigger challenge and a few other surprises that require players to take action. adapt to sometimes very difficult playing conditions.
The difficulty is also one of the points on which Counterplay Games lingered the most since various modifiers making the Tower of Trials more difficult are therefore present. As before, of course, but with a few small corrections that make things even more difficult for more interesting rewards.
Finally, we also note the arrival of Zenun as an in-game seller, offering us some items for a little money. The Dream Stones have also been reworked and changed, making them even more interesting, while many bugs related to cooperation, gameplay or technique are also corrected. You can find all the information about the 2.4.44 update also called Primal on the official Gearbox website.


Riku