If your computer has too much software that needs to be upgraded, instead of time-consuming manual upgrades, with Sumo PRO, you can upgrade any software with just a few simple clicks. Currently, you can subscribe to Sumo PRO software, automatically upgrade the software for free at this time. Please hurry up!
Related posts
Instructions to install Driver Booster, the software automatically finds drivers for computers, laptops
Uninstall Driver Booster 3, 4, 2 from your computer, laptop
How to install Driver by Driver Booster 2, 3 on the computer automatically
Restore old driver updates on Driver Booster
(Giveaway) IObit licensed Driver Booster 6 – Fast and standard PC driver update
Sumo is a software to search and upgrade the software on your computer, Sumo works quite similar to the current driver detection software with familiar listings, you can control and manage our software in the most effective way.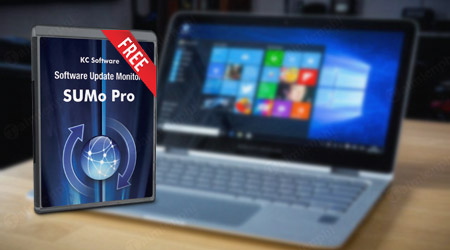 Register for Sumo software license for free
Sumo is currently being sold at a price $ 29.99 But as mentioned above, you will not have to spend a single move to own Sumo copyrighted software for free for 2 days. from 10/10/2017 to 12/10/2017 Please.
The Sumo software license registration guide automatically upgrades the computer software
Attention

Sumo code Giveaway time will end at 3pm on 12/10/2017
Step 1: First of all, readers must download the Sumo software here: Download Sumo.
– Next, please click HERE to receive giveaway code license for Sumo software.
Step 2: Install and activate license Sumo software.
– After completing the installation, open the software and click on Buy Sumo PRO and enter the giveaway code you received into it.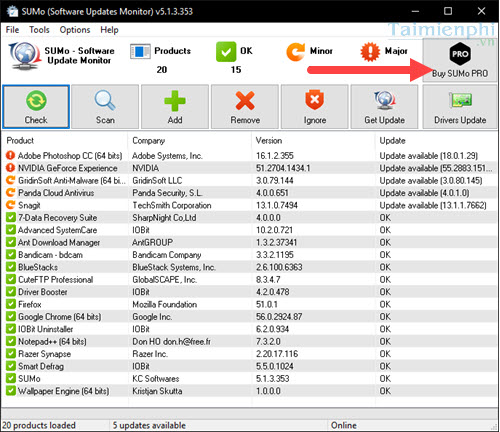 – Proceed to enter the CODE code received above.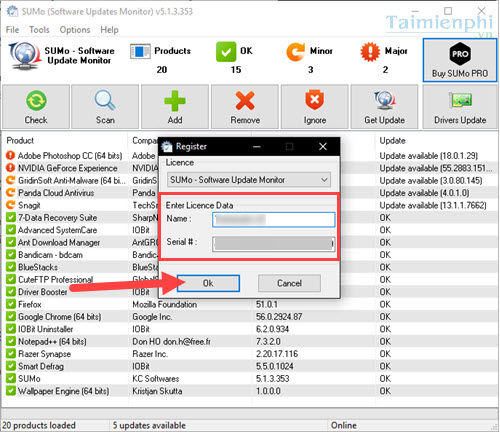 To register for Sumo software license for free, click on Buy Sumo Pro
– And when entered correctly, there is a successful activation message that you can use immediately.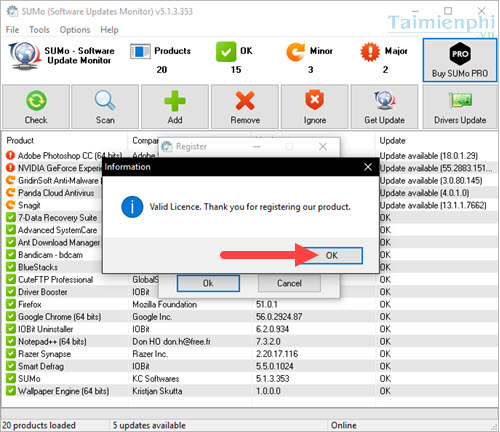 Activating Sumo license successfully
– The software interface is simple but very easy to use, you have the right to choose to automatically upgrade the software as you like.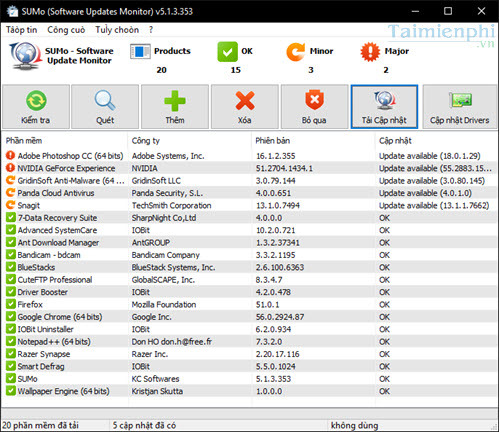 Automatically find software drivers with licensed Sumo software
Above, ElectrodealPro has finished instructing you how to register Sumo license completely free, the software allows us to automatically upgrade the computer software. However, you must note that the software can not scan and update the latest game updates and only applies to normal software on the computer.
And in addition to automatically upgrade your Driver, you also need to pay attention to Drivers for your computer, for hardware devices that are active in your computer. Use good software like DriverScanner DriverEasy Always the top criterion to solve the above problem, especially DriverEasy as it is one of the best software to automatically find the best Driver today.
In addition, there is also a very good software with an easy-to-use, eye-catching interface that is extremely effective with just one click like SUMO, which is Driver Booster, which is also a software to find drivers and update sessions by itself. The latest version is available online, if you are wondering if the software to find the driver, use Driver Booster to find the driver, using and finding the driver with Driver Booster will save you a lot of time.
https://thuthuat.taimienphi.vn/giveaway-phan-mem-sumo-free-tu-dong-nang-cap-phan-mem-may-tinh-tu-79-7985n.aspx

.