SuperEasy Video Booster software that supports professional video editing is one of the highly appreciated software available today. With ElectrodealPro download SuperEasy Video BoosterInstall and receive the copyright to own all the useful features of the program.
Related posts
(Giveaway) Get copyright SuperEasy Photo Booster, improve image quality from June 25 – June 30
Convert Videos with SuperEasy Video Booster
(Giveaway) Copyright for free SuperEasy Live Defrag, defragment the drive from August 29 to September 1
(Giveaway) Register for SuperEasy 1-Click Backup license, backup data from June 25 to June 26
(Giveaway) SuperEasy Audio Converter 2 is royalty free, powerful audio converter and split
SuperEasy Video Booster supports editing videos recorded from mobile devices or cameras, camcorders … Support editing most of the popular image formats today such as AVI, MP4, WMV, 3GP. Videos are blurred, or longer than desired, with a simple mouse click, you will own a perfect video clip.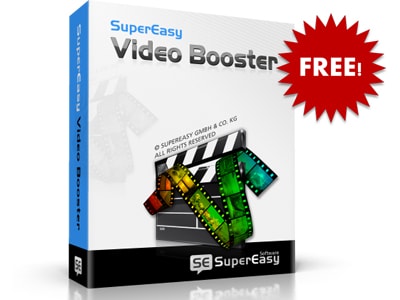 Supereasy Video Booster Giveaway – Register Copyright Supereasy Video Booster
In addition, SuperEasy Video Booster also supports converting video formats together to help you get video files according to your needs.
License SuperEasy Video Booster is sold at a price 19.95 $. However, to better support the user, the publisher SuperEasy decided to give a free Giveaway Code to SuperEasy Video Booster app today. April 25, 2015 and tomorrow April 27, 2015. If you have not yet registered for the program copyright, there are still a lot of free video editing software available on ElectrodealPro such as Windows Live Movie Maker, you can download Windows Movie Maker to experience many features. useful features in the program.
How to register SuperEasy Video Booster license
(Note: The registration period for SuperEasy Video Booster copyright is until 14:00 on April 27, 2014)
Step 1: Download the software here: Download SuperEasy Video Booster
Step 2: You guys come in Here to sign up for the Giveaway Code
+ You pay attention to enter your main email (Email is real). Then choose Send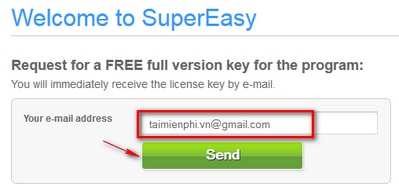 + After selecting Send, a window will appear Step 1: Log inYou just leave it there,
What to do is to the registered email to receive your password. After you have your password, enter the second window that appears.
(In addition, if you already use your email to register for an account with SuperEasy, just enter your Password)

Select Log-in, you will receive a Giveaway Code

Step 3: Install and use Giveaway Code now Step 2 to subscribe to SuperEasy Video Booster license
Program interface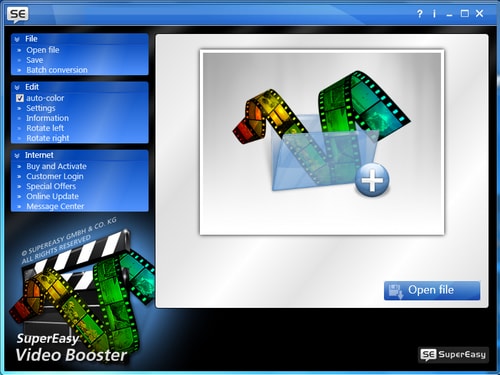 https://thuthuat.taimienphi.vn/giveaway-supereasy-video-boster-mien-phi-chinh-sua-video-848n.aspx
Sign up for the license of SuperEasy Video Booster, to own the great features in this application. Good luck!
.