ESET Smart Security is online computer protection and antivirus software that helps you surf the website in the safest way. Just recently launched in Vietnam in 2015 has made headlines in the market when it is rated as the Top 3 best antivirus software. And in this event, ESET Smart Security wants users to know more about their products as well as the benefits of using the copyrighted ESET Smart Security, giving Lincense ESET Smart Security for the next 6 months, everyone completely free fees.
Related posts
(Giveaway) Register Smart Defrag Pro 5 license, defrag the drive
(Giveaway) Register Smart GPS Sync copyright, change GPS photo information from April 20 to April 22
(Giveaway) Copyright Anvi Smart Defender, antivirus and comprehensive computer protection from April 21
Thoroughly remove anti-virus software on the computer with ESET AV Remover
(Giveaway) Copyright for free AVG Internet Security 2018, antivirus online from 6/4/2018
Software ESET Smart Security supports online antivirus, automatically detects external threats entering your computer, protects your computer, wherever you are. Prevent adware, spam files from harming the computer and users.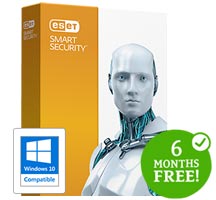 (Giveaway) Register for ESET Smart Security license, antivirus online
Using ESET Smart Security, users will feel secure when performing online banking transactions. Especially when installing ESET Smart Security, your e-mail box will not encounter spam or spam emails. In addition, when letting your children use the computer, you will also be more secure with the malicious web filtering modes, unhealthy content of ESET Smart Security.
The ESET Smart Security license is valid $ 39.99. Register and install today from October 1, 2016 to October 15, 2016 Then you will have a license ESET Smart Security with a 6-month period for free without spending a single cost.
How to register for the ESET Smart Security license
Attention

Registration time for ESET Smart Security license is until 14:00 on October 15, 2016
Each customer can register up to 3 keys: How many keys need to be filled immediately User Remark.
No registration by personal mail (The system will not send key to customers who register by personal mail)
Registration information please use in English (the system will error if the customer enters information in Vietnamese)
Step 1: First, readers must download ESET Smart Security here: Download ESET Smart Security
– Next, you come in HERE register to receive free ESET Smart Security software license.
-Note when entering information, you must fill in all in English or Vietnamese without accent, do not use accented Vietnamese, click on after completing the information. Submit now.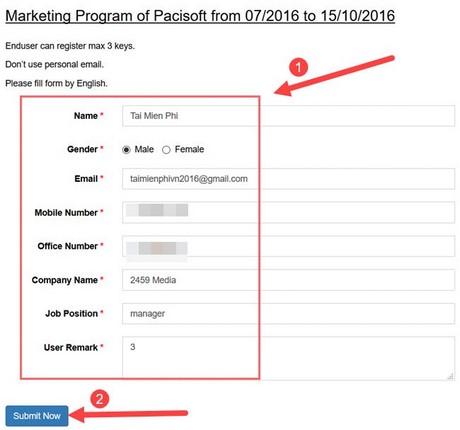 – Then you will receive a notification mail with free ESET Smart Security software license within 24 hours.
Step 2: Install and activate license ESET Smart Security license for free.
– After installing ESET Smart Security, click Activate Product to activate the software copyright.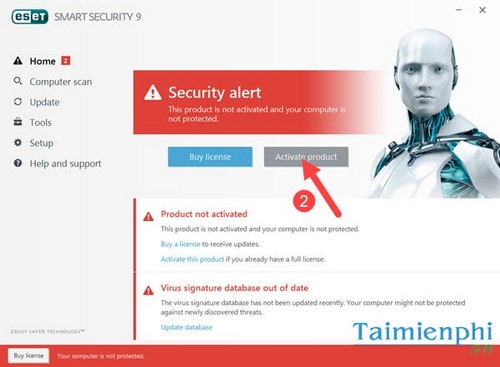 – Enter the correct copyright code giveaway received and press Activate to activate.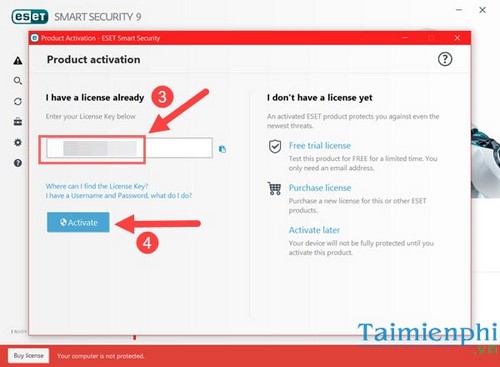 – The last stage completely belongs to you, now you have activated all functions of free ESET Smart Security software.
Outstanding features of ESET:
– Virus removal and real-time computer protection, online virus removal.
– Detect and prevent phishing sites, containing dangerous content including spam ads.
– Scan emails receive and send via email application on computer.
– Personal fire wall: Powerful firewall filtering system, controlling inbound and outbound traffic.
– Network attack protection: Prevent direct network attacks.
– Banking & Payment protection: Secure online payment websites and online banking.
– Botnet protection: Detect and block botnet communications.
– Parental control: Block sensitive and dangerous websites.
– Gamer mode Optimizes performance for a better gaming experience.
– Anti-Theft: Protect your computer in case it is lost or stolen.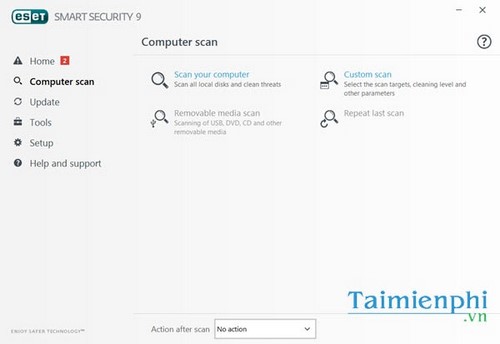 https://thuthuat.taimienphi.vn/giveaway-eset-smart-security-mien-phi-diet-virus-truc-tuyen-5507n.aspx
With ESET Smart Security license, you will have in hand a tool to ensure safety when surfing the web online, sending and receiving emails as well as surfing the web safely, no virus will be able to penetrate. your computer is okay. With ESET Smart Security, your computer will be protected online 24/7.
.