Ashampoo AntiVirus 2016 effective anti-virus support has been appreciated by many users right from the previous version, and now the anti-virus software Ashampoo AntiVirus is upgraded to version 2016 with many advanced features that promise to protect protect your computer more completely.
Related posts
(Giveaway) Ashampoo File Wiper is royalty free, optimized for computers
(Giveaway) Register copyright Ashampoo HDD Control 2, check computer hardware from 5/6 – 7/6
(Giveaway) Register copyright Ashampoo Music Studio 4, manage music from 10/7 – 12/7
(Giveaway) Copyright Free Ashampoo Photo Optimizer 4, image editing
(Giveaway) Copyright Ashampoo WinOptimizer 2018 for free, system optimization from April 2
Ashampoo AntiVirus 2016 is one of the best antivirus software available today. Using Ashampoo AntiVirus 2016, you can choose the scanning features, create a firewall to protect your computer, protect your important data effectively. Not to mention Ashampoo is also a very famous brand, especially with this 2016 version, thanks to the rapid update of top-of-the-line anti-virus technologies and security that are not inferior to famous anti-virus software like Avast. or Avira, in it Avast is known as the best free antivirus software. However, with Ashampoo AntiVirus 2016 you will feel it is even more powerful and safe than the above software.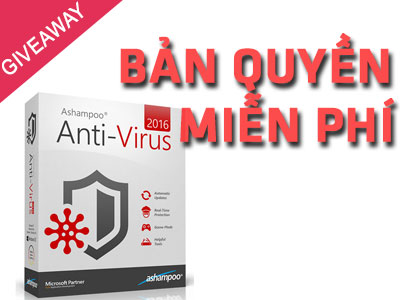 Registered copyright Ashampoo AntiVirus 2016, antivirus computer
Integrated with modern and professional tools, Ashampoo AntiVirus 2016 proceeds to prevent and remove attacks from outside the computer including viruses, spyware, and malicious. Moreover, the use of software will help you avoid accessing websites containing malicious code and malware, this is also a feature that when download Avira and in use, Avira software users are fully satisfied with the above features
Ashampoo AntiVirus 2016 is currently being sold at a price $ 19.99, register information today from October 13, 2016 to October 17, 2016 You will receive the Giveaway Code 6 months free program license.
How to register copyright Ashampoo AntiVirus 2016
Attention

Time to install license Ashampoo AntiVirus 2016 to 16:00 on 17/10/2016
Step 1: You can get the software right here: Download Ashampoo AntiVirus 2016.
Click COME IN to receive giveawaycode
Next, enter the correct email address to proceed to receive giveawaycode.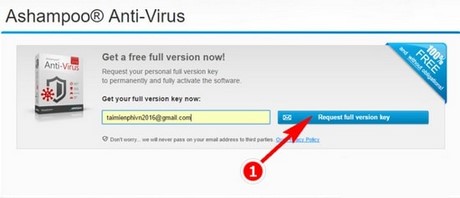 Click Request full version key
In case you have not yet registered an Ashampoo account, click HERE to register.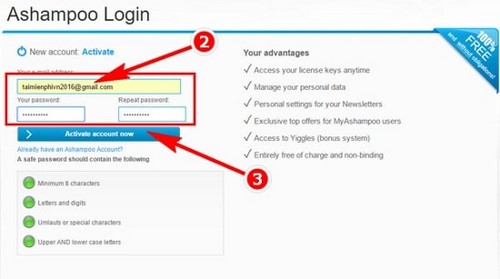 Register ID in just 1 step
Then go back to enter your password to receive the giveaway code.

Enter the password you just registered
Save this code to proceed with activation.

Store the ID for activation
Step 2: Install and activate copyright Ashamp code giveaway
When installing, the software will ask you to enter a giveaway code to confirm the copyright.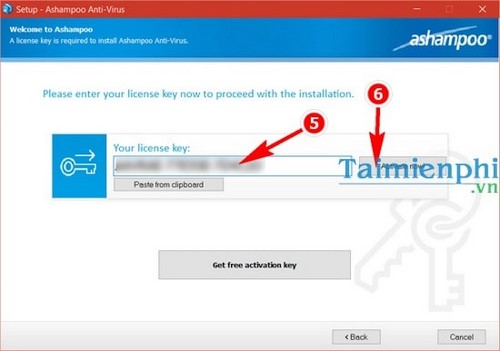 Enter the correct giveaway code
Then you just need to Next until the installation is complete.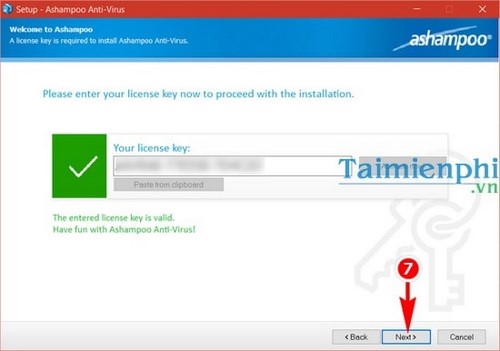 Finally, you can immediately run the software to see the features in action,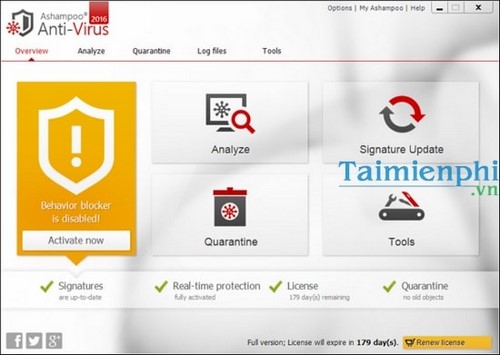 https://thuthuat.taimienphi.vn/giveaway-ban-quyen-mien-phi-ashampo-antivirus-2014-1-nam-diet-virus-276n.aspx
Above is the article activating copyright Ashampoo AntiVirus 2016, with the software on your computer will become safer than ever and you will no longer have to worry about virus problems happening on your computer. me too. Also if you can find more the best anti-virus software to experience and compare. Refer to the article top antivirus software the best right here.
.