InPixio Photo Editor can create professional photos that you can share to services, social networks like Facebook, Twitter, … Photo editor from InPixio allows you to add a variety of impressive effects quickly and easy. So please register for free InPixio Photo EditorProfessional photo editing is guided by ElectrodealPro below to get the full features of the tool.
Related posts
(Giveaway) Copyright Movavi Photo Editor for free, professional image editing from December 17 – December 18
(Giveaway) Copyright SoftOrbits Photo Editor Pro for free, professional photo editing software
(Giveaway) Aimersoft Video Editor royalty free, video editing
(Giveaway) Copyright for free Wondershare Video Editor, video editing from June 24
(Giveaway) Copyright Free Ashampoo Photo Optimizer 4, image editing
With many different filters and tools, the interface is also very intuitive and easy to use InPixio Photo Editor will be the best choice for those who are in need of basic photo editing such as resizing, brightness, increase sharpness, color, … for your photos. Along with the license free InPixio Photo Editor will help you use more features of this software.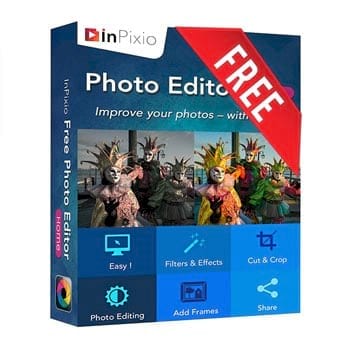 You can use the free trial version of InPixo Photo Editor, but to be upgraded to Home Edition with full features for individual users, you will have to pay a small fee. $ 39.99 . However, in this article, ElectrodealPro will guide you to receive and register for InPixo Photo Editor Home Edition version without any fees from the date of May 3 – 05/05/2017 .
Copyright Free InPixio Photo Editor, professional photo editing
Attention

Giveaway InPixio Photo Editor will end at 3pm on May 3, 2017
Step 1: First, you download InPixio Photo Editor here: Download InPixio Photo Editor
Step 2: It will take a little while to download the full installation of the tool, after which you can proceed with the installation as you clicked. I agree.
Step 3: After the installation is complete, press and Photo Editor to get started in the photo editor.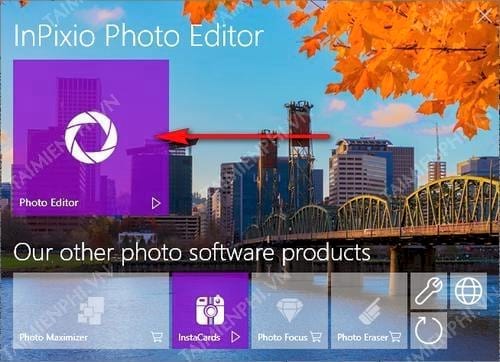 Step 4: Select any photo you need to edit, in the editor click on the icon three dash in the right corner of the window then select Activate the full version …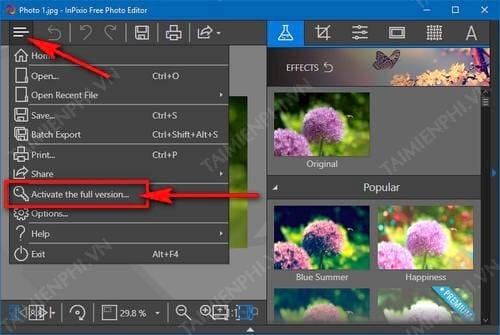 Step 5: Into the HERE to receive free InPixio Photo Editor license.
Step 6: Enter the license key that you have just received in the information box, the tool will automatically check and activate. If a message appears InPixio Photo Editor Home is now activated. means the activation was successful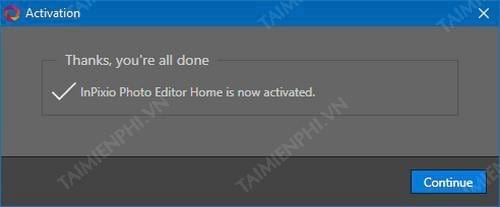 After activating the InPixio Photo Editor Home Edition license, you can use all the features of the program with hundreds of powerful filters, tools and features.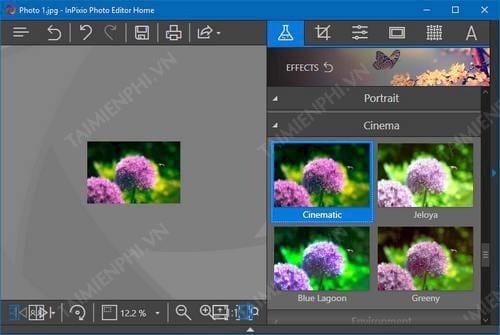 Registration period for free InPixio Photo Editor only takes place for a short time. So, if you are looking for a powerful and interesting photo editing software, quickly activate the copyright for this software.
https://thuthuat.taimienphi.vn/giveaway-ban-quyen-mien-phi-inpixio-photo-editor-chinh-sua-anh-chuyen-nghiep-23470n.aspx
Besides InPixio Photo Editor there are many powerful photo editing software like PhotoScape or Photoshop, … these are all software that have tons of great features to help you edit image size, color or even create animations. Good luck !
.