Currently, there are many different backup and recovery software to help users preserve data in the most optimal way. But there is very little free software that also provides you with powerful backup features. So, O&O AutoBackup 6 license, automatic data backup is not a bad choice when you are looking for a data backup and recovery software for your computer.
Related posts
(Giveaway) Copyright free O&O DiskImage Pro, professional data backup from September 2 to September 4
(Giveaway) Copyright free O&O DiskImage 6 Pro, create disk image
(Giveaway) Copyright Backup4all Standard 6 for free, the following software saves data from April 27
(Giveaway) Copyright free O&O DiskRecovery 11
(Giveaway) Copyright Exiland Backup for free, automatic backup, data backup
O&O AutoBackup 6 is a more "economical" version of O&O DiskImage in the top 10 best computer data backup software. It inherits the best data backup features of O&O DiskImage and removes the redundant features for a more affordable price tag. The way this software works is quite simple, O&O AutoBackup 6 backs up and syncs your data automatically, capable of backing up data to an external hard drive or USB. The most special feature of this program is probably the interface is quite simple and the program guides the user to set it up quite interesting.
Currently, you can get the 6-value O&O AutoBackup license for free $ 29.95 under the O&O AutoBackup 6 giveaway program taking place from the date September 14 to date September 16. Hurry up to be able to protect and backup your computer data thoroughly and simply.
Copyright O&O AutoBackup 6 free, automatic data backup
Step 1: Visit the O&O AutoBackup giveaway program address 6 HERE
Enter your email address in the box below then press Kostenlose Lizenz anfordern.
Note: During the O&O AutoBackup 6 license registration process, the information displayed will be German, but when you install the software you can still choose English.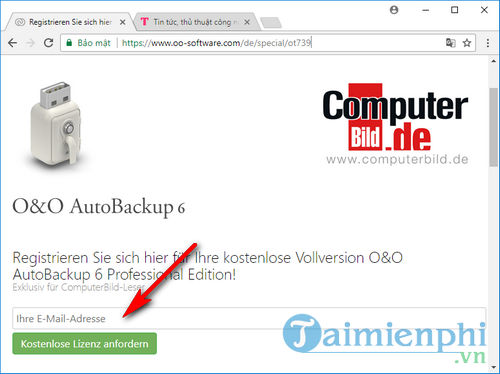 Step 2: Then, in your email, check the message and click on the link contained in the Email.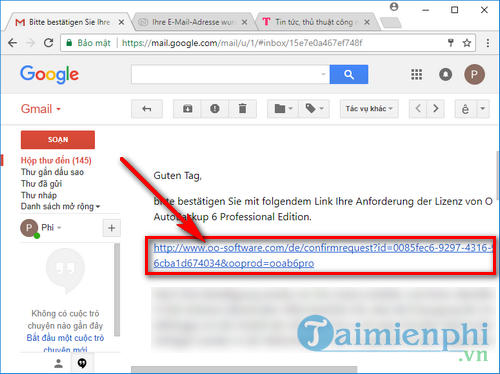 Step 3: When you click on the link, return to the mailbox in the email you will continue to receive another message containing information about activating copyright O&O AutoBackup 6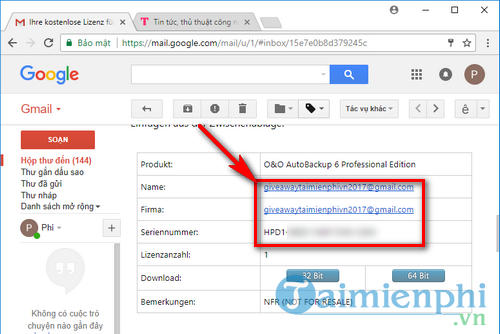 Step 4: Proceed to download and install O&O AutoBackup 6 here: Download O&O AutoBackup 6
Step 5: In the software installation process, check the option Enter your registration code then press next to proceed with filling in software copyright information.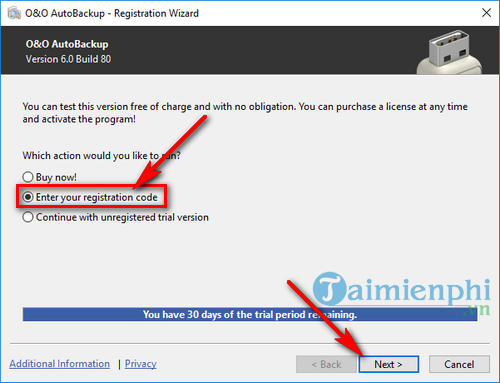 Step 6: Enter your information Name, Company, Serial # corresponds to the copyright information you received in Step 3. Then press next to activate the software.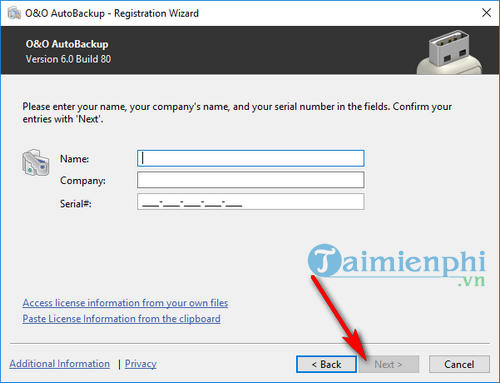 Step 7: When O&O AutoBackup 6 notices successful activation, press finish.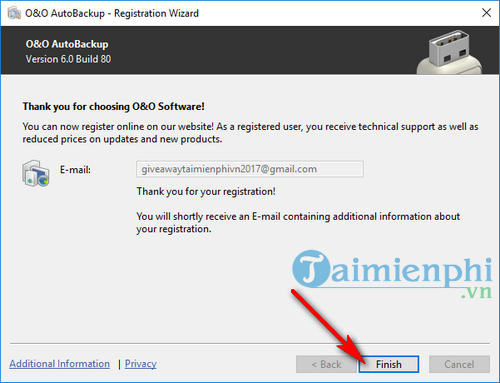 The interface of O&O AutoBackup 6 backup and recovery is quite fun and simple.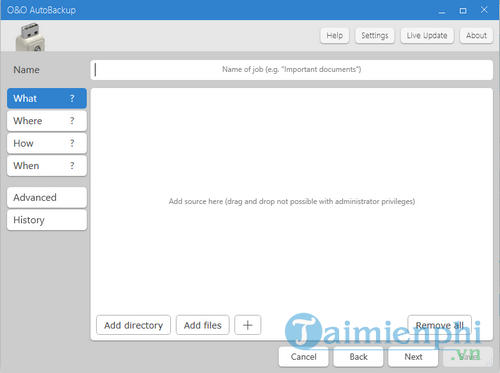 https://thuthuat.taimienphi.vn/giveaway-ban-quyen-mien-phi-oo-autobackup-6-sao-luu-du-lieu-tu-dong-27530n.aspx
Above is the guide to getting license for free O&O AutoBackup 6, automatic data backup so that you can preserve your data in the best way. If you do not timely register the software copyright, do not worry, when using Windows 10, the operating system will provide you with a backup tool, the data is quite well evaluated as File History, you are all possible using File History on Windows 10 to back up your data. Good luck !
.