You are a gamer who loves games with beautiful graphics but the computer you are using cannot meet the requirements of the game, or you want to optimize your computer to be able to Play the game at the highest setting. With Game Fire, you can easily increase FPS while playing games. If you are interested in this software, you can immediately get a license for free Game Fire, support acceleration when playing games below.
Related posts
How to get free Fire OB22 diamonds for free
(Giveaway) Copyright Ez Game Booster PRO for free, speed up your computer when playing games
How to update and play Free Fire OB25 New Start
Latest Free Fire Code November 2020
Code Free Fire February 2021
Game Fire is a program that optimizes the performance, accelerates gaming on the computer, works almost like it does Game Mode mode on Windows 10 Creators Update but much stronger. When you use the program, Game Fire will offer the best optimal solutions such as turning off underground services, background programs, … so that players have a great experience when playing games, significantly increasing the frame rate per second (FPS). In addition, Game Fire also provides options to tweak the system, defragment memory, optimize Windows tasks to increase the performance of the computer when playing games.
With just one click, you can play games on low-end PCs without any problems thanks to Game Fire's excellent optimization and gaming acceleration support. Currently, in the program Giveaway Game Fire takes place from date 8/8 to date August 9, 2017 You can fully get the Game Fire Pro license for free, a valuable paid upgrade version $ 19.95 with the most outstanding gaming support features.
Copyright free Game Fire, support speed up game play
Step 1: First, you need to download and install the latest version of Game Fire, support acceleration when playing games here: Download Game Fire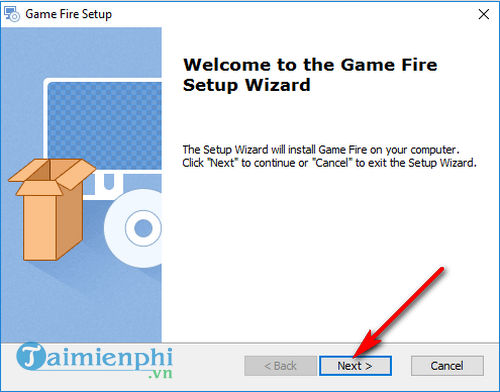 Step 2: After the installation is complete, launch the program. As soon as you start up the screen, a dialog box will appear asking you to activate the program license. Click Active to initiate the Game Fire activation.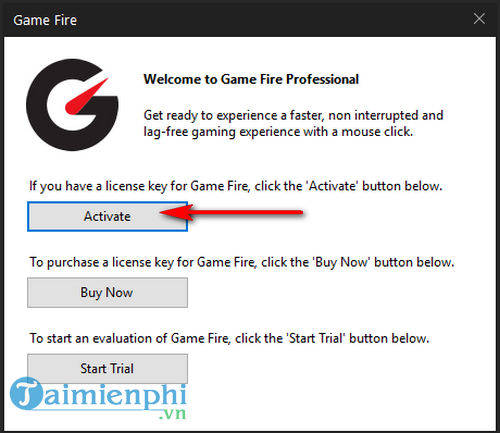 Step 3: In the next window, you fill in the information Name and Email any, item License Key is copyright information for which you can get the copyright for Free Game Fire HERE . After completing the license key, press Activate Now to activate.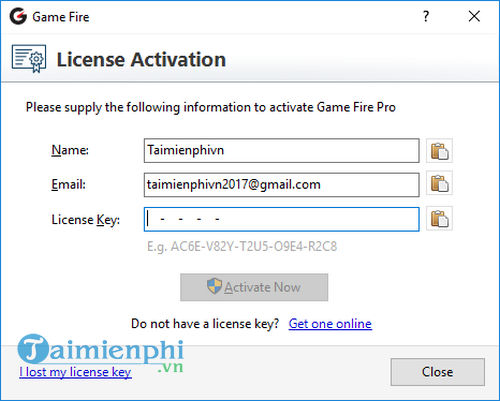 Step 4: The message window of successful activation, click OK to restart the program. You will be upgraded to the paid version of Game Fire PRO with full optimization functions, accelerated support for powerful game play.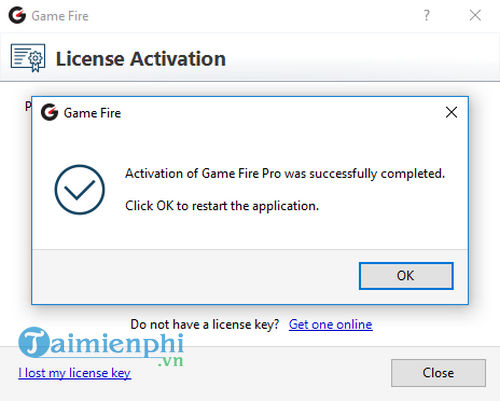 The main interface of the program after successful Game Fire registration.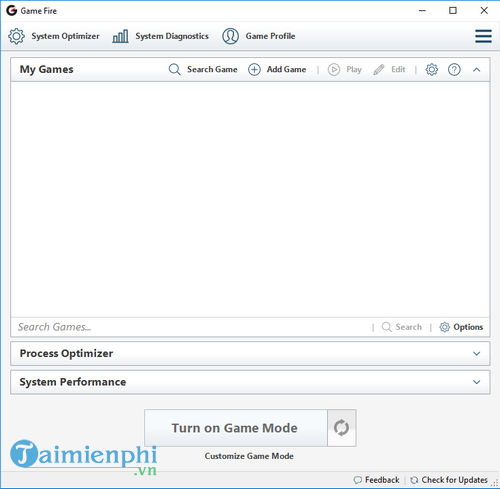 https://thuthuat.taimienphi.vn/giveaway-ban-quyen-mien-phi-game-fire-ho-tro-tang-toc-khi-choi-game-26107n.aspx
Above is the guide to getting copyrighted Game Fire for free, one of the leading game acceleration programs today. Next to Game Fire Game Booster Also a highly rated game play optimization software, learn how Speed ​​up game play with Game Booster to find the best "smoothest" gaming solution possible for me. Good luck !
.