With Ashampoo Slideshow Studio license, you can easily create video from photos fastest from August 26, but it is important that you do not need much knowledge or skills to use the software. More specifically when using the free Ashampoo Slideshow Studio software fully integrated with functions. Simply click and drag and drop to create HD video with full effects, color at your disposal.

Related posts
(Giveaway) Register copyright Ashampoo Music Studio 4, manage music from 10/7 – 12/7
(Giveaway) Copyright Ashampoo Music Studio 5 for free, manage music from 28/5
(Giveaway) Copyright Ashampoo Burning Studio 2019 for free, burn DVD from 21/12
(Giveaway) Copyright Ashampoo Movie Studio 2013 free, video editing
(Giveaway) Copyright for free Ashampoo Music Studio 2018, audio editing
Ashampoo Slideshow Studio 2017 allows you to customize your photos, insert music and effects into complete slideshow movies. You can perform custom editing, sound effects and overlays to create great videos unlike other software with similar functions such as Proshow Gold or Sony Vegas. It offers a variety of themes, transitions, logos and subtitles allowing users to create novelty for photo slideshows.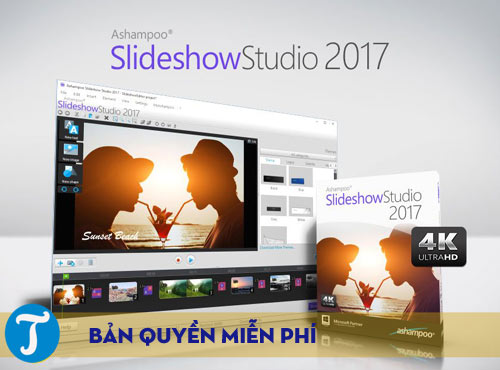 Ashampoo Slideshow Studio 2017's interface is very beautiful and it offers powerful workability, you can output videos in a variety of formats and resolutions from mobile phones to HD standards. With these great features, surely you will be hard to ignore the free Ashampoo Slideshow Studio 2017 license, right?
Ashampoo Slideshow Studio currently has a price tag $ 39.99 If you buy on regular days but during this time you can register and own copyright Ashampoo Slideshow Studio software completely free.
Registration guide for free Ashampoo Slideshow Studio 2017- Create professional photo slideshows
Step 1: First, download the Ashampoo Slideshow Studio 2017 photo slideshow maker tool here: Download Ashampoo Slideshow Studio 2017.
Step 2: After the download is successful, open the installation file and click I agree, proceed to start installing.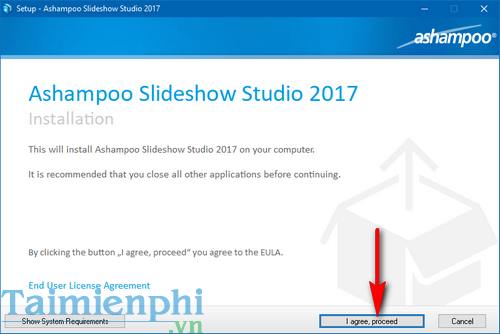 Step 3: In the next window, the installer will ask you to enter the software's license key so you can continue the installation. Get a free copy key of Ashampoo Slideshow Studio 2017 HERE
Enter the license key you received in the box Your license key then receive Activate now!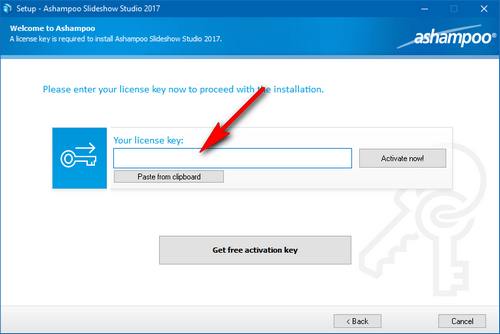 Step 4: When the green check mark appears, you have successfully activated the license key, then you can press next to start installing the software as usual.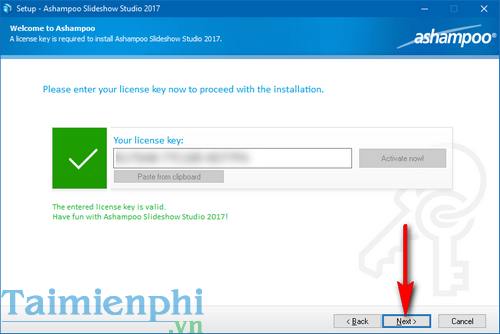 The main interface of Ashampoo Slideshow Studio 2017 is quite beautiful and easy to use with a lot of libraries Themes, Logos, Subbtile, …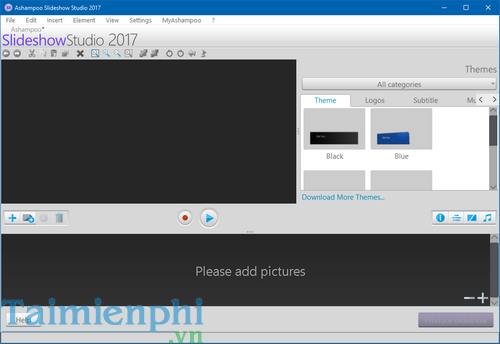 With a free license Ashampoo Slideshow Studio 2017 will help you freely choose libraries and powerful features of the software to create photo slideshows for your lover, friends, family, teachers, … special occasions.
Besides, you can refer to the top video creation software best to find out what is the most appropriate and useful tool for you. And if you know this article too late, can not participate in the promotion on Windows Movie Maker will be the replacement software for you. Born a long time ago, just like Making video from photos with ProShow Producer on your computer, creating video from Windows Movice Maker is much simpler, anyone can use and instead use software to make video from photos. Professional, we can replace it with simple and lightweight software like Windows Movie Maker.
https://thuthuat.taimienphi.vn/giveaway-ashampo-slideshow-studio-mien-phi-tao-video-tu-anh-7885n.aspx
.