Have you ever thought about designing images, brand logos, … right on the browser? Internet users often have the idea that something that is free and can not be used in the browser cannot be as good as what is installed on the computer. But surely with the free copyright program when activating YouiDraw Premium, the graphic designer in the browser, will bring the best graphic editing tools that anyone must change this mind.
Related posts
How to enable DNS over HTTPS on web browsers
(Giveaway) 1-year license F-Secure KEY Premium, effective password management from May 11 to May 13
How to enable the Lockwise password manager in Firefox
Finally, Facebook also allows PC users to actively choose the dark mode
Error enabling JavaScript, Adobe Flash Player cannot view the video on the browser
When it comes to graphic design software, what do you usually think of? Photoshop or AutoCad, of course Photoshop With great design and editing tools, the software will be most used today, but if it is an engineer, a building designer, a material AutoCAD even better choice … Even when it comes to designing the brand identity, logo, banner right on the browser, many people will think of DesignBold, an online design website but DesignBold as well as other tools also require one the fee is not small to be able to use its full functionality. However, you have the opportunity to design graphics right in your browser without having to download and install on your computer, without losing any cost with YouiDraw. A powerful graphic design software for which you can activate YouiDraw Premium license for free, the fully functional unlock version of the tool.
With YouiDraw Premium, you can design anything you want, photos, clothes, brands, with rich resource library, fine on any browser, Windows, Mac OS, Linux operating system so you can Rest assured to use YouiDraw anywhere, on any computer. Currently, graphic design service YouiDraw has a YouiDraw Premium giveaway program taking place from the date of June 8 to date June 10 YouiDraw Premium upgrades with a deadline 6 months Make full use of the software's free functions.
Activate YouiDraw Premium, graphic designer in the browser
Step 1: Go to the YouiDraw site address: www.youidraw.com then click Sign In to login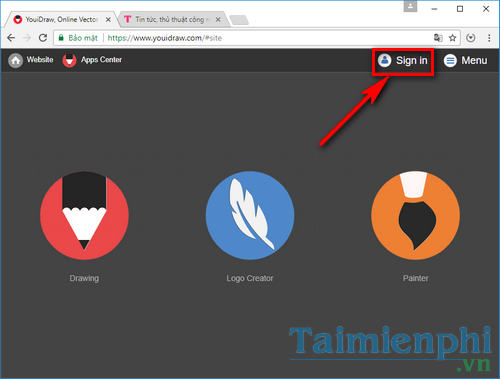 Step 2: You can choose an account Google, Dropbox, Facebook, Email to login and activate YouiDraw Premium. Normally, Facebook is used by many of you, so choosing to log in to Facebook to activate YouiDraw Premium will be very convenient and fast, and you can rest assured that when logging into Facebook, your information is still confidential.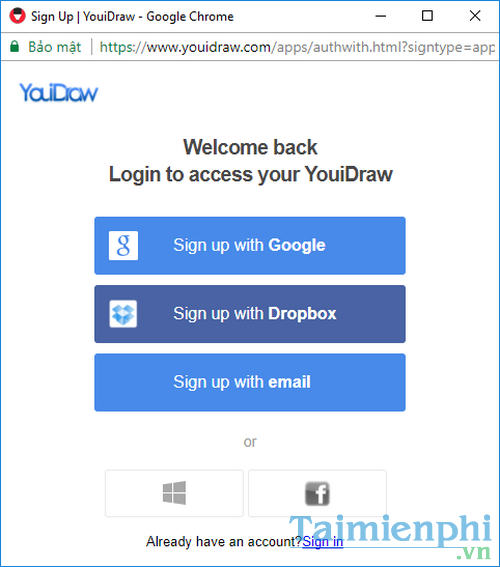 Step 3: Once logged in, click on the link HERE
Step 4: When the option to subscribe to YouiDraw Premium packages appears, choose the middle item, Free for 6 Months You have successfully subscribed to YouiDraw Premium.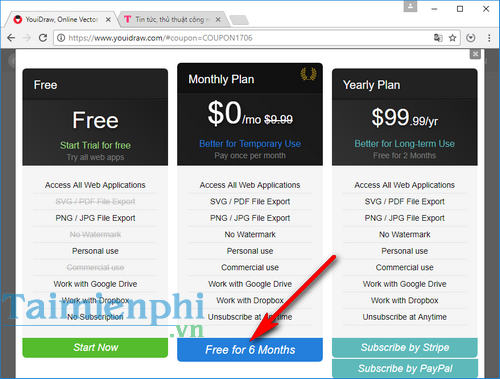 To check whether the activation was successful or not, you can go to the item Account Info to check account information, expiration date.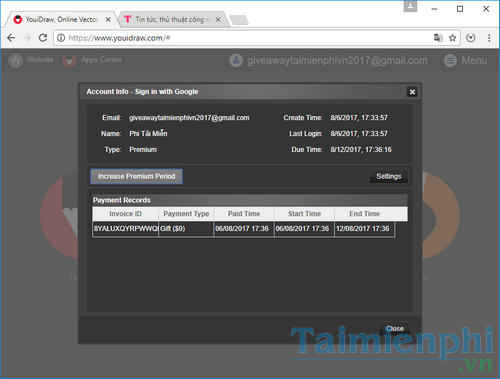 Once you have successfully activated YouiDraw Premium for free, you will also be provided with a full range of great graphic design tools.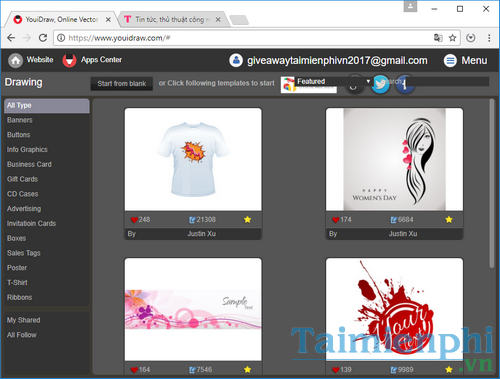 With a free YouiDraw Premium account, you can freely create what you want with a vast resource base, diverse and powerful toolset without any other paid software.
https://thuthuat.taimienphi.vn/giveaway-kich-hoat-youidraw-premium-thiet-ke-do-hoa-tren-trinh-duyet-24700n.aspx
Also at this time, we also introduced to readers a tool that is also free of charge to users, which is Easy Work Time Calculator – a calculation tool, reasonable working time arrangement. on your computer, register now Copyright Easy Work Time Calculator here to not have to spend money to buy and own other professional job management services.
.