On July 10, Gigabyte AORUS officially introduced AMD product range in Vietnam market.
The first months of 2019 marked the return of "majestic" of "red team" with many high-end models from X570 chipset, 3000 series Ryzen CPU series to AMD RX 5700 Series graphics card, building a foundation Completely new to future PC Gaming generations.
Gigabyte AORUS, a long-time hardware manufacturer in Taiwan and a well-known name in the Vietnamese market, has brought in full AMD product range Latest life with multiple versions and accessories, maximizing the needs of gamers from high school to high class.
---
First impression in the group AMD product range Gigabyte AORUS's motherboard is the "staging" motherboard using the advanced X570 chipset with multiple versions from simple to high-end, priced from approximately 5 million VND for the simplest version. Gigabyte Gaming X570, until the most advanced version is AORUS X570 Xtreme.
These motherboard models are already "ready to fight" to serve the Ryzen 3000 Series CPUs from Ryzen 3 to the most advanced current CPU model of the "red team" as the Ryzen 9 3900x which requires extremely high availability. power supply, cooling as well as quality of components included.
---
In addition, Gigabyte AORUS also released two Gigabyte RX 5700 and Gigabyte RX 5700XT graphics cards based on design and OEM prototypes from the AMD side with the familiar squirrel heat sink but with larger, heavier radiators. previous generation Vega graphics card.
Although the product has been launched, the number of products is still limited. Gigabyte AORUS has yet to give any information about the custom version for these two graphics card models. Perhaps custom products have to wait a long time until TSMC's production line provides enough processor chips to OEM manufacturers before the official version is officially released.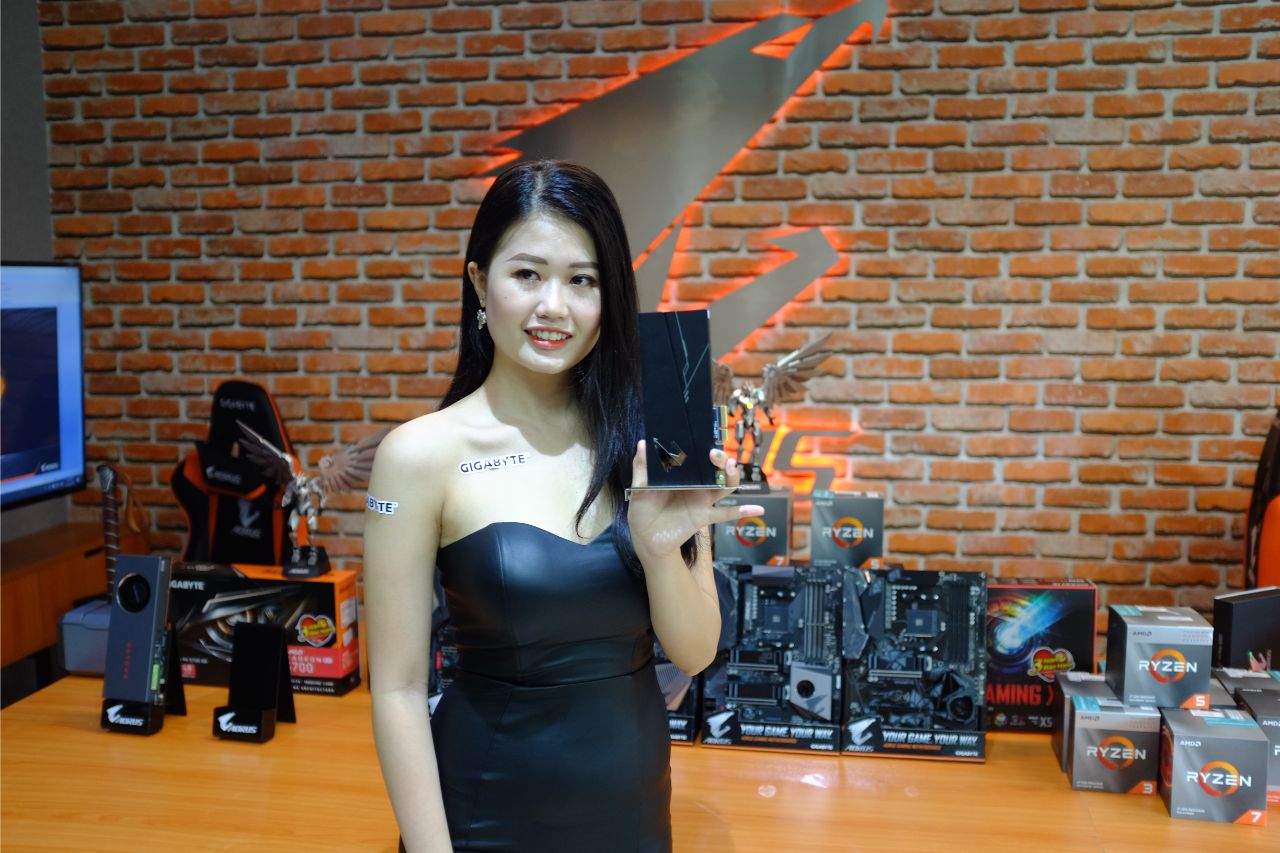 Another highlight is not small at the launch AMD product range this time it is high-speed hard drives that take advantage of PCI Express 4.0 streams at twice the speed of previous PCI Express 3.0.
As a result, these high-speed hard drives can exceed the 4GBps threshold on current high-speed hard drives to reach speeds close to 5GBps. However, in order to achieve this speed, memory chips and control chips emit a lot of heat, so Gigabyte AORUS has equipped these products with large-size heat sinks to ensure speed. Operation of the product in extreme gaming conditions.
Finally, also in the premiere AMD product range This time, Gigabyte AORUS also gives users a new high-end radiator model to replace the current heat sink, enhancing the heat dissipation power for the 3000 Series Ryzen CPU well-known capital has been radiating heat due to the increase in the number of processing personnel.
---
Again, the "review" round AMD product range Gigabyte AORUS's show shows that the company is ready to serve gamers, especially the "crazy fans" of the "red team" who are always looking forward to the most advanced tech products.
Vietgame.asia will update the latest reviews for you in the future.
(Visited 1 times)


Truong Thanh