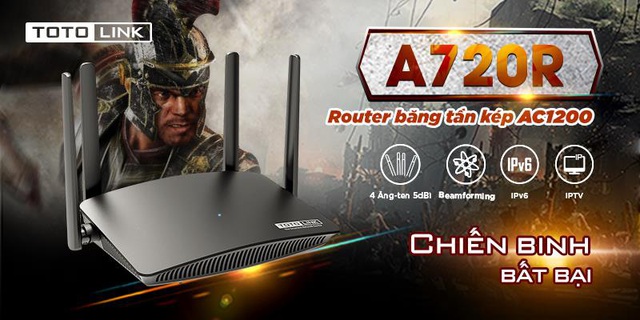 About TOTOLINK's Wi-Fi AC Router series
To bring customers the fastest, healthiest and smoothest Internet-enabled devices experience. TOTOLINK has continuously launched many new Wifi AC Router products based on the latest technologies to best meet the special needs of customers. TOTOLINK's WiFi AC router is equipped with 2 dual bands 2.4GHz and 5GHz operating in parallel. In particular, the 2.4GHz band is capable of transmitting waves over long distances and the 5GHz band with good resistance to interference.

TOTOLINK's Wifi AC router is equipped with dual band.
Thanks to the application of advanced technologies, Wifi AC Router is gradually replacing traditional network devices with slow speed and few features. Equipped with AC Wi-Fi Router products, users can comfortably fight online games, work online or watch movies without worrying about problems such as flicker network, weak wifi or network interference.
Discover the customer attraction of TOTOLINK A720R
With a series of outstanding WiFi AC Router products, the A720R is a typical product line worth mentioning. With innovations in technology, TOTOLINK A720R possesses outstanding features such as:
Strong wireless connection
The product is equipped with 4 high-power 5dBi antennas that significantly improve the transceiver ability, expand coverage area. From there, the device can bring all Wifi coverage anywhere in your home.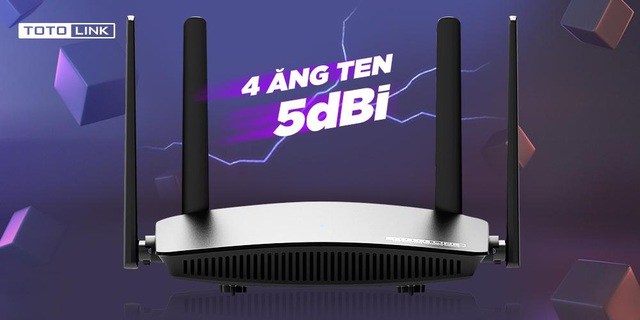 4 5dBi antennas – Broad coverage, eliminates all dead spots.
In addition, it is compatible with the wireless standard IEEE 802.11a / b / g / n / ac. As a result, A720R provides dual-band Wi-Fi speeds up to 1167Mbps (300Mbps at 2.4GHz and 867Mbps at 5GHz), giving gamers the freedom to play smoothly and without worrying about lag.
Modern Beamforming technology
The A720R is applied Beamforming technology that allows direct signal transmission to specific connected devices such as smartphone, laptop, ipad … instead of spreading the entire area like normal routers. Therefore, the device improves bandwidth utilization efficiency and minimizes Wi-Fi "dead spots".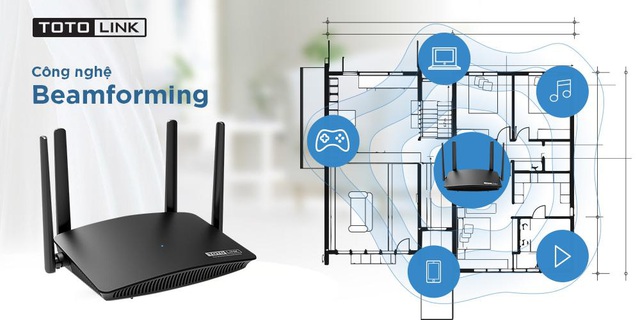 Beamforming transmission technology helps transmit waves to devices in use
Durable load capacity up to 40 devices
With strong hardware performance, TOTOLINK A720R can provide a stable operating environment for 40 devices at the same time. This highlight helps gamers to not have to worry about the Router hanging suddenly, interrupting the battle just because of overloaded traffic.
Tight bandwidth control thanks to smart QoS
Getting delayed is something no gamer wants. However, this problem won't occur on the A720R thanks to its intelligent QoS bandwidth control. With this feature, users can manually set the corresponding amount of bandwidth and are suitable for high-bandwidth gaming activities. From there, reducing the possibility of network congestion to help bring better network experience for users.
Other attractive features of TOTOLINK A720R
● A720R is equipped with IPTV feature to bring users the ultimate multimedia entertainment experience with smooth broadband Internet access.
● Repeater mode on this Wi-Fi Router device makes it possible to support other Router to extend wireless coverage easily.
● A720R also supports more secure network access with IPv6 address layer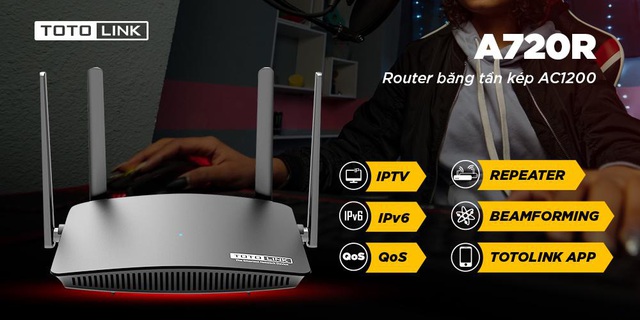 TOTOLINK A720R – AC1200 Wifi Router with super cheap price.
● Installing and managing the A720R is super easy on both iOS and Android operating systems with APP TOTOLINK ROUTER.
● A720R also owns the selling price of 399,000 VND. This is quite a shock price in the line of Wifi AC Router.
● For detailed information about TOTOLINK A720R products, please visit: https://www.totolink.vn/product/a720r.html
The TOTOLINK A720R AC Wifi Router not only has a lot of smart features. Helping to bring great user experience but also suitable price compared to other Wifi AC Router series. Then do not hesitate that you do not buy for yourself a device to experience the most advanced technology.