In recent years, the German game industry has maintained a momentum of rapid development, but for a long time in the past, the game ecosystem of this European country has always lacked an important link: education. Around 2010, Germany has several industry-leading web and mobile game companies, but if you want to join those companies through education, the options are quite limited.
However, the six co-founders of Mimimi Games, the developer of Desperados3, met while studying game design in Munich.
Johannes Roth, general manager of Mimimi, recalled: "At the time, it was not easy to learn game design in Germany. The course was still very new. Several of us started making games together and won some awards. We felt I have been recognized for my skills and talents."
Johannes Roth
In 2012, the studio launched its first commercial game "Hot Air Balloon Adventure" (DaWindci) for the iOS platform and won the Apple Design Award. "Hot Air Balloon Adventure" was well received by players and brought many opportunities for Mimimi. However, according to Ross, the economic returns generated by the work are far from sufficient to maintain the company's long-term development.
"Many students who study game design start a company after graduation. Although they have a cool idea, they lack funds or the publisher thinks that investing in them is too risky to put the idea into practice. We must not fall into this This kind of cycle." Ross said, "We set ourselves a one-year deadline. If we have been busy for a year and have no results, we will shut down the company, or at least choose another path."
"Hot Air Balloon Adventure"
Mimimi began to produce the second commercial game "The Last Tinker: Color City" and reached a cooperation agreement with game engine manufacturer Unity at the end of 2012, which provided funding for the development of the game. However, its market performance is still not enough to raise Mimimi's revenue level to a "new height."
"The performance of "The Last Tinker" on the market did not meet our expectations. From a financial point of view, it was like a disaster… but it was the first 3D action-adventure game we made. Accumulated experience, but also attracted the attention of several publishers."
The quality of "Hot Air Balloon Adventure" and "The Last Tinker" is very good. As time goes by, more and more publishers are willing to listen to Mimimi's ideas, but in order to achieve financial stability, this studio obviously needs Research new research and development directions.
"Dark Souls was very popular at the time, which shows that players like a challenging experience. In addition, we found that people are very interested in ninjas and Japanese history. So we decided to combine these elements with the strategy of the "Allied Expendables" series The gameplay is combined to complete "Shadow Tactics: General's Blade"."
"During the development of "Shadow Tactics: General's Blade", the team size only expanded from 10 to about 15 people, but we learned a lot from the production of "The Last Tinker"." Ross recalled, "We tried to focus. To the audience, to make the game for the target player group of the game. Inside the studio, we decided not to add any mandatory innovation to this category, but will do our best to create an instant game with excellent user experience and user experience. Tactical game."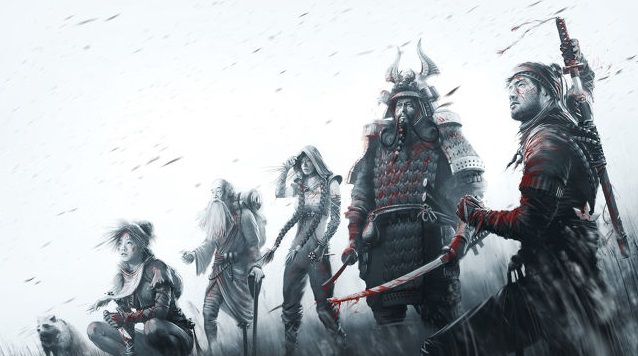 "Shadow Tactics: General's Blade"
"Shadow Tactics: Shogun's Blade" was published by Daedalic Entertainment, and received a double harvest in business and word of mouth, but what is less known is that Mimimi was on the verge of bankruptcy before the game was released…With the game's release date Approaching, Rose got in touch with THQ Nordic to discuss the possibility of developing a new game for another classic real-time tactical game series "Bounty Raiders".
"During the 2016 German Game Developers Awards Ceremony, we almost went bankrupt. We won a lot of awards, but we knew the company was about to go bankrupt. Fortunately, I met THQ people at the event and chatted for a few hours. After a while, THQ decided to hand over "Bounty 3″ to us for development."
"Bounty Warriors 3" was released last year and won rave reviews from players and even was nominated for the TGA "Best Simulation Strategy Game" award. With "Bounty Warriors 3", this studio that was on the verge of bankruptcy in December 2016 successfully turned over and promoted a fading category to rejuvenate.
"Now, people understand that we have revived this category." Rose said, "It's certainly not "Cyberpunk 2077″, but people know that these games are also very profitable, and there is room for audience growth."
"Bounty 3"
At the end of last year, Mimimi announced that it would independently release the studio's next game (codenamed Project Sü?kartoffel). "It's always a dream for us to publish games independently. We didn't expect it to be realized so soon…" Ross admitted, "The game looks very beautiful. We talked to several traditional publishers, but we realized the opportunity It's here. In theory, the pressure of self-publishing games is even greater, but we can stick to our own ideas, accumulate experience and lessons throughout the project, and become a better developer than in the past—even if we will in the future Seek to cooperate with traditional publishers."
Kowloon Nights provided part of the research and development funds for Mimimi's new work. At the same time, the German government will also invest in the project. According to Ross, the research and development budget of this game has exceeded "Bounty Warriors 3". "If there is no government subsidy, we cannot choose to independently publish such a masterpiece. Government subsidies account for 25% to 50% of the game development budget."
Ross believes that the support from the government will help the German game development team compete with counterparts in other European countries such as the United Kingdom and France. "The reason why you study game design may be because you love "Assassin's Creed" and hope to participate in the development of 3A games in the future… I personally fully believe that the investment and subsidies from the German government will make this reality."

Original translation: https://www.gamesindustry.biz/articles/2021-02-05-mimimi-interview
.