Reboot Restore Rx is a utility that helps to freeze the system, prevent any changes to the hard drive, protect data and restore the system to a safe state every time it is rebooted. The following article ElectrodealPro will guide you how to freeze windows 8.1 with Reboot Restore Rx
Related posts
Fix errors that cannot fix the date and time on the computer
Create Restore Point in Windows
3 tools to manage the best system restore points (System Restore Point) on Windows
(Giveaway) Copyright Eassos System Restore for free, backup and restore the system
Freeze removal, remove Deep Freeze freeze software on computer
Reboot Restore Rx is a software that freezes your computer, it will restore data back to its original state at a fast speed. Thanks to that, your computer is safe, avoid spreading Viruses, … Here we will guide you how to freeze windows 8.1 with this software, you can refer together.

Instructions Freeze the system by Reboot Restore Rx
Step 1: First download and install Reboot Restore Rx on the computer. Download Reboot Restore Rx.
Step 2: During installation the program will allow you to choose the partition you want to freeze, you can select one or all and then click next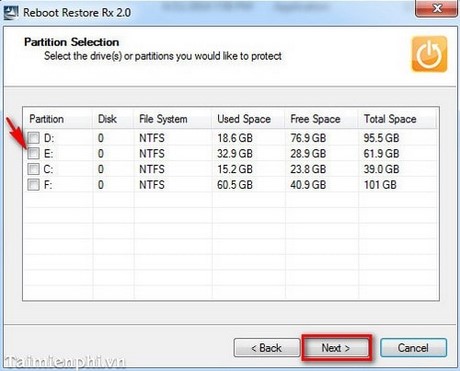 Step 3: After the installation is successful, reboot the machine, when booting up, observe the item tray icon. The software has activated the computer system freeze mode.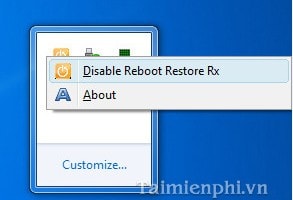 Step 4: Enable – disable freeze feature on Reboot Restore Rx
– Here, you click on the icon Disable Reboot Restore RX to turn off the data freeze function from that point. A dialog box appears, click OK to confirm turning off RX
– To enable the freeze, system restore function, tap the icon in tray icon then select Enable Reboot ..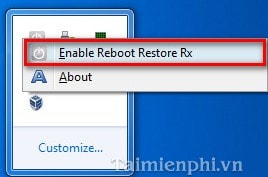 – Press OK to confirm that the system restore is enabled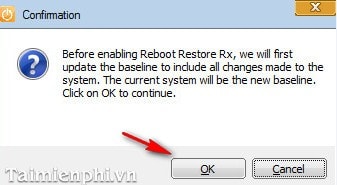 We have just instructed you how to freeze hard drive to protect software and data with Reboot Restore Rx software. When you enable this function, every time you start the computer Reboot Restore Rx will restore the state of the partitions selected at the beginning when the installation is frozen.
https://thuthuat.taimienphi.vn/dong-bang-he-thong-bang-reboot-restore-rx-1796n.aspx
You can also use other freezes like Deep Freeze Standard, which comes in versions for Mac OS, Linux and Windows as well.
.