Control, an attractive action-adventure game is being given away for free by Epic Games Store to players within 1 week.
Control is set around the Oldest House skyscraper in New York City, which is the headquarters of the Federal Bureau of Control (FBC). This is a secret agency of the US government that specializes in investigating supernatural events that change the world, affecting people unconsciously. It all starts with the death of a colleague and involves the main character Jesse Faden in the experience. The story-building game is quite attractive but requires patience because the answers to the mysteries are revealed only at the end of the experience.
This week, Epic Games Store continues the Mega Sale with the familiar "one free game a week" campaign using Control. The deadline to get the game on Epic's platform for free is until 22:00 on June 17, 2021. In the international market, Control costs 29.99 USD while in Vietnam it is 508,000 VND. If interested, quickly follow the instructions of Digital Experience to own the game permanently on the Epic Games Store platform.
① First, you must register for an Epic Games account (free) if you do not have one and confirm the registration by email. If you have ever signed up for an Epic Games account to play Fortnite, you can skip this step and use the above account.
② Proceed to log in to your Epic Games account in step ① and then visit the Control game page on the Epic Games Store.
Note: Epic Games Store may require you to enable two-factor authentication for your account to receive free games on this platform. If you do not know how to open this feature for your Epic Games Store account, please refer to detailed instructions here.
Click Get on the right edge of the screen, easy to see with the word -100% the same price is crossed out next to the word Free right above.
Note: Epic Games Store may require you to agree to an end user agreement as shown below. If this is the case, you must tick I have read and agree with the End User License Agreement then tap Accept To confirm. If you do not agree or click Dismiss, you can no longer use the Epic Games Store and no longer receive free games.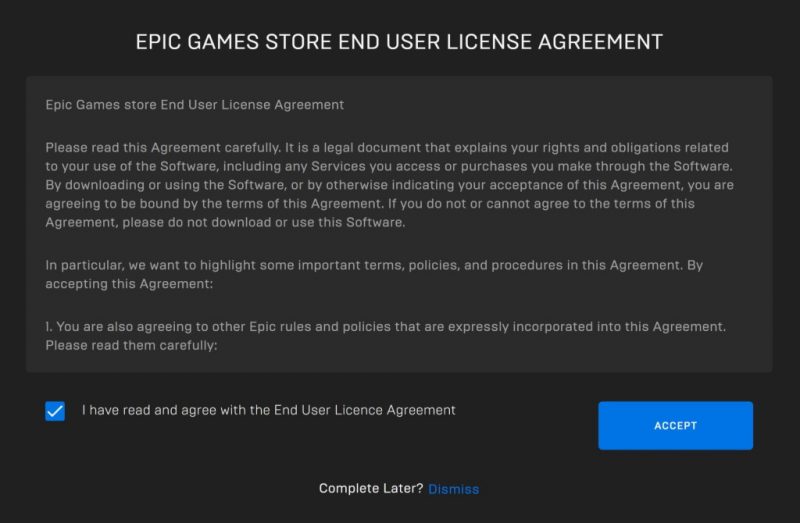 At the screen Checkout, you check your order in item Order Summary then choose Place Order. If you receive a notification Thank you for buying is the game that has been updated to the Epic Games Store account. It is done.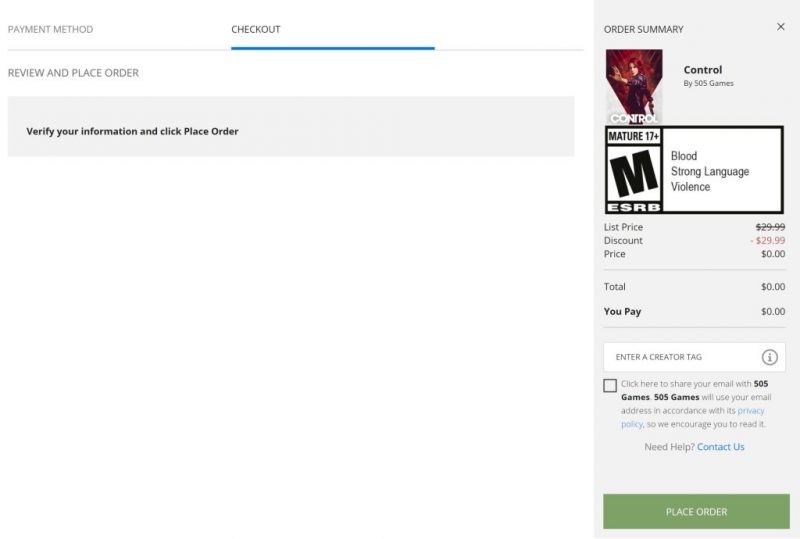 After completing the steps above, you already own the Control game on the Epic Games Store platform!
In addition, the last week of this year's Mega Sale on the Epic Games Store marks the first appearance of Genshin Impact on the platform. This is also the only platform that this attractive role-playing game officially released at the time of writing. If interested, you can download the game here similar to Control.
Notably, this year's Mega Sale of Epic Games Store continues to give coupons worth 10 USD (230 thousand VND) to users of this platform. Applicable when buying games priced at 14.99USD or 349 thousand VND or more after any other discount promotion. Coupon can only be used with released games, does not apply to pre-orders for unreleased games as well as all types of DLC such as add-ons, season passes or IAPs etc. Coupons cannot be accumulated.
Note: Every time you use the coupon successfully, you will be given a new coupon worth 10 USD to continue buying other games at a reduced price according to the above conditions. Unused coupon will Expires at 22:00 on June 17, 2021. For more information see here (in English).
In particular, anyone who plays FPS multiplayer game Rogue Company is also giving away a free Deadly Apparition Starter Pack until 22:00 on June 17, 2021. This pack includes 600 Rogue Bucks with two items and a Deadly Apparition Phantom Outfit and a Star-stuff Primary Weapon Wrap. You can get here with instructions similar to Control.


Tố Uyên