Hell is Other Demons and Overcooked! 2, two attractive action-adventure games are being given away for free by Epic Games Store to players within 1 week.
Hell is Other Demons is a fast-paced arcade shooter that requires quick reactions from players with a new direction in the familiar gameplay design that is already quite crowded on the market today. The game uses a small screen with gameplay revolving around shooting elements and going scenes with certain limitations. Specifically, the character can only shoot at a level, forcing the player to constantly move a certain height to destroy the enemy, combining to effectively take advantage of the character's skills. See more Hell is Other Demons game review.
Overcooked! 2 is the sequel to the Overcooked! quite successful developer Ghost Town. The game experience revolves around the competition to make the fastest dishes on demand in strict cooking conditions and the story is extremely humorous. From cyclically teleporting kitchens to kitchens where you have to use portals to move back and forth, it offers a familiar chaotic experience and requires a smooth combination of players even solo. or co-op. See more reviews of the game Overcooked! 2.
At the end of the year's Mega Sale, the Epic Games Store returns to last year's "2 free games a week" campaign with Hell is Other Demons and Overcooked! 2. The deadline to get the game on Epic's platform for free is until 22:00 on June 24, 2021. Internationally, Hell is Other Demons and Overcooked! 2 is priced at 9.99USD and 24.99USD respectively, in Vietnam it is only 93 and 233,000 VND. If interested, quickly follow the instructions of Digital Experience to own the game permanently on the Epic Games Store.
① First, you must register for an Epic Games account (free) if you do not have one and confirm the registration by email. If you have ever signed up for an Epic Games account to play Fortnite, you can skip this step and use the above account.
② Proceed to log in to your Epic Games account in step ① and then visit the Hell is Other Demons game page on the Epic Games Store.
Note: Epic Games Store may require you to enable two-factor authentication for your account to receive free games on this platform. If you do not know how to open this feature for your Epic Games Store account, please refer to detailed instructions here.
Click Get on the right edge of the screen, easy to see with the word -100% the same price is crossed out next to the word Free right above.
Note: Epic Games Store may require you to agree to an end user agreement as shown below. If this is the case, you must tick I have read and agree with the End User License Agreement then tap Accept To confirm. If you do not agree or click Dismiss, you can no longer use the Epic Games Store and no longer receive free games.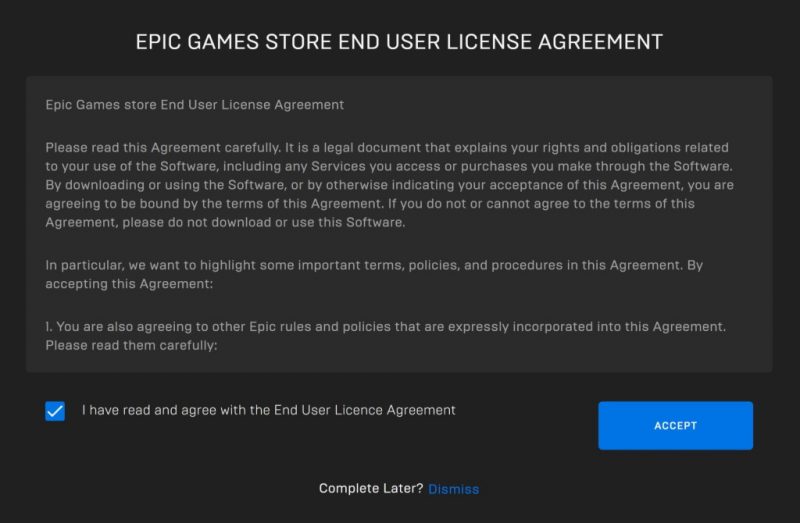 At the screen Checkout, you check your order in item Order Summary then choose Place Order. If you receive a notification Thank you for buying is the game that has been updated to the Epic Games Store account. It is done.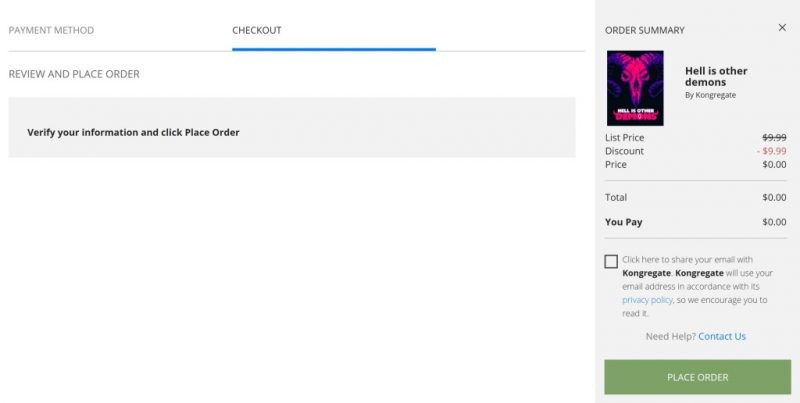 ⑤ Continue from step ② to step ④ on the Overcooked 2 game page to get and update the game to your Epic Games library.
After completing the steps above, you already own the game Hell is Other Demons and Overcooked! 2 on the Epic Games Store platform!
Not all! Don't forget the DRM-free versions of 3 games Absolute Drift: Zen Edition, Plokoth and The Smuggler are also being given away for free for only 48 hours. until 20:00 on June 19, 2021 Please.
In addition, the Museum of Other Realities virtual reality experience for art lovers is also being offered for free by the developer MOR Museum on Steam. until 13:00 on June 21, 2021.
Although the reason is unknown, the classic game Nights Into Dreams is being continued by SEGA for free after the 60th anniversary gift in October 2020. If you miss it, review how to receive it still does not change.
In particular, along with Pride Month, also known as LBGT pride month, developers DONTNOD Entertainment and Microsoft decided to play big when giving away free adventure games that are more about the story telling Tell My Why. for the whole month of June 2021, not only on Steam but also the Microsoft Store with two versions for Windows 10 and Xbox One.


Tố Uyên