Accordingly, you can choose to buy a lot of modern laptops from world famous brands like Asus, Acer, Masstel for only 5,290,000 VND. These are all the laptop models that are most interested in FPT Shop because of the remarkable advantages: compact and easy-to-move designs, SSD hard drives that help to quickly boot, bring smoothness in all sports. The accompanying price is very 'soft'. In particular, the gift package with value up to VND 2,500,000 is applied from now to July 20, which is one of the attractive reasons that you cannot ignore this product. Specifically, you will be awarded the fashionable i.value headset right away, add a coupon worth up to VND 2,000,000 and get a discount of VND 600,000 when buying Microsoft software. At the same time, you still get 0% interest installment plan with only VND 1,600,000 in prepayment, equivalent to only 30% of the machine price. More attractive, choose to buy products at 40 stores with Microsoft experience tables, you are also given a comprehensive protection combo including front and back screen stickers, with handy Eset antivirus software.
For more information on modern laptop models as well as 40 stores with Microsoft experience tables, you can see them right here.
At FPT Shop, you can choose to buy a modern laptop for only 5.29 million and get a practical set worth up to 2.5 million VND.
Why choose a modern laptop at FPT Shop?
The first advantage you cannot ignore is the trendy design, beautiful to each line. Indeed, all modern laptop products have stylish and sophisticated looks, bright metal trim, backlit keyboard, IPS screen. Ultra-light body, easy to follow you everywhere. Most products are also equipped with the ability to disassemble or flip the screen, combined with the touch capability that allows you to use as a handy tablet.
Modern laptops at FPT Shop also possess strong configuration with the latest Intel CoreTM8 processor. As a result, you can play 3D graphics games or high quality videos very smoothly and smoothly, without any jerks and lag. It has more powerful SSD, accurate touchpad and battery life of more than 8 hours, comfortable to operate all day long.
Notably, the touch screen of the machine combined with Window Ink (the ability to use the pen on the laptop touch screen is available on Windows 10 copyright) to help you write, draw, note ideas promptly, no ignore any details. Instead of using passwords, Windows 10 on Windows Hello allows you to log in to your computer through fingerprint recognition, both safe and convenient. You can also design unique presentations, create transition animations, review the entire process of expressing ideas, easily edit documents on Word, enhance learning and solving problems … and features available on Office 365 copyright.
Currently, FPT Shop has many modern laptops, notably the Asus Zenbook UX333FA-A4011T and Acer Swift SF314-54-58KB with the price of VND 22,990,000 and VND 17,990,000 respectively. Both machines are occupying customers' feelings by excellent design, strong configuration, long battery life combining many unique features: 360-degree folding screen, fingerprint security …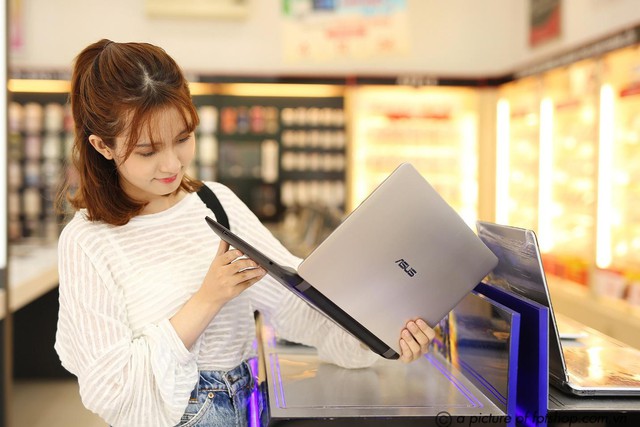 Modern laptop models at FPT Shop attract users by their ultra-thin light design, powerful SSD hard drive and many new convenient features.
Products purchased at FPT Shop are genuine products, exchanged for free for 30 days, you can choose to buy directly at the store, choose to buy online or call hotline 1800 6601 for advice, quick purchase.