(Techz.vn) According to the latest leaked information, the new iPhone 13 series is expected to have four versions, including iPhone 13 mini, 13, 13 Pro and 13 Pro Max with prices from 699 USD.
A source from MyDrivers said that all iPhone 13 will be equipped with Apple A15 Bionic chip, 5G and OLED screen. Versions 13 and 13 mini will have a 60 Hz refresh rate screen. The two Pro models are equipped with ProMotion technology with a 120 Hz refresh rate.
The smallest iPhone 13 mini version has a 5.4-inch screen size, dual cameras, the highest memory 256 GB, RAM specifications are unknown. It has a 2,406 mAh battery, higher than the 2,227 mAh of the iPhone 12 mini and starts at $699.
The iPhone 13 model has a 6.1-inch screen, dual cameras, up to 256 GB of memory. The battery capacity is 3,085 mAh, higher than the iPhone 12's 2,815 mAh. This model starts at $799.
iPhone 13 Pro also uses a 6.1-inch screen. It has a triple-lens camera and LiDAR sensor, 512GB of memory, the same battery capacity as the iPhone 13, and a starting price of $999.
Finally, the iPhone 13 Pro Max has a 6.7-inch screen, also using ProMotion technology. It has a triple-lens camera with a LiDAR sensor, 512 GB of memory and a 4,352 mAh battery, much higher than the 3,687 mAh on the iPhone 12. The price of iPhone 13 Pro Max will start at $ 1,099.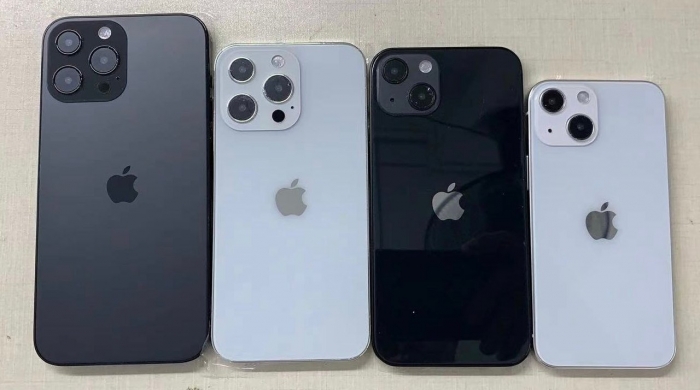 It's been more than half a year since the iPhone 12 went on sale and Apple is rushing to launch its next iPhone, possibly called iPhone 13.
Last year, the iPhone 12 launched on October 23, nearly a month later than Apple's traditional September launch. The reason for this problem is that the global chip shortage crisis prevents Apple from accumulating enough stock to launch.
However, this year Apple seems to have prepared everything earlier to launch the iPhone in accordance with the tradition in September. However, the exact date is still a question mark.
.