#Forefront #Qualcomm #released #Snapdragon #X65 #worlds #supporting #10Gbps #baseband


On February 9, Qualcomm Technologies released the Snapdragon X65 5G modem and radio frequency system (hereinafter referred to as "Snapdragon X65")-the 4th generation 5G modem to antenna solution. It is the world's first modem and radio frequency system that supports 10Gbps 5G rate and conforms to 3GPP Release 16 specifications. It is currently sampling to terminal manufacturers. Commercial terminals using this new system are expected to be launched in 2021.
Image source: Qualcomm
Since the commercial use of the first modem and radio frequency system, the Snapdragon X65 is Qualcomm's biggest leap in 5G solutions. The system is designed to support the fastest 5G transmission speed on the market through fiber-like wireless performance, and make full use of the available spectrum to achieve ultimate network flexibility, capacity and coverage.
As the design complexity of 5G mobile phones continues to increase and users' pursuit of performance continues to increase, the advantages of system-level RF front-end solutions have become more prominent. Therefore, in the RF front-end solution adopted by the Snapdragon X65, Qualcomm has specially added two important technologies. One of the technologies is Qualcomm Broadband's "envelope tracking" technology. This technology is implemented by the 7th generation Qualcomm Broadband Envelope Tracker QET7100 created by Qualcomm. The second key technological innovation is Qualcomm's AI-assisted signal enhancement technology. This is the world's first AI-assisted antenna tuning system, which can greatly optimize the antenna performance of 5G mobile phones, allowing the mobile phone to maintain the best connection with the base station in real time, thereby greatly optimizing user experience. According to Li Yang, senior manager of product marketing at Qualcomm Technologies, introduced to 36 Krypton, when the mobile phone transmits signals, it needs to rely on the power amplifier (PA). When the mobile phone wants to transmit a large signal, the power supply voltage of the power amplifier is increased a bit. When a small signal is required, Just lower it a little to achieve the purpose of perfect matching and supply on demand. Broadband envelope tracking technology can greatly improve transmission efficiency and reduce power consumption, thereby achieving longer mobile phone battery life.
In addition, the 7th generation Qualcomm Broadband Envelope Tracker QET7100 and the Snapdragon X65 modem provide an upgraded digital algorithm, which can greatly optimize the signal quality and system performance of the 5G power amplifier, improve the quality of the transmitted signal, reduce distortion, and greatly enhance the mobile phone The uplink rate. QET7100 also supports smoother communication between mobile phones and base stations, expanding the network coverage of 5G mobile phones.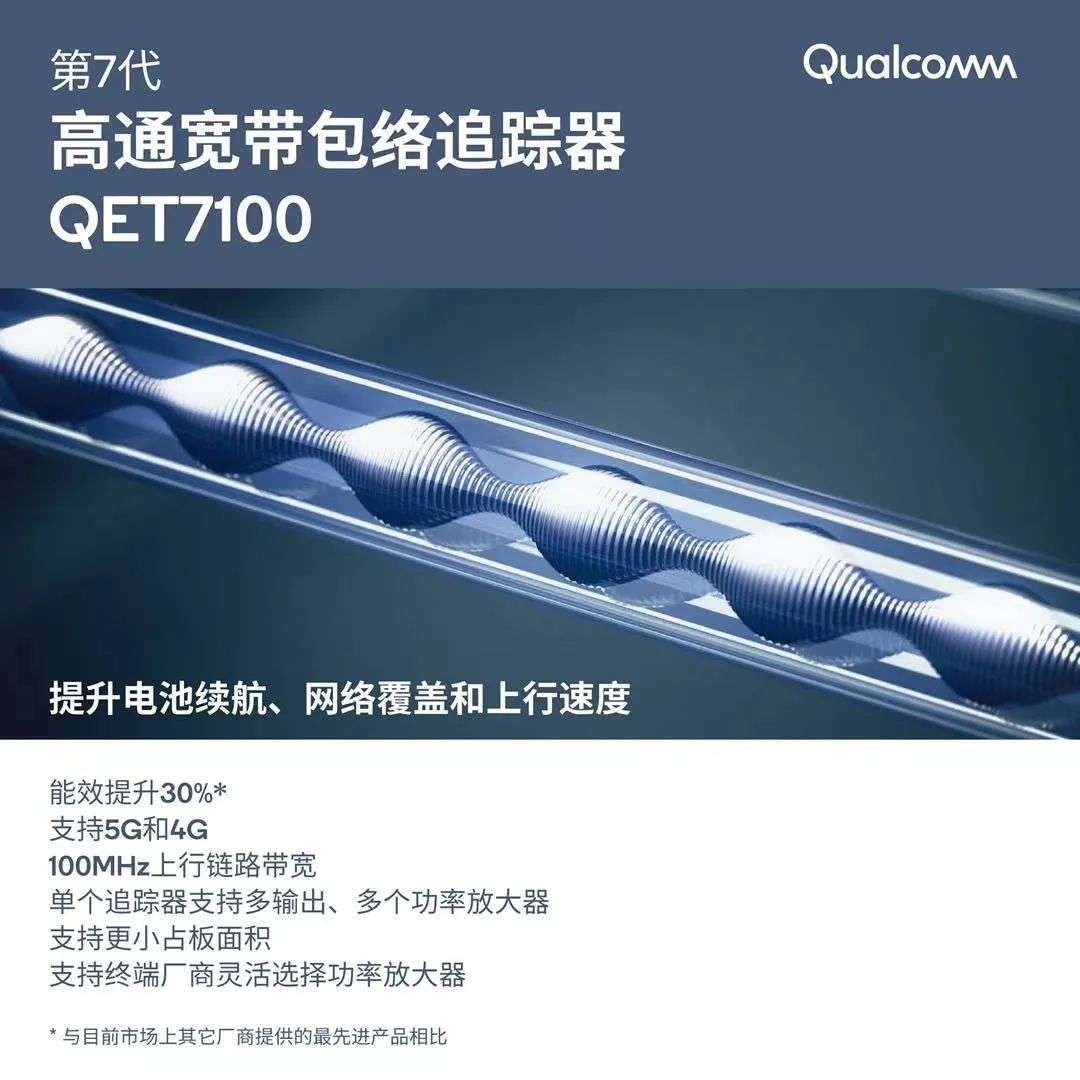 Image source: Qualcomm
The key innovations of the flagship Snapdragon X65 5G modem and radio frequency system also include:
• Scalable architecture,Supports enhancements, expansions and customizations across 5G market segments; and through software updates, supports the rapid deployment of new features and functions that will be launched, as well as 3GPP Release 16 new features. Especially with the expansion of 5G to new vertical industries such as computing, industrial Internet of Things and fixed wireless access, this scalable architecture can support future-oriented solutions based on Snapdragon X65 to support the adoption of new features and extend the terminal life cycle , And help reduce the total cost of ownership.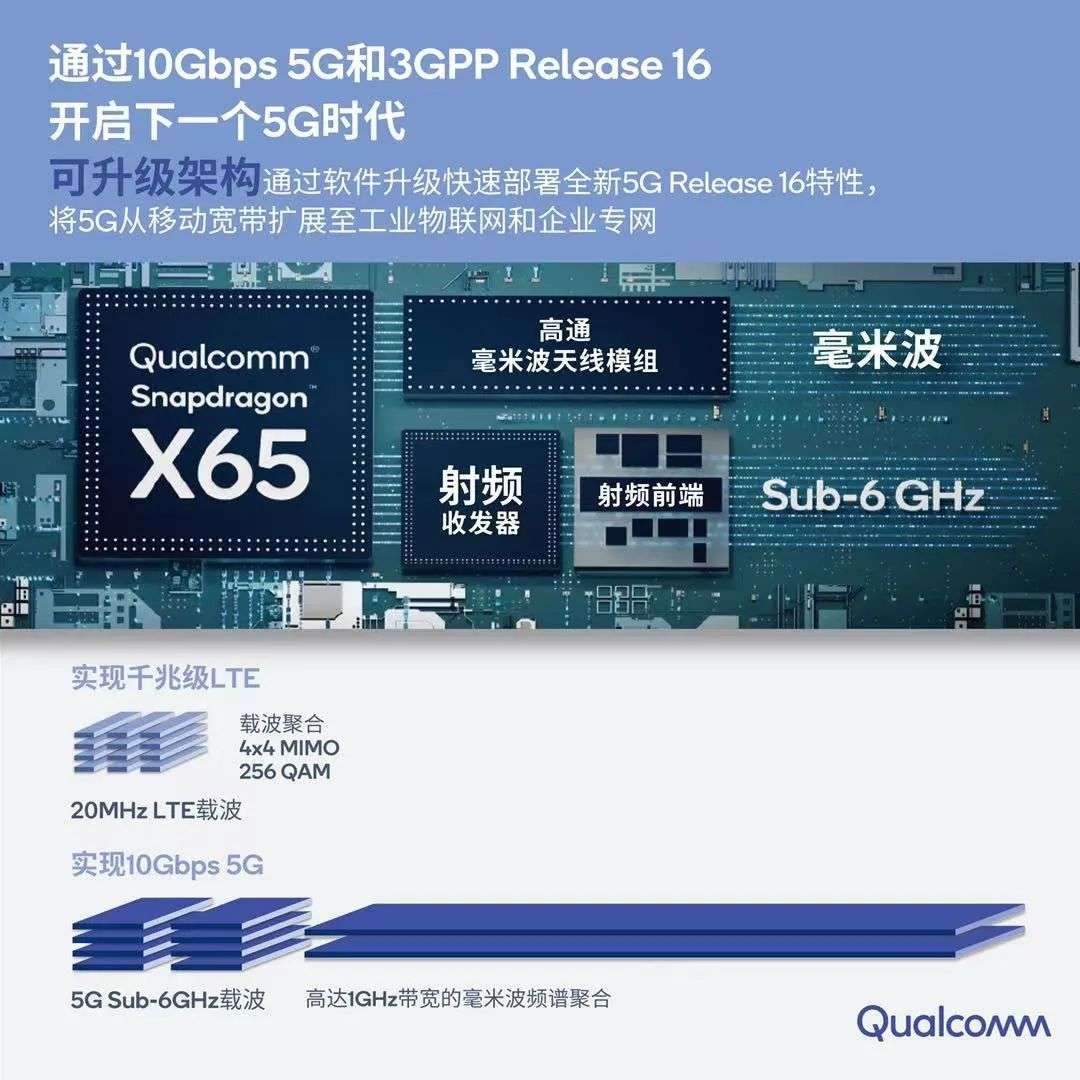 Image source: Qualcomm
• The 4th generation Qualcomm QTM545 millimeter wave antenna module,Designed to expand mobile millimeter wave network coverage and improve energy efficiency. Qualcomm's QTM545 millimeter wave antenna module with the new Snapdragon X65 modem and radio frequency system supports higher transmission power than the previous generation, and supports all millimeter wave frequency bands in the world, including the new n259 (41GHz) frequency band, while maintaining the same The product is as compact as the board area.
• The world's first AI antenna tuning technology,It is the first step to introduce Qualcomm's pioneering AI research and development results for more than ten years into mobile radio systems, bringing significant improvements in cellular technology performance and energy efficiency. For example, compared with the previous generation of technology, the accuracy of the detection accuracy of the hand held terminal is improved by 30% through AI. This improvement can bring enhanced antenna tuning capabilities, thereby increasing data transmission speed, improving coverage, and extending battery life.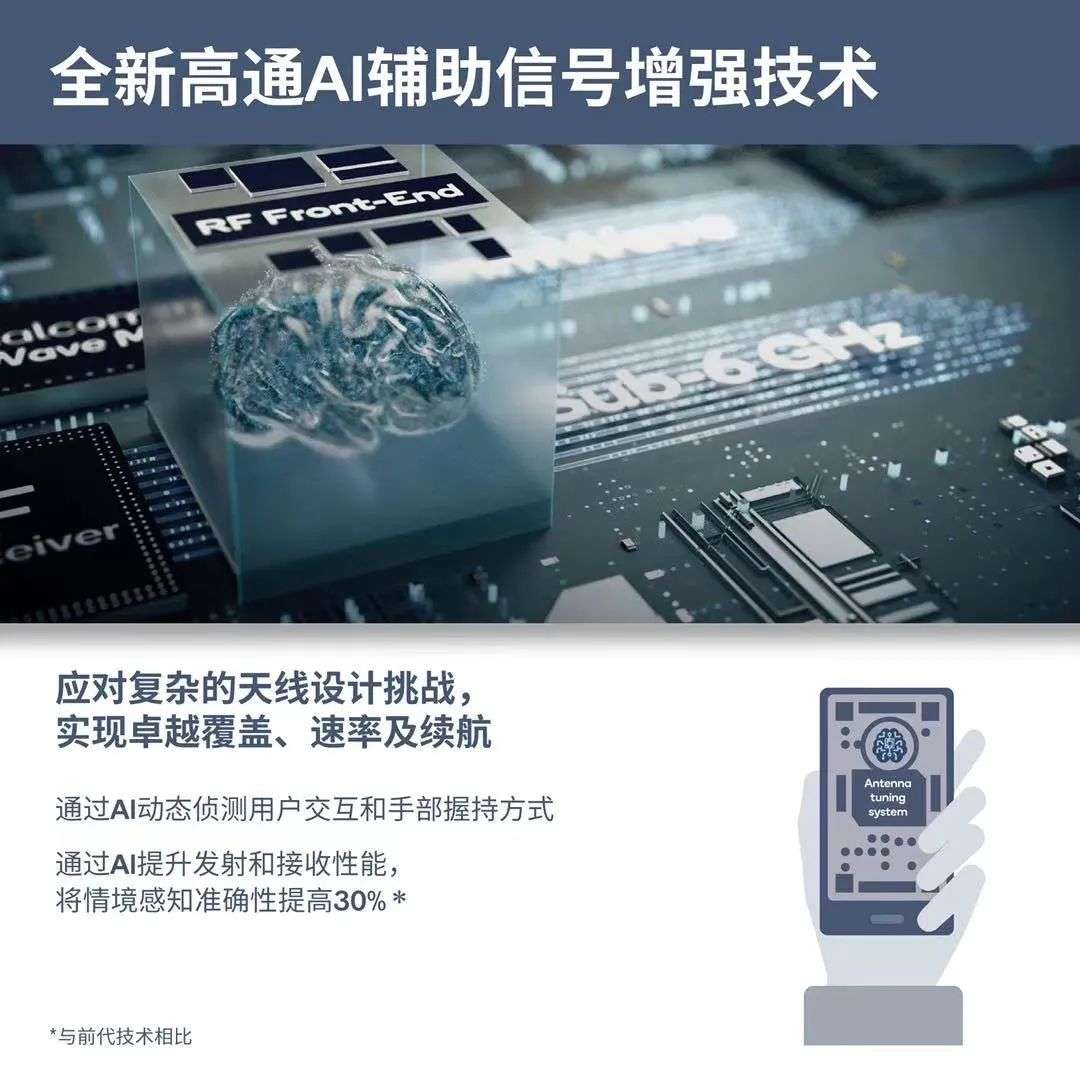 Image source: Qualcomm
• Next-generation power tracking solutionSmaller, more efficient and with higher performance-compared with ordinary power tracking technology, with superior performance and cost-effectiveness.
• The most comprehensive spectrum aggregation,Covers all major 5G frequency bands including millimeter wave and Sub-6GHz bands and their combinations, FDD and TDD, and brings flexibility to operators by using fragmented 5G spectrum assets.
• Qualcomm 5G PowerSave 2.0,Based on the new power-saving technology defined in 3GPP Release 16, such as Connected-Mode Wake-Up Signal.
• Qualcomm Smart Transmit™ 2.0,It is a unique system-level technology licensed by Qualcomm Technologies. It can be used with the Snapdragon X65 modem and radio frequency system. By using the system sensing function from the modem to the antenna, it can continue to meet the radio frequency transmission requirements while providing millimeter wave and sub- The 6GHz frequency band brings higher upload rates and wider network coverage.
The aforementioned innovations and many other performance enhancements of the Snapdragon X65 modem and radio frequency system are designed to provide a stronger 5G experience through faster cellular communication speed, wider network coverage and all-day battery life. Snapdragon X65 will support a new generation of top smartphones, and support 5G expansion to PC, mobile hotspots, industrial Internet of Things, fixed wireless access, and 5G enterprise private networks.
In addition, Qualcomm also launched a widely used product based on the Snapdragon X65-the Snapdragon X625G modem and radio frequency system. The Snapdragon X62 is a 5G modem-to-antenna solution for mobile broadband applications that can support download speeds of several gigabits.
The tight integration of modem and radio frequency and advanced modem and radio frequency technology will help terminal manufacturers bring excellent data transmission rate, network coverage, call quality and all-day battery life to consumers through terminals. The multi-gigabit 5G provided by the Snapdragon X65 5G modem and radio frequency system can support consumers to enjoy fiber-like browsing speed and low latency, and obtain a new generation of networking applications and experiences through 5G wireless connections, including cloud computing and edge Computing, fast-response multiplayer games, rich entertainment, immersive 360-degree video, and instant applications.
An Meng, President and CEO-designate of Qualcomm, said: "The evolution of 5G has created the greatest opportunity for Qualcomm because mobile technology will benefit almost all industries. With the Snapdragon X65 5G modem and radio frequency system, we have created An important milestone-opening up the era of connectivity with a transmission rate of up to 10Gbps and supporting the latest 5G specifications. The Snapdragon X65 will play a vital role in enabling new 5G use cases. It will not only redefine the top smartphones, but also provide 5G The expansion of mobile broadband, computing, XR, industrial Internet of Things, 5G enterprise private networks and fixed wireless access brings new possibilities."
.