#Forefront #Hanwang #Technologys #revenue #expected #grow #yearonyear #launching #multiple #product #lines #bionic #technology #learning #office


36 Krypton learned that Hanwang Technology Co., Ltd. recently announced its 2020 annual performance forecast. Data shows that during the performance report period (January 1, 2020-December 31, 2020), Hanwang Technology's revenue and profit indicators There was an increase in the previous year.
Among them, Hanwang Technology's 2020 operating income is expected to reach 1.547 billion yuan to 1.585 billion yuan, an increase of 40.06% to 43.50% over the previous year's period, and the net profit attributable to shareholders of listed companies will reach 102 million yuan to 112 million yuan. Increase over the same period of the previous year: 172.89% -199.60%.
In terms of deducting non-net profits, Hanwang Technology expects a profit of 98.75 million yuan to 109 million yuan in 2020, an increase from the same period last year: 3755.01%-4145.39%.
Hanwang Technology was established in 1998. As a Chinese company that first set foot in artificial intelligence, Hanwang Technology has a lot of technical reserves in pattern recognition and intelligent interaction technology. Its products include Hanwang pen, Toutouiao, e code pen, face pass, Electronic paper books, drawing boards, etc.
With the outbreak of the online education market, the product line that Hanwang Technology previously reserved has now ushered in a sales blowout, directly driving the rapid growth of the company's pen intelligent interactive business revenue and profit. In the fourth quarter, Hanwang Technology's revenue increased by more than 15% year-on-year; the revenue of its holding subsidiary Hanwang Youji increased by about 80% year-on-year and about 30% month-on-month.
Under the epidemic, the global e-commerce channel laid by Hanwang has also become an important sales channel.
At present, the construction of Hanwang Technology's global marketing network is becoming more and more mature. Digital painting products are sold to more than 60 countries and regions around the world through more than 20 third-party cross-border e-commerce platforms such as Amazon, e-Bay, Express, wish, and Lazada. area.
In addition to making reserves in education and going overseas, Hanwang Technology is also continuously expanding its technological accumulation.
From the perspective of capital operations, on May 12, 2020, Hanwang Technology disclosed a plan for non-public issuance of stocks. It plans to raise no more than 600 million yuan. The purpose is:
"Invest a new generation of natural language cognitive technology and text big data open platform and application system, a new generation of neural network image video and human behavior analysis platform and enterprise application projects, upgrade the core chip of pen touch technology and pen interactive smart digital product solutions Plan, supplement working capital."
Hanwang's technical reserves are quickly reflected in the product line. On January 18 this year, Hanwang released 7 black technology products, covering many fields such as bionic technology, smart learning, smart office, drawing design, handwriting OCR recognition.
Picture from Hanwang Technology
Among them, Hanwang has launched a new bionic flapping wing aircraft-Go Go Bird 1000. In this device, Hanwang is equipped with a self-developed chip and supplemented by aerodynamic design to keep the weight of the machine at 155g. At the same time, Hanwang is still The aircraft integrates intelligent perception technologies such as position perception and attitude perception.
In order to realize the flight function of Go Go Bird 1000 similar to that of birds, Hanwang also uses human-computer interaction technologies such as somatosensory interaction and infrared interaction to realize air flight functions such as fixed altitude flight, somatosensory switch machine, straight flight, and specific flight actions.
As early as September 2019, Hanwang launched the first bionic flapping-wing robotic bird, the Hanwang Early Bird. Currently, in the category of children's educational toys, Hanwang's early bird has sold more than 200,000 sets worldwide annually, covering North America, Global markets such as Europe, Australia, Japan and South Korea.
Hanwang has accumulated many years of OCR (Optical Character Recognition) character recognition technology. Based on deep learning technology and massive data training, Hanwang has solved the OCR problem of free-written manuscript recognition, which is a major technological breakthrough in the field of text recognition. Compared with free handwriting, the recognition function of Hanwang manuscript can reach a recognition rate of more than 95%. In terms of conversion speed, the recognition speed of Hanwang manuscript can reach 0.3 seconds per page, which is 500 times that of manual input.
In terms of specific usage scenarios, Hanwang's manuscript recognition has been deeply applied in politics and law, education, archives management and other industries. In the process of collecting a large number of documents and data, it can basically achieve 1 second entry and archiving.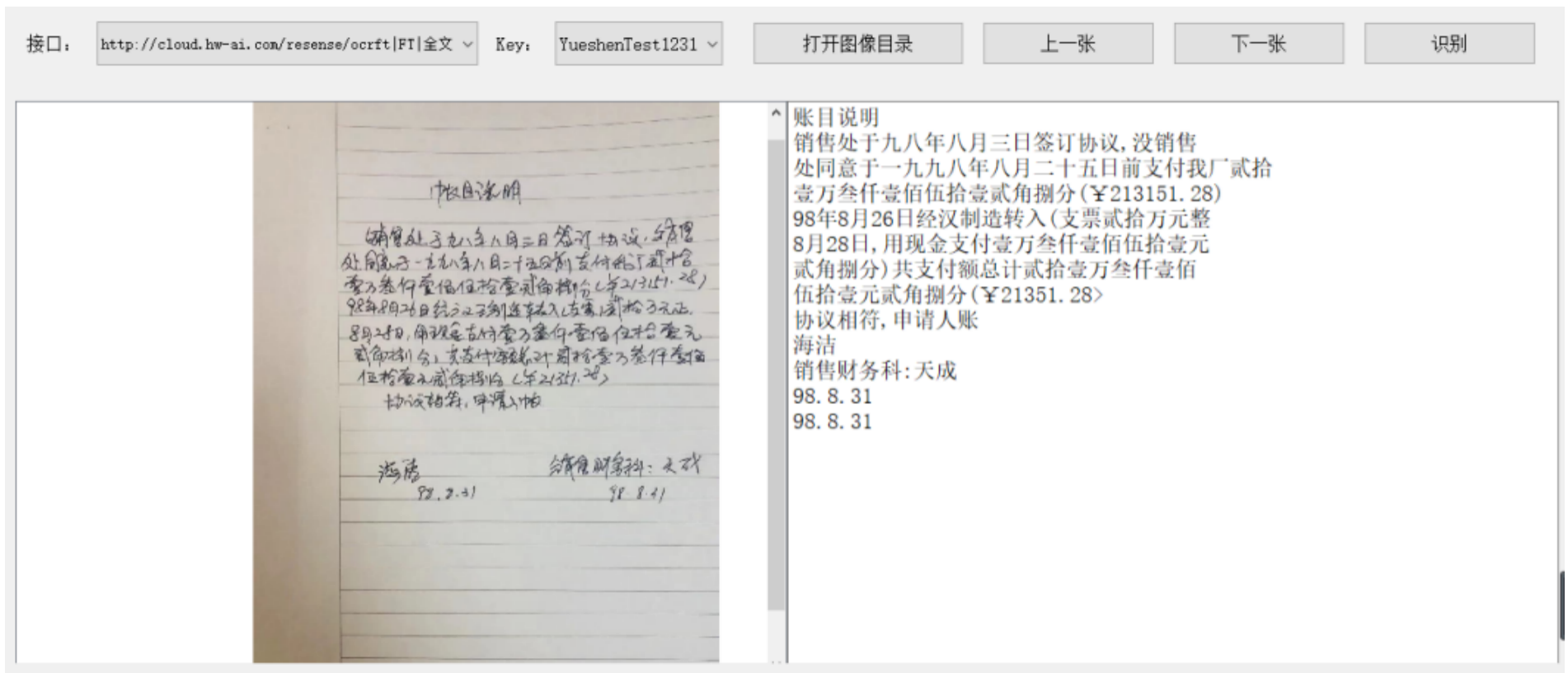 Hanwang manuscript recognition.Picture from Hanwang Technology
Under the "new infrastructure" boom, big data centers and industrial Internet are inseparable from massive data collection. As the core technology of the current digital construction of new infrastructure, Hanwang's manuscript recognition can solve key problems such as the intelligent collection of data in the construction of big data centers and industrial Internet construction.
In addition to the application of OCR technology on the B-side, Hanwang Technology has combined its own core technology of independent intellectual property rights (OCR and original embedded translation system) in 2011, launched Hanwang e-code pen, entered the field of electronic translation, and quickly scanned it. The word method replaces the key input of the traditional electronic dictionary to help users improve English reading speed.
Among them, Hanwang e Code Pen S20 is a scanning translation pen specially designed for children's English learning. In terms of content, Hanwang e Code Pen S20 has a built-in ninth edition of the Oxford Advanced Dictionary. Technically, it includes the OCR text recognition technology developed by Hanwang Technology for more than 20 years. This product has a long history. As early as 2006, Hanwang launched e-Takeoff. In 2011, it launched the first scanning translation pen in China, which is the pioneer of this category in the market.
With the strengthening of Hanwang Technology's supply chain management, its sales of products using Hanwang wireless passive electromagnetic technology in its subsidiary digital painting products have gradually increased; during the reporting period, the company's overall gross profit margin increased by more than 10%, and the net profit margin increased Over 3%.
.